Family dinner is a time of feasting on good food and spending time with family.  This time around, however, the family dinner was at our place and there were 14 adults coming!  That's right – 14 people,  so the pressure was definitely on, and on top of that it was a special family dinner because my brother and his wife were visiting from New Brunswick! Over the years, my husband and I have come to an understanding when it comes to entertaining guests – I plan the menu, cook the food and he pours the wine and cleans up and it's a pretty good system we have, but we have never ever had that many people over for dinner before! We were definitely on high gear that day!  Thankfully my mom was willing to be our sous chef that day because we needed all the help we could get to pull the dinner off!
I usually like making something new for our dinner parties, but we were having a lot of people over so we needed something that is tried and tested!  So for this family dinner we made Osso Bucco with mashed potatoes! We made Osso Bucco before, but at that time I couldn't find veal shanks, for some odd reason, I used beef shanks.  This time around we made sure we got veal shanks by showing up at our local butcher counter first thing in the morning! The butcher I think was a little shocked that we were asking for pounds and pounds of veal shanks first thing in the morning! The meal, as expected, turned out great! Here's the recipe for you and we  hope you will like it so much that it will become one of your favorite dinners: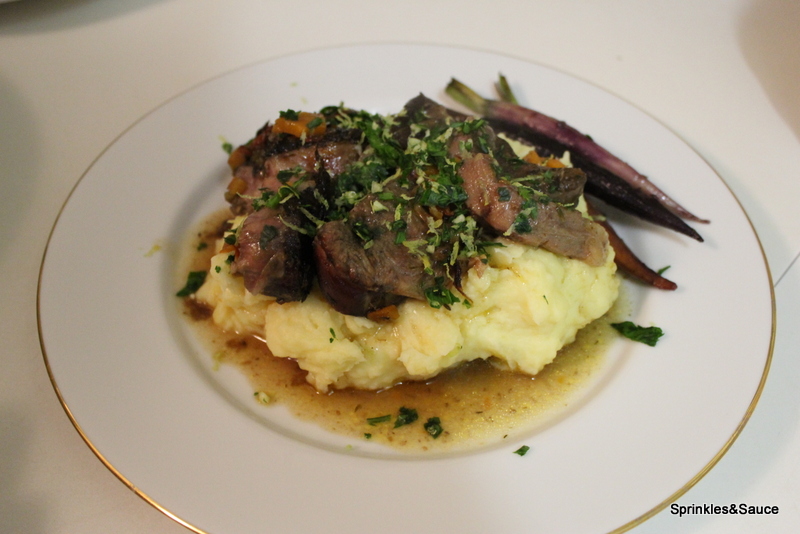 Osso Bucco with Tomatoes, Olives and Gremolata
Author:
adapted from epicurious.com
Ingredients
8 to 10 veal shanks, each tied with kitchen string
½ cup all purpose flour
2 tablespoons olive oil
3 tablespoons unsalted butter
2 medium onions, halved lengthwise and thinly sliced
1 small carrot, finely chopped
2 garlic cloves, finely chopped
1 cup dry red wine
1 cup chicken broth
1 (28 to 32 oz) diced tomatoes, with juice
1 cup kalamata olives, pitted and halved
1 and ½ teaspoons thyme leaves
2 fresh flat leaf parsley sprigs
1 bay leaf
1 tablespoon of lemon zest
salt and pepper
For the gremolata:
3 tablespoons chopped flat-leaf parsley
1 large garlic clove, minced
1 teaspoon lemon zest
Instructions
Preheat oven to 325F.
Pat the veal shanks dry and season with salt and pepper. Then coat the veal shanks with flour, shake the excess flour off.
Heat oil and 2 tablespoons of butter in an oven proof pan over moderately high heat until foam subsides. Then brown the shanks on both sides in batches. Set the browned shanks aside.
Then reduce heat to moderate and add remaining butter to the pan along with onions, carrots, celery, garlic and cook until the onions are pale and golden, about 5 minutes.
Add the remaining stew ingredients and bring to a boil.
Arrange the shanks in one layer in your oven proof pot or roaster and top it off with the vegetables and herbs.
Cover the pot or roaster and braise the shanks in the middle of the oven until tender for about 2½ hours.
For the gremolata: stir together the parsley, garlic and lemon zest.
To serve, remove the kitchen string and sprinkle the gremolata on top of the shanks.
Notes
Both times I made this dish, I prepped and cooked it the night before and then just reheated it for the dinner and it turned out great. To reheat, put the pot in the middle of the oven for about 45 minutes at 325F.
The great thing about this recipe, aside from the fact that it is fork tender and delicious, is that you can make it a day before and just reheat it while you make your side dishes and entertain your guests!  As mentioned, we made this dish with both veal and beef shanks and both turned out great!