Sandwiches are not my thing and as for Arkadi he said he used to eat deli sandwiches for breakfast! But two things we agree on when it comes to sandwiches are these: we both like hot sandwiches and we both like gravy! So, combine those two likes along with some left over turkey and we have:  open faced hot turkey sandwich smothered with turkey and bacon gravy!  It was true winter comfort food and a good use for left over roasted turkey too!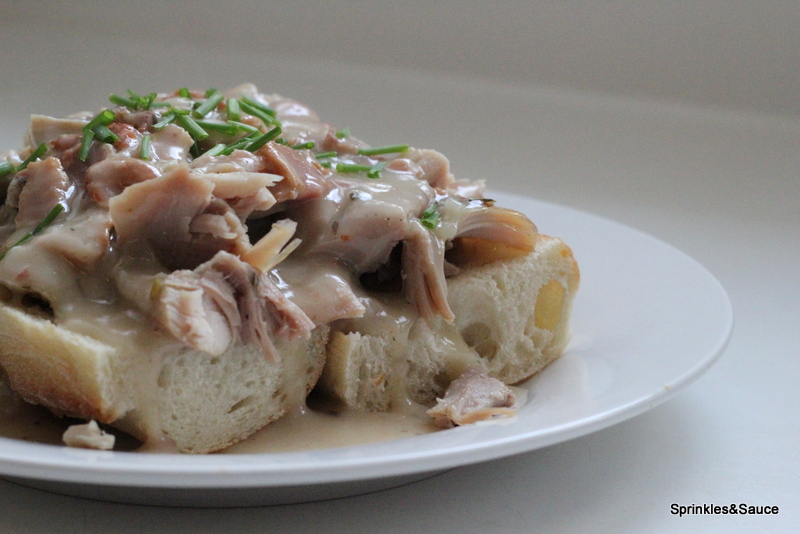 So here's the recipe for you:

Open Faced Hot Turkey Sandwich Smothered with Turkey and Bacon Gravy
Author:
sprinkles and sauce
Ingredients
shredded left over turkey meat (white and dark)
a nice crusty baguette
chopped chives
For the gravy:
½ cup chopped bacon
¼ cup minced shallots
¼ cup all purpose flour
3 cups chicken or turkey stock
1 teaspoon fresh rosemary
1 teaspoon fresh sage
Instructions
For the gravy:
In a saucepan, add the chopped bacon and saute until crisp.
Then add the minced shallots and saute until soft.
Add the all purpose flour and stir until the flour is golden brown in colour.
Then slowly pour in the stock and whisk until the flour is dissolved. Bring to a boil and continue whisking.
Cook gravy for about 5 minutes and then add in rosemary and sage. Season with salt and pepper.
For the sandwich:
Slice the baguette, top it with shredded turkey meat, pour gravy on top and garnish with chives.