Growing up in the Philippines I don't ever recall anybody using our oven.  We had an oven.  We just never used it.  I guess baking + high temperatures just did not go hand in hand.  So when I came to Canada, I became fascinated with baking and baked goods!   One of my favorite baked goods are cakes because growing up, cakes were reserved for special occasions only – family reunion, graduation, anniversary and the like.  For so long I have been searching for MY favorite chocolate cake and I finally found one and the bonus factor is that the recipe is so easy!  I hope you enjoy this cake as much as we do!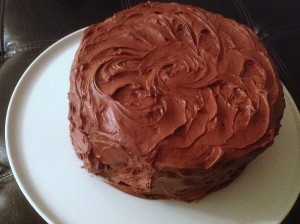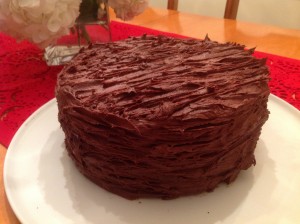 Old Fashioned Chocolate Cake
1o to 12 servings Adapted from: mybakingaddiction.com   
Old Fashioned Chocolate Cake
Author:
sprinkles and sauce
Ingredients
2 cups sugar
1 and ¾ all purpose flour
¾ cup cocoa powder*
2 teaspoons baking soda
1 teaspoon baking powder
1 teaspoon salt
2 eggs
1 cup buttermilk**
1 cup strong coffee***
½ cup vegetable oil
1 teaspoon vanilla extract
Instructions
Preheat oven to 350F.
Prepare (grease and flour) two 9 inch round baking pans or a 13x9x12 inch baking pan.
Combine and stir sugar, flour, cocoa powder, baking soda, baking powder and salt in a large bowl. Then add eggs, buttermilk, coffee, oil and vanilla; beat on medium speed of stand mixer for about 2 minutes (don't be alarmed - the batter WILL be runny). If using round baking pans, pour batter evenly into each pan.
Bake for about 30 to 35 minutes if using round baking pans and about 35 to 40 minutes if using a rectangular pan. The cake is done if wooden pick comes out clean.
Cool the cake and frost using your favorite frosting.
Notes
*the original recipe called for Hershey's cocoa powder but I used Frys' cocoa powder.
**if you do not have any buttermilk in the fridge (which most of us don't actually have readily available) you can substitute by using regular milk with 1 tablespoon of white vinegar.
***for my version, I used a double shot espresso and added enough hot water to make 1 cup
****I used a chocolate buttercream frosting for the cakes above