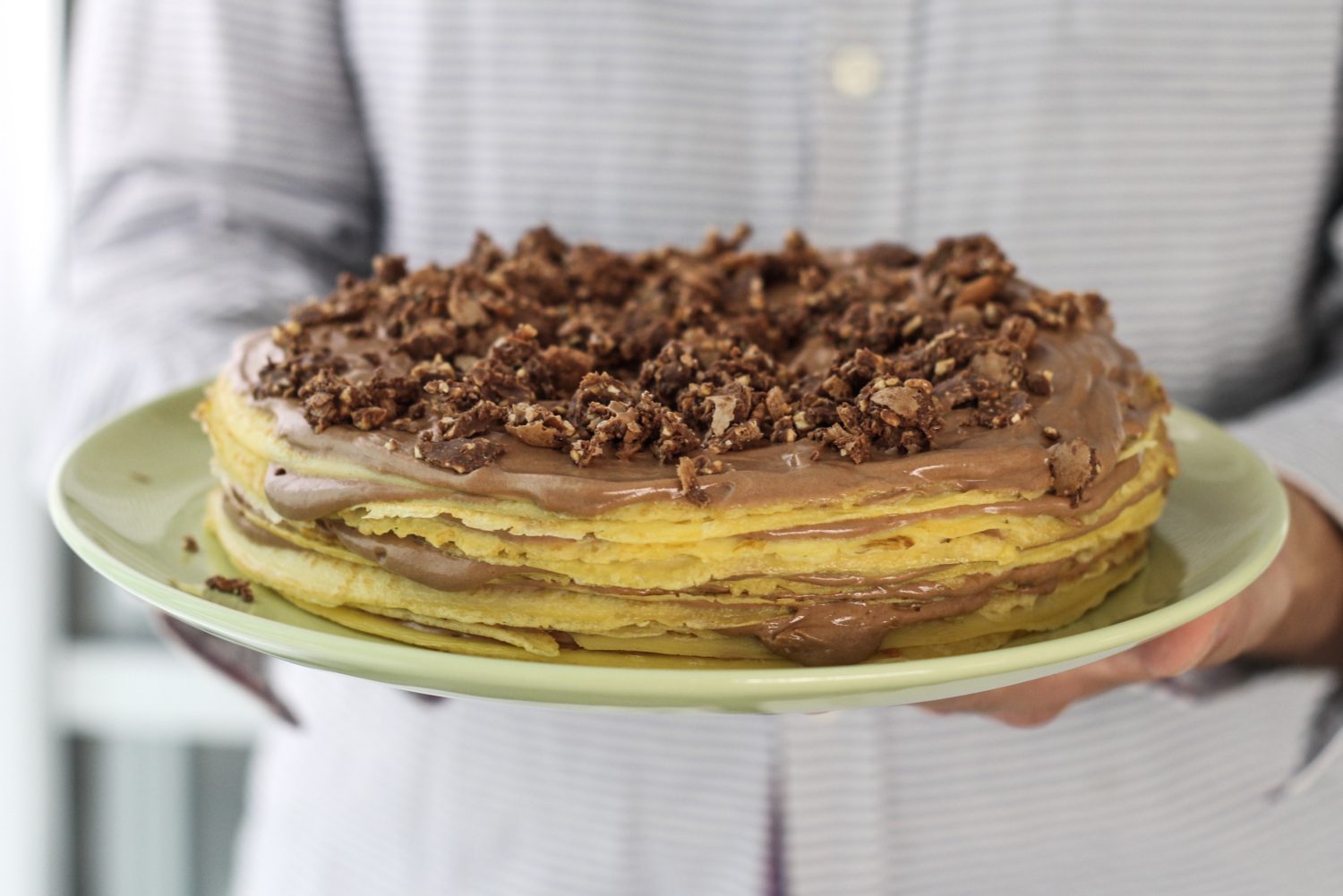 Any Nutella fans out there? Well, here's one more way to use this beloved spread – Nutella Crepe cake! This super easy dessert is a definite crowdpleaser.  If you have friends who are not Nutella fans, you really need to reconsider your friendship with them.  Seriously.   Whether you call it "nooh-tella" or "nuh-tella," one thing we can all agree on is that Nutella is amazing. 
If you're a big fan of this spread, then you likely already know all the facts about Nutella, but if you're a newbie, then here's a little history from Nutella.com:
"Pietro Ferrero, a pastry maker from Piedmont in Italy, ingeniously created a sweet paste made from hazelnuts, sugar and just a little of the rare cocoa. He shaped it into a loaf that could be sliced and served on bread and he named it 'Giandujot' after a local carnival character famous at the time. On May 14th, 1946 the Ferrero Company was officially founded." 
It wasn't until 1964, however, that Nutella was recreated to what we all know now – a jar of chocolatey, nutty goodness!   Grazie Pietro! Grazie mille!
So let's say you were invited to a dinner party and you were asked to bring dessert or you have leftover crepes from brunch, what are your options?  Well, you can go through your numerous dessert pins on Pinterest or you can just try making a crepe cake.  Admittedly, it sounds daunting making a cake consisting of layers of crepes and making this cake does require a lot more steps than a conventional cake.  BUT, hear me out on this, making this crepe cake is easy and you can make all the different components ahead of time so when it's go time, all you have to do is to assemble your cake! Or if you're like me and you like to plan everything ahead of time, you can make this cake the night before you're serving it so you can tick off one more thing on your to-do list!
If I still have not managed to convince you, here's the biggest selling point of this cake: the charm of this cake is in its rustic appearance.  When you cut into the cake, all the layers look so pretty with that sweet, Nutella filling sandwiched between multiple layers of delicate crepe.  And because life is not about being perfect, even if your crepes were a bit on the wonky side, the filling does a good job hiding those wonky bits !
So here it is, here's how to make this Nutella Crepe Cake and some photos to whet your appetite!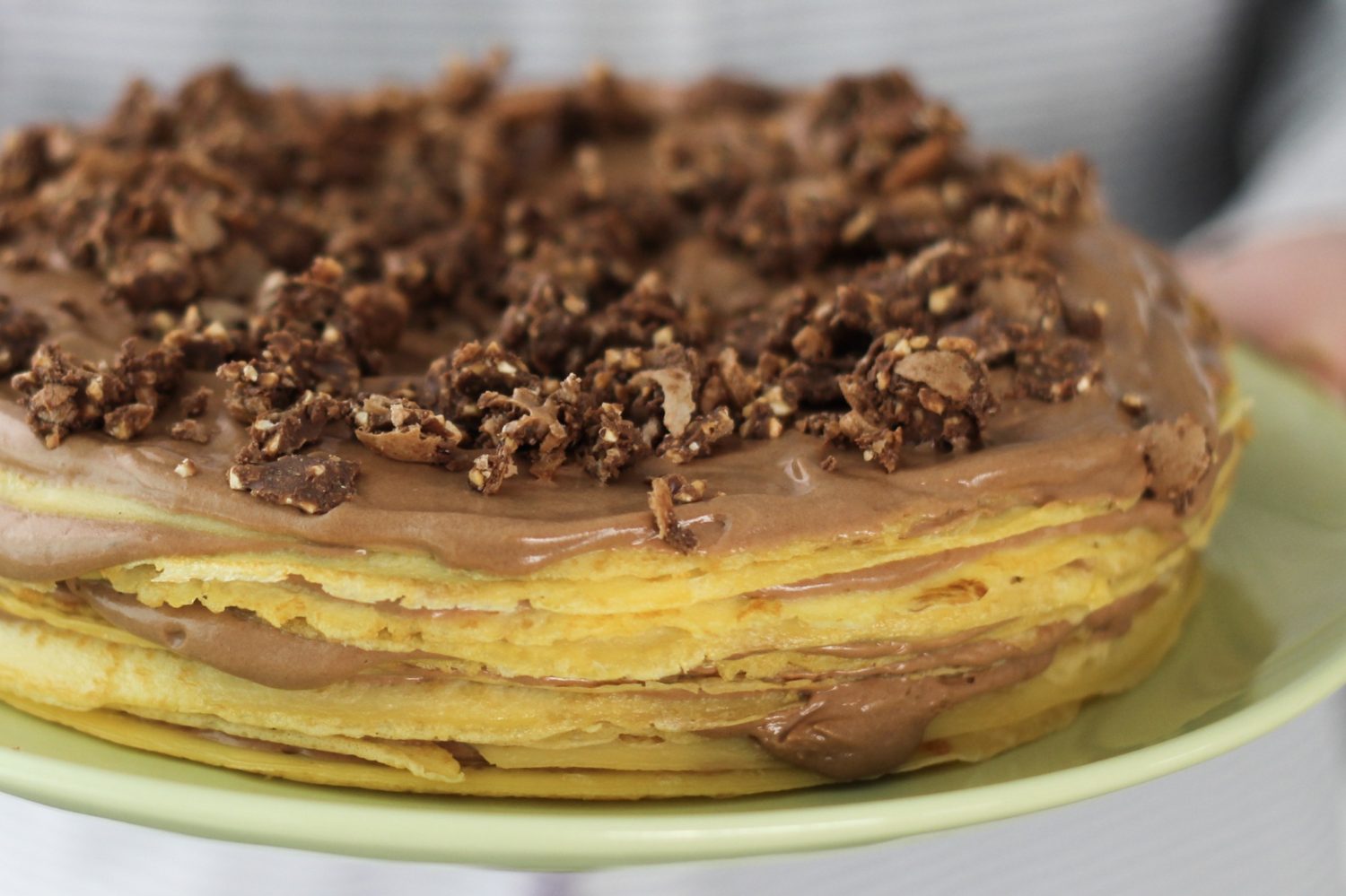 Look at all that Nutella goodness right there and just for good measure, add some crushed Ferrero Rocher because life is short and we can all use a little more goodness everyday! 
Nutella Crepe Cake
Author:
adapted from thekitchn.com
Ingredients
For the crepes:
Ingredients
1 cup all-purpose flour
1½ cups milk
2 large eggs
Pinch of salt
2 tablespoons of melted butter
1 tablespoon sugar
1 teaspoon vanilla
Neutral oil for cooking
For the Nutella filling (makes about 2⅓ cups):
½ pound unsalted butter, at room temperature
1 cup powdered sugar
½ teaspoon vanilla extract
½ teaspoon hazelnut liqueur (optional)
1 (13-ounce) jar Nutella or chocolate-hazelnut spread (about 1¼ cups)
¼ cup heavy cream, at room temperature
For the assembly
12 pieces Ferrero Rocher chocolate, crushed
Instructions
For the crepes:
Make the batter: place the flour, milk, eggs, salt, and melted butter, sugar and vanilla in a blender and blend for about 20 seconds until batter is smooth. Alternatively, whisk everything together in a bowl until thoroughly combined and frothy.
Let the batter sit: cover the bowl and let the batter sit for at least ½ hour on the counter or overnight in the refrigerator.
Cook the crêpes: place the pan over medium heat and add a small amount of oil to coat the bottom of the pan. Let it sit on the flame for a minute to get hot. Pour in about ¼ cup of batter. Immediately, pick up the pan and swirl it to coax the batter into an even layer on the bottom of the pan.
Flip the crêpe: when the crêpe has browned slightly on the bottom, carefully work a spatula underneath it and flip. Cook the second side briefly, just to set the batter.
Cool the crêpe: tilt the pan and loosen the crêpe, then slide it onto the cooling rack.
Continue making crêpes: Continue making crêpes with the rest of the batter, adding more oil as needed to keep the crêpes from sticking.
For the Nutella filling:
Cream the butter and sugar: Place the butter in the bowl of a stand mixer fitted with a paddle attachment. (Alternatively, use an electric hand mixer and large bowl.) Beat on medium speed until soft and fluffy, about 2 minutes. Add the powdered sugar and beat on medium speed, scraping the bottom and sides of the bowl, until fully incorporated, about 2 minutes.
Add the flavorings: Add the vanilla and hazelnut liqueur if using, and beat on medium speed until combined. Add the Nutella and continue to beat on medium speed until fully combined and there are no streaks of Nutella or the butter-sugar mixture.
Add the cream: Add the cream and beat until the filling is lighter in color, very fluffy, and easy to spread, about 3 minutes.
To assemble your crepe cake:
Add a dollop of Nutella filling to the base of your plate or cake platter to make sure the cake stays put.
Add your first crepe layer.
Start with a tablespoon of Nutella filling on your first crepe layer. Spread the Nutella filling to make sure it covers the entire crepe. Add more whipped cream if needed.
Sprinkle crushed Ferrero Rocher pieces on top.
Add your second layer and repeat steps until you've used up all your crepes.
Notes
My cake only has 10 layers of crepe, but if you want to the taller cake, here's a link to the original recipe: thekitchn.com: https://www.thekitchn.com/how-to-make-nutella-crepe-cake-the-easiest-method-240548. The crepe recipe I used for this Nutella cake is the same recipe I used for my Mango & Passionfruit Crepe Cake (http://sprinklesandsauce.com/mango-passionfruit-crepe-cake/). If you find it's too sweet with the crushed Ferrero Rocher, you can substitute it with chocolate shavings instead.