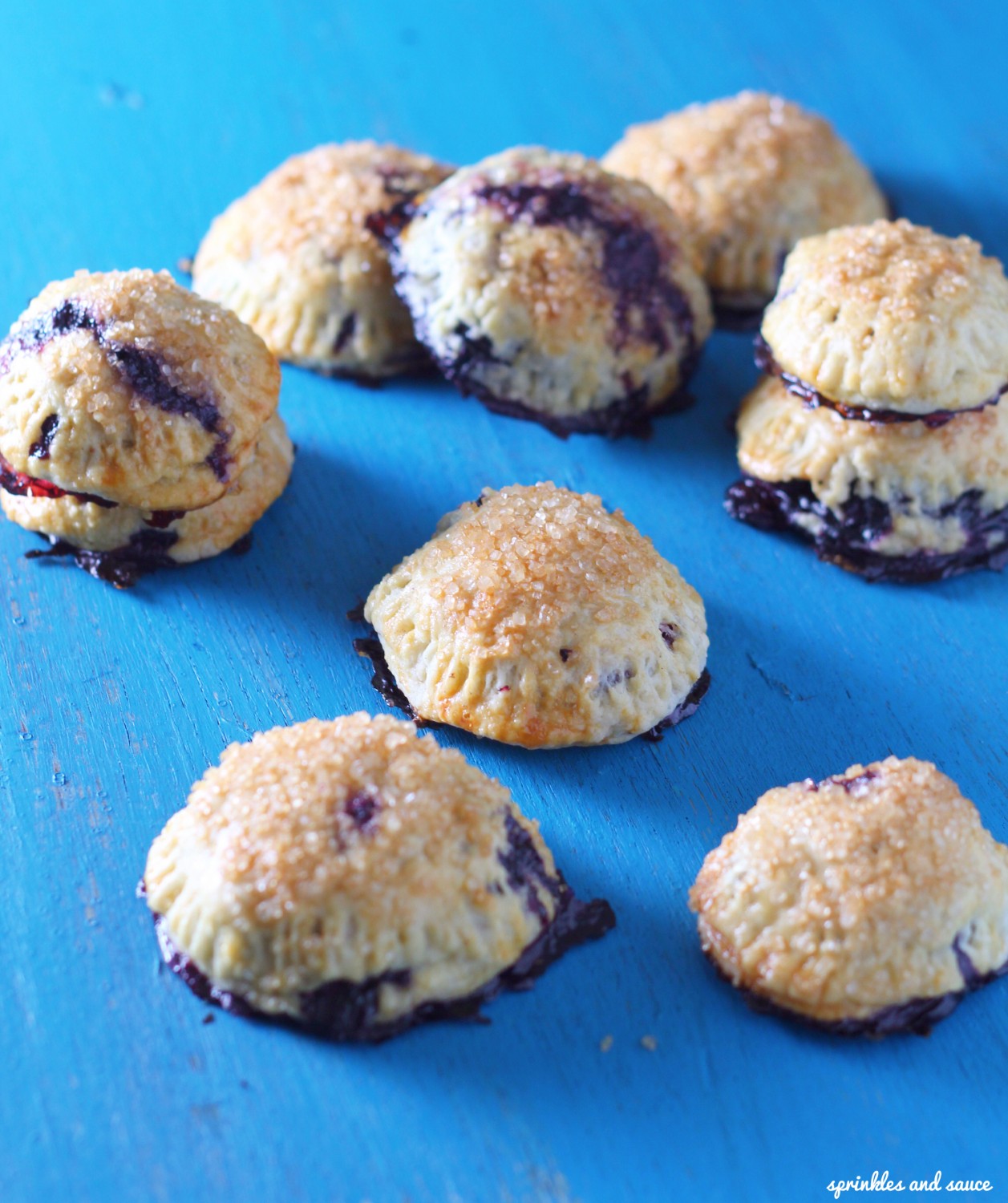 I don't know about you, but I always get a little sad this time of the year.  Perhaps I am being a bit melodramatic, but the reality is in mere 18 days summer will officially be over and next thing you know, it's winter again.  BLAH.  I don't actually care for the heat or the humidity that summer brings, but I do love endless days of sunshine and the carefreeness that comes with summer.  To celebrate the last few days of summer, we decided to make mini blueberry hand pies.  This is my first time making mini hand pies or hand pies altogether and I have to say, they are the perfect summer treat! First off, they're delicious, second, you can stuff these pies with any kind of summer fruit you like, third they can easily fit in your pocket and lastly, anything mini is awesome in my books (that's right, that includes vertically challenged people)!  The recipe does take some planning, but once you have everything ready,  it's very easy to assemble and bake.  So if you are like me and want to celebrate the last few days of summer, try out this recipe for mini blueberry hand pies:

Mini Blueberry Hand Pies
Author:
bloggingoverthyme.com
Ingredients
For the pie dough:
1 and ½ cup of all purpose flour, plus more for dusting
1 teaspoon of sugar
¼ teaspoon of kosher salt
½ cup or 1 stick of chilled unsalted butter, cut into ¼" cubes
¼ cup of ice water
For the filling:
9 ounces of fresh blueberries (roughly 2 cups)
zest of one lemon
¼ cup of sugar
1 tablespoon of lemon juice
1 tablespoon of ground cinnamon
¼ teaspoon of kosher salt
1 whole egg, plus one teaspoon of water
1 teaspoon of demerara sugar
Instructions
For the pie dough:
Combine the flour, sugar and salt in the bowl of a large food processor. Pulse several times to mix thoroughly.
Add the butter and pulse several times until the butter is thoroughly incorporated and the texture resembles that of coarse meal. You want your butter incorporated into the flour mixture in different sizes for the flakiest crust.
While pulsing, slowly add the water and continue to pulse until the dough just begins to clump together loosely.
Remove the dough to a clean counter top and shape together with your hands into a square disc.
Cover the dough tightly with plastic wrap and let it chill for about 1.5 to 2 hours or until the dough is firm (dough can be prepared up to 3 days in advance).
For the filling:
Preheat the oven to 375F.
Line a large baking sheet with parchment paper.
In a bowl, combine your blueberries, lemon zest, lemon juice, cinnamon and salt. Mix thoroughly. Set aside.
In a small bowl, whisk together your egg and water. Set aside with pastry brush.
Remove the dough from the fridge and allow it to rest at room temperature for about 5 to 10 minutes.
Once it has rested, place the dough on a lightly floured surface and using a rolling pin, roll the dough into a 12``x 15`` rectangle. You can cute the dough into rectangles or use a glass to cut out little circles.
Brush the edges of the pie dough rectangles or circles with water. Distribute the berry evenly between each rectangle or circle. Fold the dough over the blueberries if making them into rectangles or use another circle to cover over the blueberries. Use a fork to seal the edges.
Place the hand pies onto the parchment paper lined baking sheet.
Brush the tops of the pies evenly with egg wash and sprinkle demerara sugar on each one.
Using a sharp knife, cut two or three small slits on top of the hand pies to allow steam to escape during baking.
Bake at 375F for about 35-40 minutes (rotating halfway) or until golden brown.
Do not worry if some of the filling oozes out of the pies.
Transfer baking sheet to a wire rack to cool.
Serve warm or at room temperature.