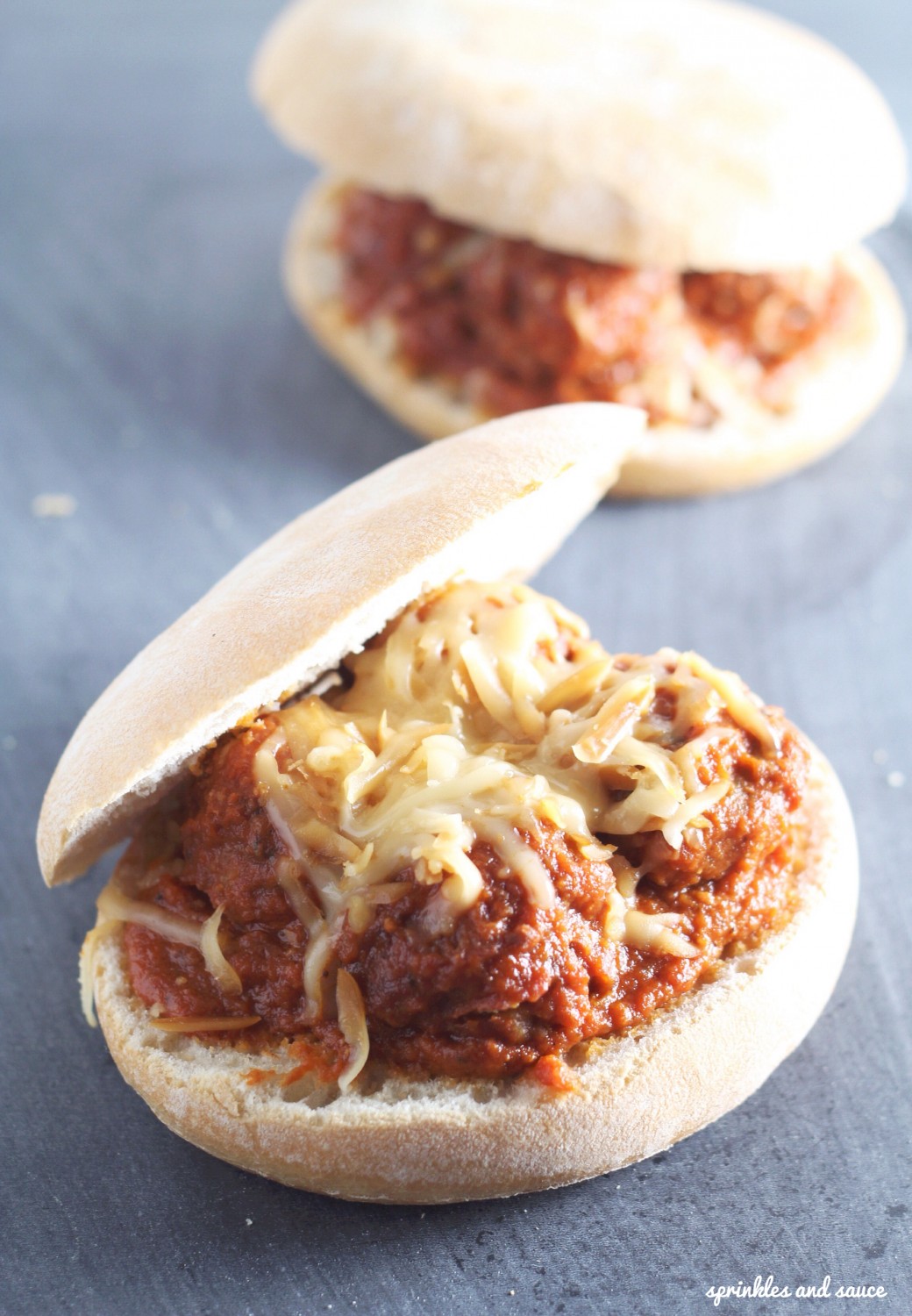 There was a point in time when Arkadi and I frequented the Italian sandwich shops in our area  to satisfy our veal or chicken or meatball sandwich cravings.  These cravings lasted a while and so once a week, for several consecutive weeks, we'd go to our local Italian sandwich shop and  get the usual order: 2 orders of veal sandwich smothered in tomato sauce and topped with fried mushrooms and onions.  And if we were extra hungry that day then we'd get their meatball sandwich. Their meatball sandwich was huge! I think you likely get two or three big meatballs in a sandwich and then they topped it with tomato sauce  (I am getting hungry as I am typing this).  If you're real hungry (or hangry, which seems to happen to me a lot), you can add in fried mushrooms, onions and of course, cheese!    However, when we moved to our new place a little while ago we were disappointed that the area does not have a lot of Italian sandwich shops around.  So to get over our disappointment,  we decided to make our own meatball sandwich for dinner the other night.   We had some leftover marinara sauce in the fridge and homemade veal and pork meatballs in the freezer and we put it all together  before leaving for work. By the time we got home, all we had to do was assemble the sandwich and we had our very own homemade meatball sandwich!  It was real easy to put together and we made use of our slow cooker, again, so it's perfect for a weekday meal.  Here's the recipes for you to try:

Meatball Sandwich with Marinara Sauce and Smoked Mozzarella
Author:
sprinkles and sauce
Ingredients
12 medium sized pork and veal meatballs
2 cups of marinara sauce
1 cup of shredded smoked mozzarella
3 ciabatta buns, cut crosswise
Instructions
Place the meatballs and marinara sauce into your slow cooker and cook on low for about 4 hours.
Spread marinara sauce on one half of the ciabatta bun.
Top with 4 meatballs.
Add shredded mozzarella and top with the other half of the ciabatta bun.
Broil the sandwich to melt the cheese and toast the bread a little.
Notes
When I make meatballs for a pasta dish, I would make several small ones to freeze and reserve for another night. They're pretty handy to have in the freezer because all you do is throw them in the slow cooker with tomato sauce and you can eat them by themselves or in a sandwich or with pasta!