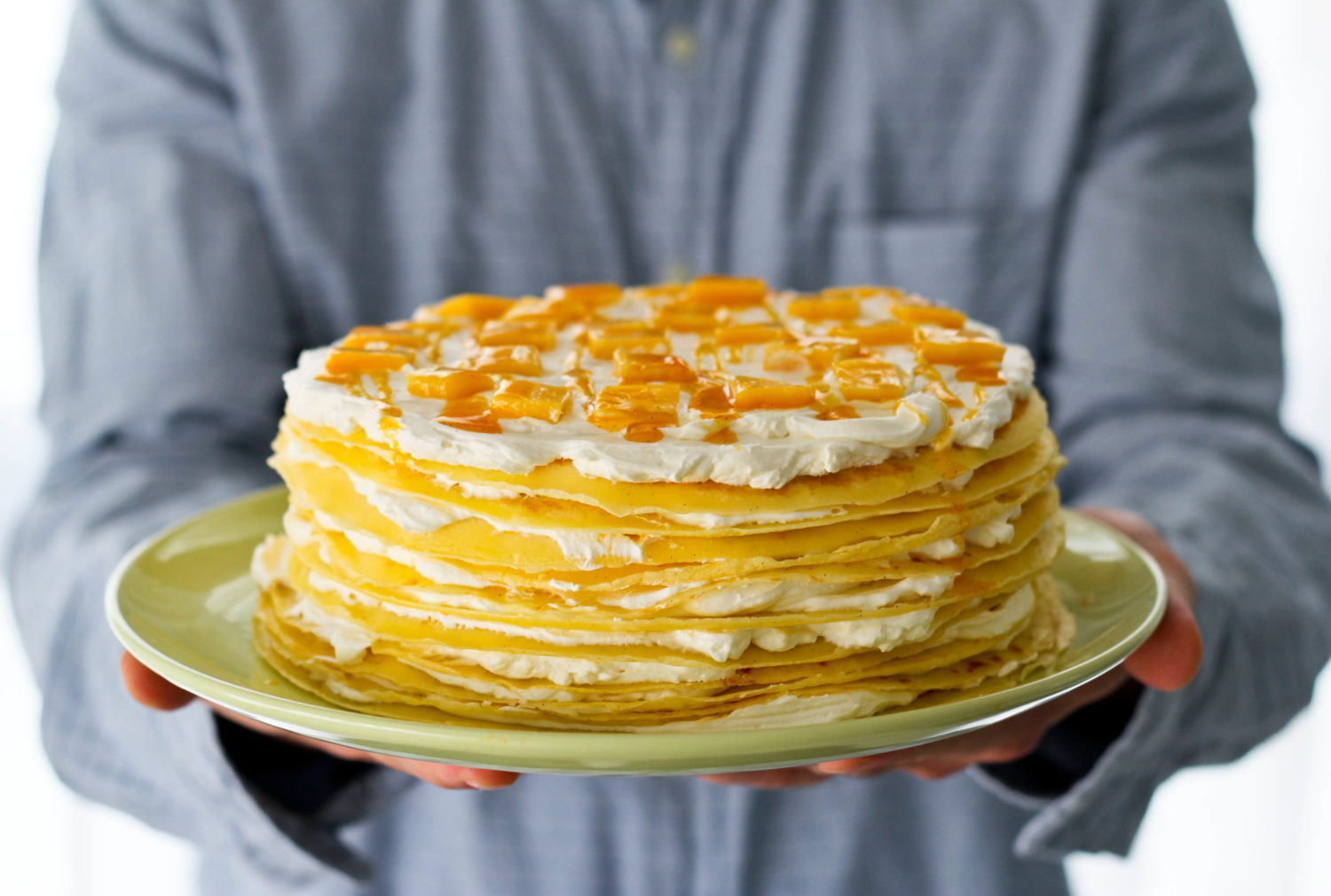 Ever feel like your life is just passing you by and you look back and all you see is your daily and weekly routine of home, work, sleep, repeat? Well, we find ourselves thinking that way from time to time.  Truth is, life can be like that for everyone, even for the most creative, dynamic person you know! Good news is when you get into a rut, you don't have to be stuck in that rut! (Ugh..even the word rut is so boring…) There are plenty of things you can add to your routine to shake things up and a little creativity to your life.  You just have to be curious enough to find those gems and adventurous enough to incorporate them into your everyday life.
We found ourselves in a bit a rut when we were living in Chiang Mai.  We loved our condo, but really wished we had a real kitchen.  We didn't have a stove and oven, all we had was a counter top cooker and coffee maker! But, life moves forward and so should we.  So, to get out of that rut, we thought about making a crepe cake! You get to have a cake, but you don't need an oven or any other fancy gadget to make it.  (genius moment for us, we don't have a lot of those so we celebrate each and everyone!) So we decided to try our hand at making a mango & passionfruit crepe cake! And just like that, we got out of our rut! The cake was easy to make and it was delish! Now, here's a little disclaimer: there are a lot of steps to this cake recipe. Hold up, don't run away.  You can do some of the steps ahead of time and all the little steps are not really all that hard to do, they just take a bit of time.  You got this and remember, believe and you will achieve (totally just made that last part up.  starting to realize I need to stop reading those motivational posters). So here's what you need to do:
First, you need to make the crepes from: The Kitchn

Second, you need to make this passionfruit coulis from: Epicurious
Third, make your favorite whipped cream recipe like this one from Alton Brown or use your favorite ready made whipped cream.
And lastly, assemble your beautiful, towering, crepe cake and enjoy!
If you want to make things easier for yourself, take a look at the how to we've put together here for you:

Mango and Passionfruit Crepe Cake
Author:
adapted from thekitchn.com and epicurious.com
Ingredients
For the crepes:
Ingredients
1 cup all-purpose flour
1½ cups milk
2 large eggs
Pinch of salt
2 tablespoons of melted butter
1 tablespoon sugar
1 teaspoon vanilla
Neutral oil for cooking
For the coulis:
¾ cup frozen passion fruit puree,* thawed
½ cup sugar
½ vanilla bean, split lengthwise
For the whipped cream:
2 tablespoons sugar
1 cup heavy whipping cream
For the crepe cake:
crepes
whipped cream
mango chunks from 1 large mango
passionfruit coulis
Instructions
For the crepes:
Make the batter: place the flour, milk, eggs, salt, and melted butter, sugar and vanilla in a blender and blend for about 20 seconds until batter is smooth. Alternatively, whisk everything together in a bowl until thoroughly combined and frothy.
Let the batter sit: cover the bowl and let the batter sit for at least ½ hour on the counter or overnight in the refrigerator.
Cook the crêpes: place the pan over medium heat and add a small amount of oil to coat the bottom of the pan. Let it sit on the flame for a minute to get hot. Pour in about ¼ cup of batter. Immediately, pick up the pan and swirl it to coax the batter into an even layer on the bottom of the pan.
Flip the crêpe: when the crêpe has browned slightly on the bottom, carefully work a spatula underneath it and flip. Cook the second side briefly, just to set the batter.
Cool the crêpe: tilt the pan and loosen the crêpe, then slide it onto the cooling rack.
Continue making crêpes: Continue making crêpes with the rest of the batter, adding more oil as needed to keep the crêpes from sticking.
For the coulis:
For coulis:
Combine passion fruit puree and sugar in heavy small saucepan.
Scrape in seeds from vanilla bean; add bean.
Stir over medium heat until sugar dissolves.
Simmer until mixture is reduced to ½ cup, stirring frequently, about 6 minutes.
Transfer coulis to bowl and refrigerate until cold. DO AHEAD: Can be made 2 days ahead. Cover and keep refrigerated. Discard vanilla bean before using.
For the whipped cream:
Place a metal mixing bowl and metal whisk into the freezer for 10 to 15 minutes.
Place the sugar into the mixing bowl and add the whipping cream. Whisk just until the cream reaches stiff peaks.
To assemble your crepe cake:
Add a dollop of whipped cream to the base of your plate or cake platter to make sure the cake stays put.
Add your first crepe.
Start with a tablespoon of whipped cream on your first crepe layer. Spread the whipped cream to make sure it covers the entire crepe. Add more whipped cream if needed.
Drizzle some passion fruit coulis over your whipped cream.
Add some mango chunks.
Add your second layer and repeat until you've used up all your crepes.
Notes
Tips for the crepes:
Prepare to cook the crêpes: Before cooking the crêpes, assemble everything you'll need by your stove top: the batter, the pan, the oil, the spatula. If your bowl doesn't have a pour spout, have a ladle or ¼-cup measuring cup handy.
Stack and store: If not eating the crêpes immediately, stack them one on top of the other as they cool. If they seem sticky, place a square of plastic wrap or parchment paper between them. Place the stack in a sealable plastic bag and store in the refrigerator for a few days or in the freezer for a few months.

Tips for the coulis:
You can make the coulis 2 days ahead. Cover and keep refrigerated. Discard vanilla bean before using.
You can use frozen passionfruit or even passion fruit juice (you may just have use a little less to make sure your coulis has the right consistency) or you can use fresh passionfruit like we did (we pressed the pulp against a wire sieve to get the juice out and remove the seeds).
!For the whipped cream:
This recipe yields 1.5/2 cups and you can easily double it to make sure you have a generous portion of whipped cream in between each layer and whatever you don't use, you can store and use for something else!
Remember,
let your creativity be your guide with this cake. Build it as high as you like or as low as you like
!
Or here's another idea, if you don't want to bother with all the layers, you can simply, add a bit of the coulis, whipped cream and fruit on a crepe, roll it up and eat like a dessert burrito
! If you need some inspo, here's some of our pictures to whet your appetite and get your creative juices flowing:
each layer is filled with juicy sweet mango, tangy passionfruit and heavenly cream! YUM-O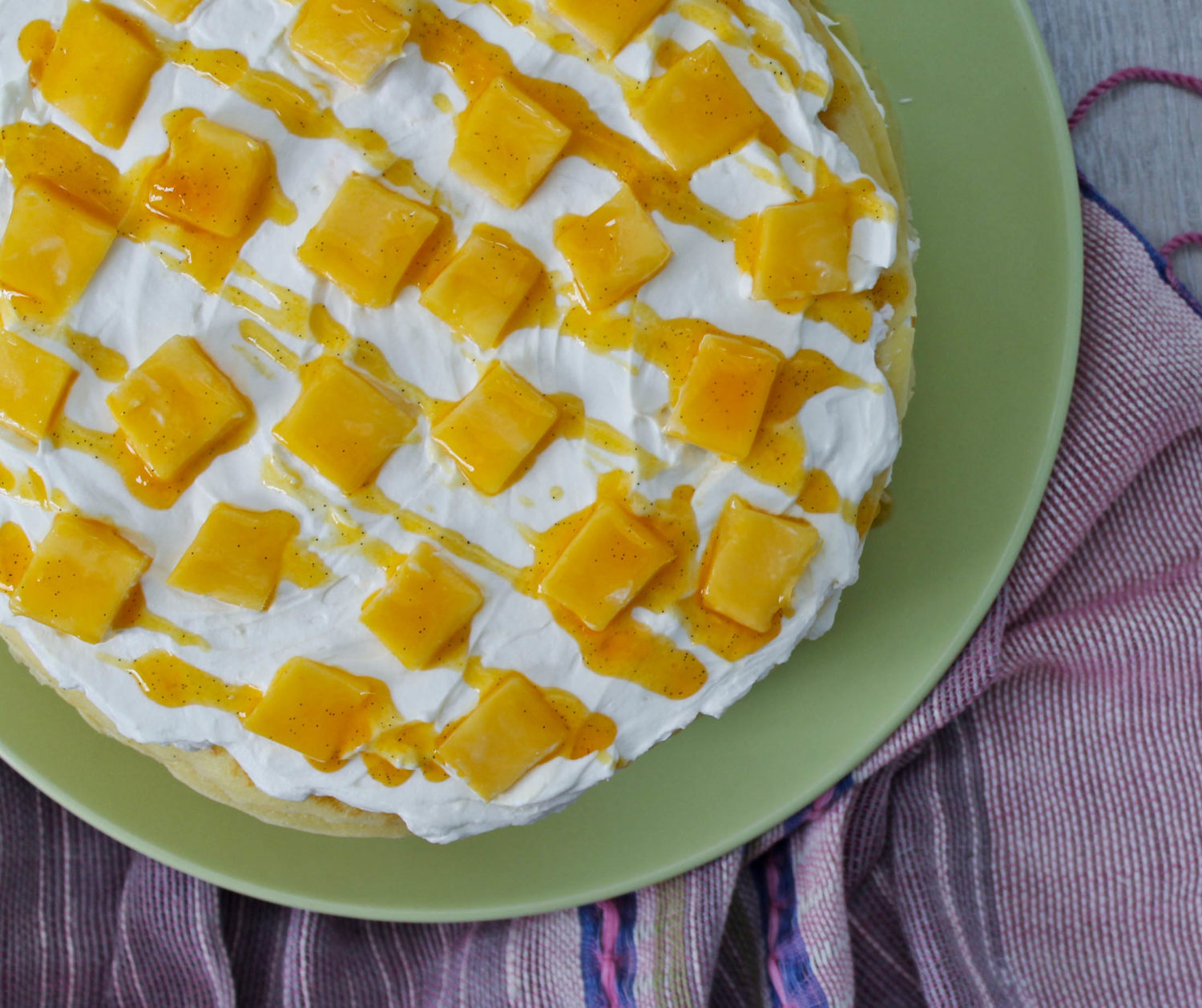 flecks of black against that white, pillowy cream is making us swoon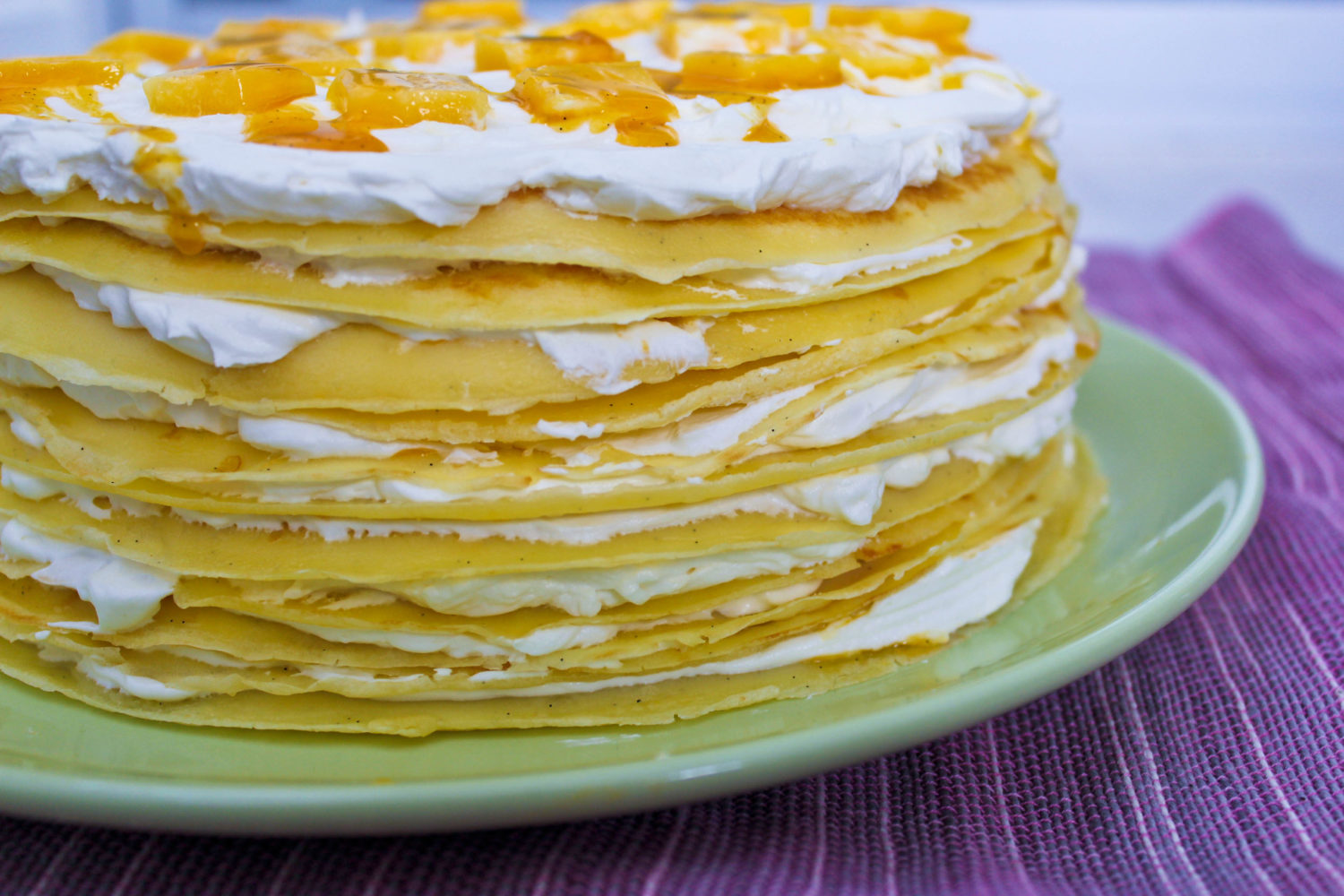 Last, but not least, if you want to know more about passion fruit and all it's health benefits, here's an article for you!