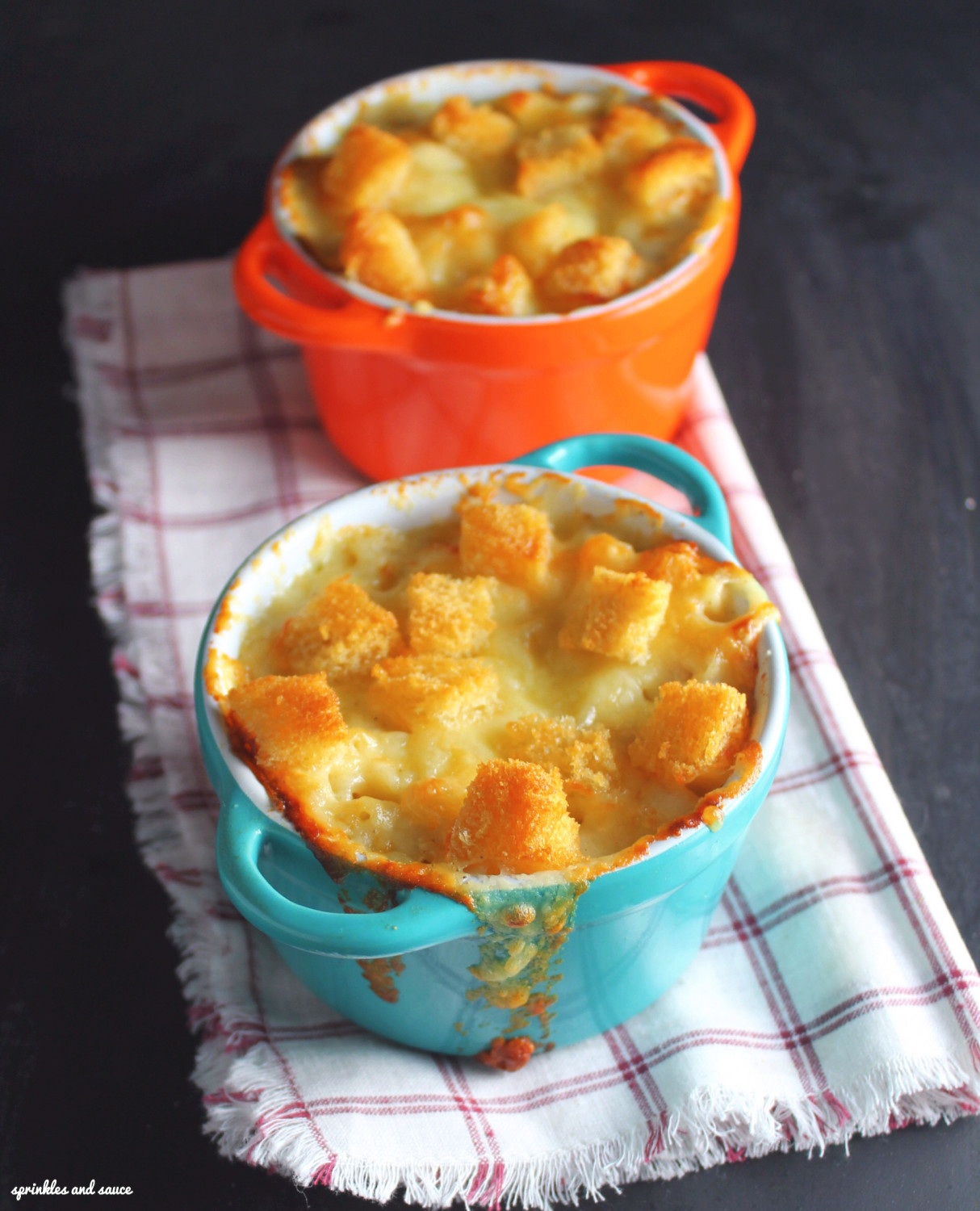 The first time I had Kraft dinner was just a few years ago.  We just never bought it growing up and I was always a little scared of how orange the powdered cheese is! But my sister in law made a bowl of KD one night and I reluctantly ate a spoonful that she offered me.  It was not half bad! After that I'd pick up a box once in a while and make it at home.  I like to add a bit more than just milk and butter.  I like to add some bacon and green onions.  The bacon to make my heart work harder and for my arteries to get more clogged and the green onions to add veg to the bright orange bowl of goodness! One day I figured it can't be that hard to make homemade macaroni and cheese and making it yourself is likely a lot better for you anyway.  So I searched far and wide for a recipe I wanted to try and I stumbled upon this recipe from smittenkitchen.com for Martha's Macaroni and Cheese.  The recipe is from two ladies who are cooking powerhouses so I was sure it was going to turn out well! And I was definitely not disappointed.  Each spoonful is so creamy and rich that you can't stop with just a small bowl!  This recipe is a winner in so many ways.  This mac and cheese with bacon is so creamy and satisfying and you can make it for your family's weekday dinner or for your dinner guests because it's fancy enough for a dinner party! The recipe itself is not complicated and you don't have to use any scary orange cheese powder at all.  I added some bacon bits to mine and of course some Frank's Red Hot because that's they way I like my mac and cheese.  But you can omit those and keep it simple and it'll still be every bit as satisfying.  A bowl of this dish is like a warm hug for your belly and really who can't use more hugs these days? So if your belly needs some hugging and you want to make something simple and satisfying, here's the recipe for you:

Mac and Cheese with Bacon
Author:
adapted from smittenkitchen.com
Ingredients
8-10 slices of bacon, cooked and crumbled
8 tablespoons (1 stick) unsalted butter, plus more for casserole
6 slices white bread, crusts removed, torn into ¼- to l/2-inch pieces
5½ cups milk
½ cup all-purpose flour
2 teaspoons coarse salt, plus more for water
¼ teaspoon ground nutmeg
¼ teaspoon freshly ground black pepper
¼ teaspoon cayenne pepper
4½ cups (about 18 ounces) grated sharp white cheddar cheese
2 cups (about 8 ounces) grated Gruyère or 1¼ cups (about 5 ounces) grated Pecorino Romano cheese
1 pound elbow macaroni
Instructions
Preheat oven to 375°F.
Butter a 3-quart casserole dish; set aside.
Place the bread in a medium bowl. In a small saucepan over medium heat, melt 2 tablespoons butter.
Pour the melted butter into the bowl with the bread, and toss. Set the breadcrumbs aside.
Warm the milk in a medium saucepan over medium heat.
Melt the remaining 6 tablespoons butter in a high-sided skillet over medium heat.
When the butter bubbles, add the flour. Cook, stirring, 1 minute.
While whisking, slowly pour in the hot milk a little at a time to keep mixture smooth.
Continue cooking, whisking constantly, until the mixture bubbles and becomes thick, 8 to 12 minutes.
Remove the pan from the heat.
Stir in salt, nutmeg, black pepper, cayenne pepper, 3 cups cheddar cheese, and 1½ cups Gruyère (or 1 cup Pecorino Romano) and the bacon bits.
Set the cheese sauce aside.
Cover a large pot of salted water, and bring to a boil.
Cook the macaroni until the outside of pasta is cooked and the inside is underdone, 2 to 3 minutes.
Transfer the macaroni to a colander, rinse under cold running water, and drain well.
Stir the macaroni into the reserved cheese sauce.
Pour the mixture into the prepared dish.
Sprinkle the remaining 1½ cups cheddar cheese, ½ cup Gruyère (or ¼ cup Pecorino Romano), and the breadcrumbs over the top.
Bake until golden brown, about 30 minutes (though we needed a bit more time to get it brown, but your oven may vary).
Transfer the dish to a wire rack for 5 minutes.
Serve.
Notes
I made half of this recipe as there are only two of us to eat this dish at home. We had leftovers and this dish heats up well. It stays creamy and just as good as when it first comes out of the oven.
I have not tried this myself, but if you want to make this full recipe, I imagine you can easily freeze the rest and thaw each portion, put it in the oven to warm up and it'll be just as tasty!