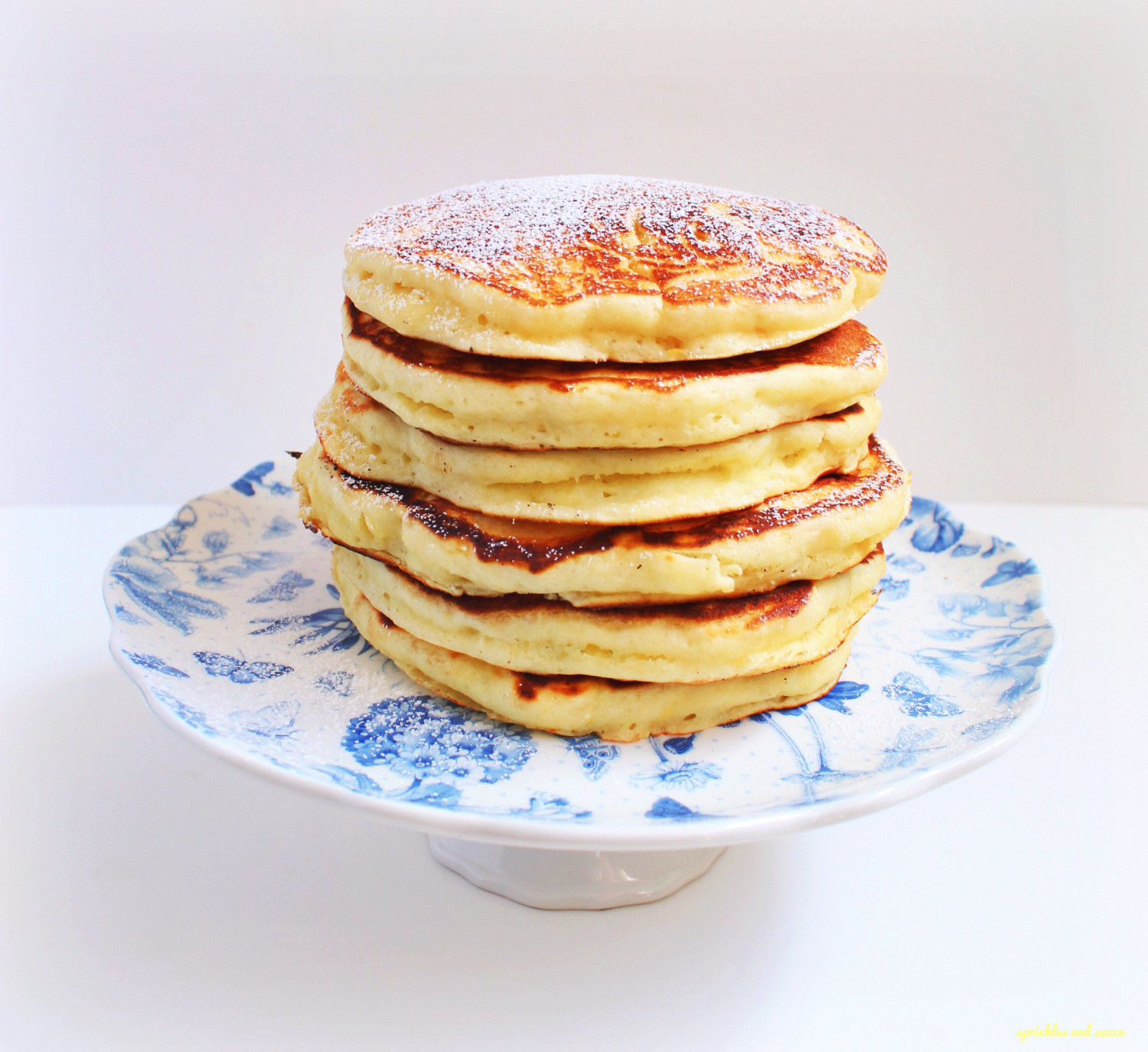 I never understood the fuss about ricotta pancakes until I tried one.  Now I am hooked on them like a bear is hooked on honey (wait, is that just Yogi bear or is it for real a fact about bears?).  The addition of ricotta makes rich, fluffy, melt in your mouth pancakes.   And I think keeping it simple is the key because it's the texture of the pancakes that's the star in this dish so I just added just lemon juice and zest for some zing! Honestly, these pancakes are the best! It's hard to go back to eating good old pancakes after trying these lemon ricotta ones.
It's a long weekend for us here in Toronto so I'd say roll up your sleeves, whip out your non stick pans and get going on making these lemon ricotta pancakes.  They're a bit more special and tastier than the good old flapjack, but just as easy to make.  So here's a suggestion, wake up a bit earlier this holiday Monday, whip up a batch of these pancakes and I guarantee your family will be singing your praises all week long! Trust. Me.   The recipe below is from Williams-Sonoma and to be honest, this is the first ever recipe I've tried from their site, but it's definitely not going to be the last!  So if you want your family to love you (or love you even more), try this recipe out on them this week.

Lemon Ricotta Pancakes
Author:
williams-sonoma.com
Ingredients
1 cup ricotta cheese
1 cup milk
3 eggs, separated
¼ cup sugar
Zest and juice of 1 lemon
1½ cups cake flour
1 Tbs. baking powder
¼ tsp. salt
Instructions
In a large bowl, whisk together the ricotta, milk, egg yolks, sugar, lemon zest and juice until smooth.
Sift together the flour, baking powder and ⅛ tsp. of the salt over the ricotta mixture and stir with a wooden spoon until just combined.
In another large bowl, using a whisk, beat the egg whites until frothy. Add the remaining ⅛ tsp. salt and continue beating until soft peaks form.
Using a rubber spatula, fold one-third of the egg whites into the ricotta mixture, then gently fold in the remaining whites.
Preheat a griddle over medium heat.
Spray the griddle with nonstick cooking spray.
Ladle ⅓ cup batter onto the griddle for each pancake.
Cook until bubbles form on top and the pancakes are golden underneath, 1 to 2 minutes.
Flip the pancakes and cook for 1 minute more.
Transfer to a warmed plate.
Repeat with the remaining batter.