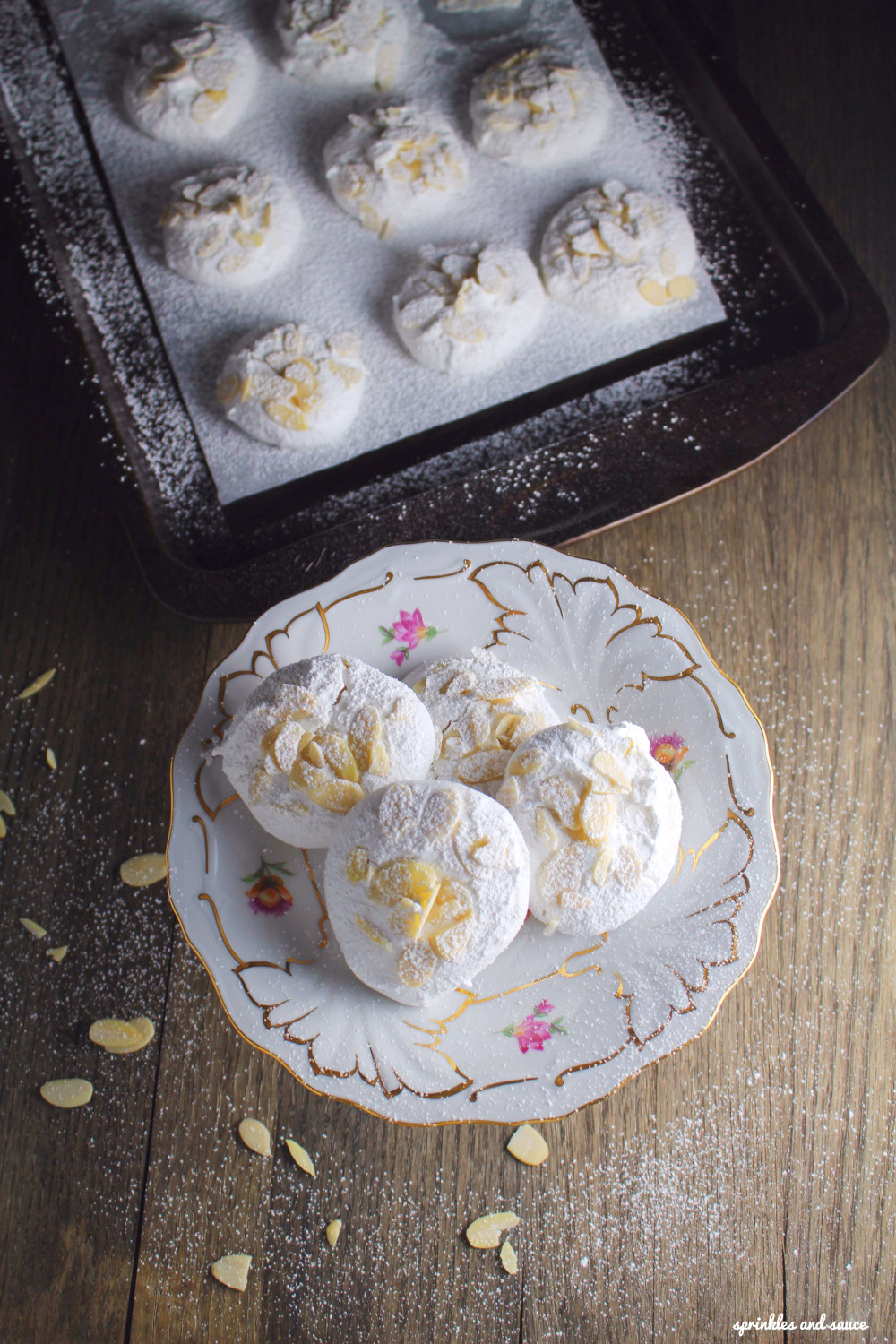 When I was about seven years old, my aunt fancied the idea of me being a ballerina.  Me + tight clothes + daintiness did not, and still do not, mix at all.  I remember going to a ballet class with her to check it out and as she was talking to the instructor, I watched these girls doing their routines in their baby pink leotards, tutus and ballet slippers.  As I watched them, I realized I really didn't belong there.  I was more like climb a tree, run around and play outside with the boys  kind of a girl.   I begged my aunt to not enroll me because I saw myself barely fitting in the largest leotard they had and bumping into all the other ballerinas and taking them down one by one like dominoes.  It was not a good picture at all.  Now, I do wish that I did enroll because I can learn to be a little less clumsy and little more graceful.  It's a common occurrence for me to drop things constantly, bump into things and generally be clumsy and goofy!
My friends J & D are the Grace Kelly of my group of friends.  J is dainty, gracious, kind and even tempered.  My friend D is the same.  Growing up I looked up to my friend D and wished I was more like her.  Everything she does just seems to turn out well and she makes it look effortless too! I don't think I can ever be as gracious and dainty as my friends J & D, but I am slowly learning to be little less of a bull in a china shop.
These lemon almond meringues do remind me of my friends J & D because these cookies are light, sweet, delicate with a touch of zing just like them! You know when you're craving something sweet but also refreshing? Well, these cookies are it.  They do take awhile to make, but they keep well and they satisfy your sweet tooth without giving you a sugar overload.  And if you are gluten intolerant, these lemon almond meringues are perfect for you.  They are also so pretty that they make a great hostess gift.  The recipe is from joythebaker.com and she's just great! She's a self taught baker turned professional baker.  She's also a cookbook author.  This is my first attempt of making one of her recipes, but it will definitely not be the last.  So, if you have some time and like to make these delightful, sweet, crunchy, zingy cookies, here's the recipe for you:

Lemon Almond Meringues
Ingredients
¼ cup finely ground almonds
1 tablespoon cornstarch
2 large egg whites
pinch of salt
½ cup granulated sugar
½ teaspoon lemon juice
1 teaspoon lemon zest
⅓ cup sliced almonds
⅓ cup powdered sugar
Instructions
Preheat oven to 200 degrees F.
Line two baking sheets with parchment paper and set aside.
Use a spice grinder or food processor to finely grind slivered almonds.
Measure out ¼ cup of ground almonds.
Place ground almonds on one of the lined baking sheets and toast in the oven for 10 minutes. Remove from the oven.
Place toasted ground almonds in a small bowl, toss in the cornstarch, and set aside to cool.
In the bowl on an electric stand mixer fitted with a whisk attachment*, beat egg whites and pinch of salt on medium speed.
Beat until frothy peaks form.
Increase the mixer speed to medium high, and gradually add sugar.
Add lemon juice.
Beat until mixture is glossy white and holds stiff peaks. This took me about 6 minutes.
Remove the bowl from the stand mixer and add ground almond mixture and lemon zest.
Gently fold together until mixture is thoroughly incorporated.
Transfer meringue into a large pastry bag fitted with a star tip, or you can simply use a large soup spoon to dollop meringue onto lined baking sheet.
Create 2 inch circles either using the pastry bag or spoon method.
Generously sift powdered sugar on top of the meringues. Top with slivered almonds.
Place sheet trays in the oven and bake for 50 minutes.
Turn off the oven, open the door a crack, and leave meringues in the oven until they're completely dry.
When cool, remove meringues from the baking sheet and enjoy.
Cookies can be stored, in an airtight container, for up to 1 week.
Notes
*Make sure that the bowl and whisk are completely clean and dry, egg whites are sensitive.
*I just dolloped the meringue on my prepared baking sheet using a spoon.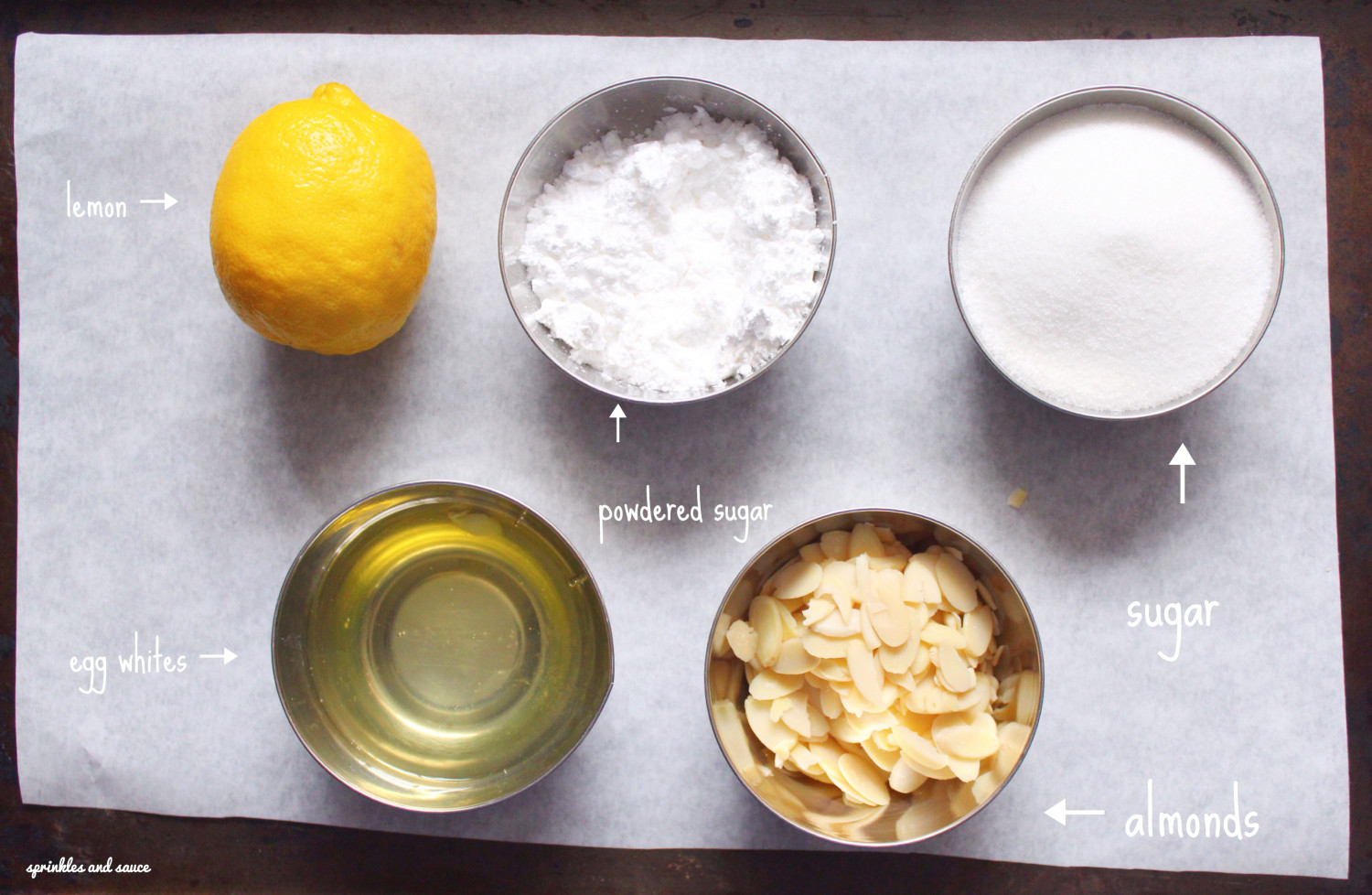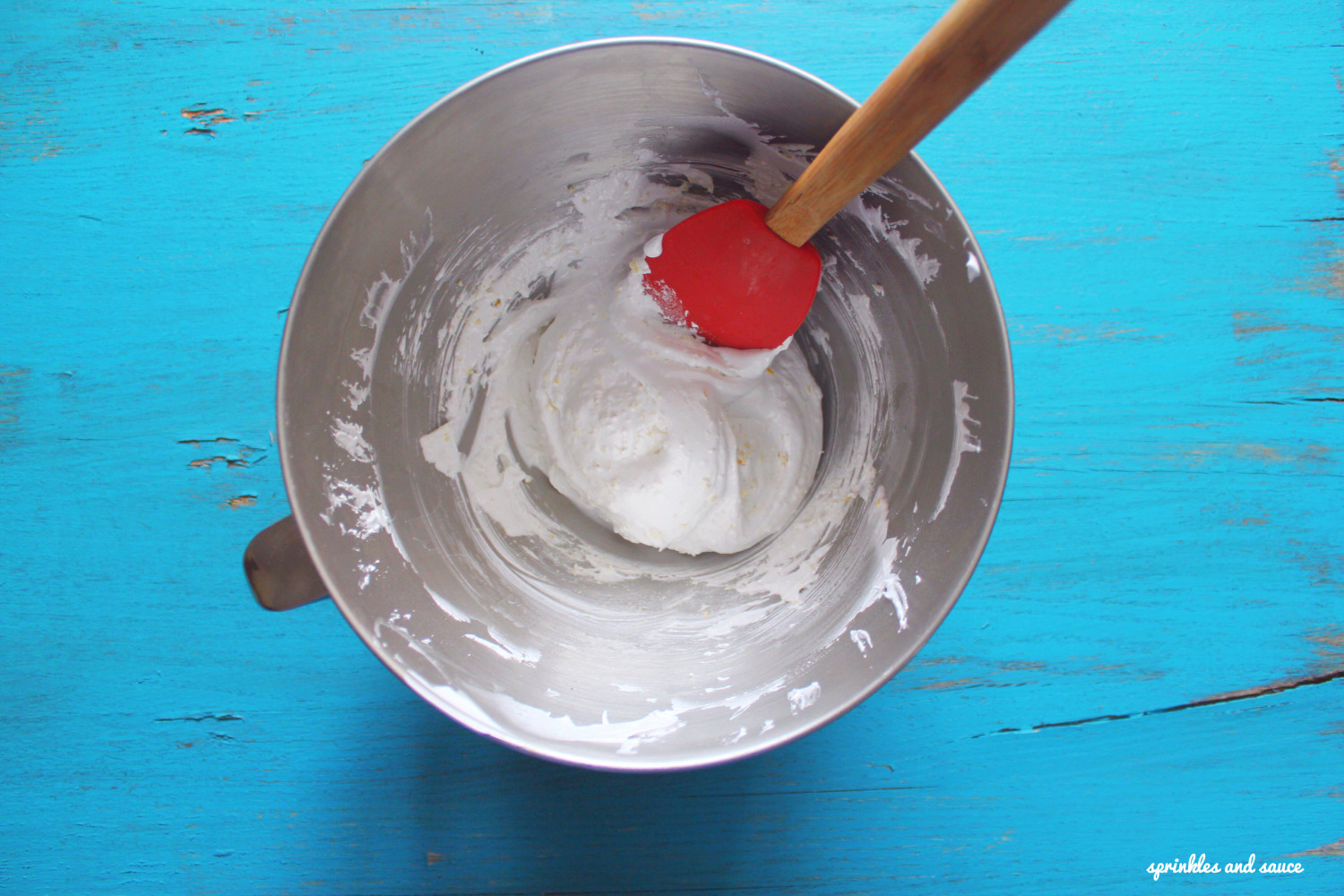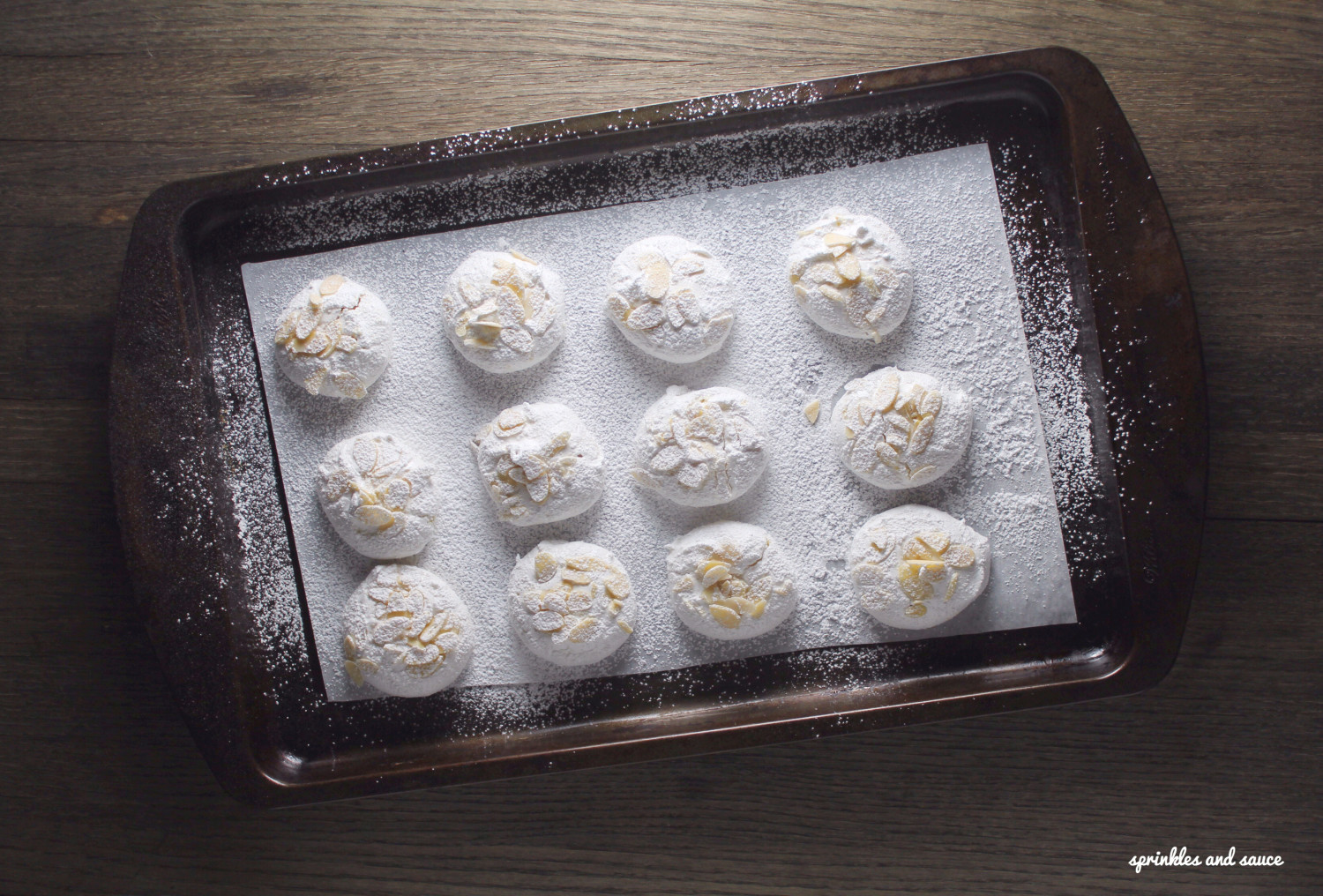 Arkadi's review: "biting into one of these cookies is like eating clouds!"