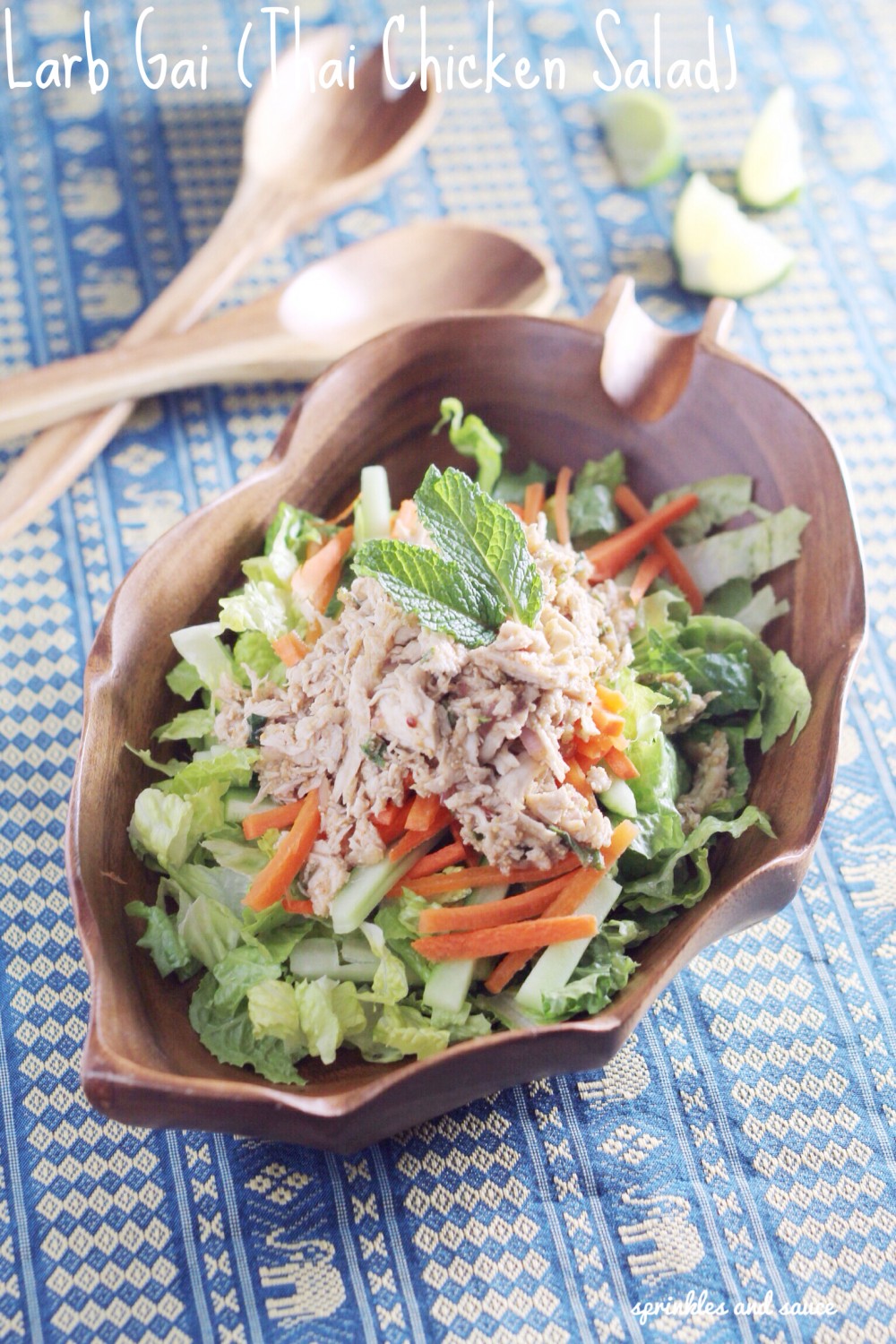 We tend to eat salads for lunch during the week to make up for all the rich foods we end up eating on the weekends! And recently, I've been switching from cobb to Greek salads for our lunches.   Arkadi, being the good husband that he is, gladly eats whatever I serve him.  As for me, I get bored fast.  Real fast.  That's where Larb Gai comes in.
What is Larb Gai, you ask? Well, larb or laab is a chopped meat salad that originates from Northern Thailand (Chiang Ria/Chiang Mai regions bordering Myanmar) and gai is Thai for chicken.  I came across this recipe from tastypursuits.com (thanks to instagram) and it really peaked my curiosity! Larb Gai is usually served with a side of sticky rice; but I decided to make it into a main course salad.  Larb Gai or Thai Chicken Salad was perfect to mix things up for us!
The recipe calls for some prep work (mostly chopping), but the combined flavours were fantastic – sweet, salty, sour, nutty and fresh! So here's the recipe for you to try out:

Larb Gai (Thai Chicken Salad)
Author:
tastypursuits.com
Cuisine:
Thai (Northern Thai)
Ingredients
1 cup boneless and skinless chicken breast, minced (we used 2 boiled and shredded chicken breasts)
2 ounces lime juice
1 and ½ ounce fish sauce
1 teaspoon sugar
½ teaspoon ground chili (we used red pepper flakes)
3 teaspoons ground toasted rice powder
2 teaspoons green onions
2 teaspoons minced red onion
2 romaine lettuce hearts, shredded
1 cucumber, julienned
1 carrot, julienned
2 teaspoons of chopped mint
Instructions
To make the toasted rice powder, you need to toast raw sticky rice in a dry pan until golden brown and then grind the rice grains in a food processor.
Add the shredded/minced chicken breasts in a large bowl.
Then add the lime juice, fish sauce, sugar, red pepper flakes, rice powder, green onions, red onions and mint. Mix well to combine all the ingredients and set aside.
On a serving platter, add shredded lettuce, cucumbers and carrots and top with the chicken mixture.
Garnish with sprigs of mint and enjoy.