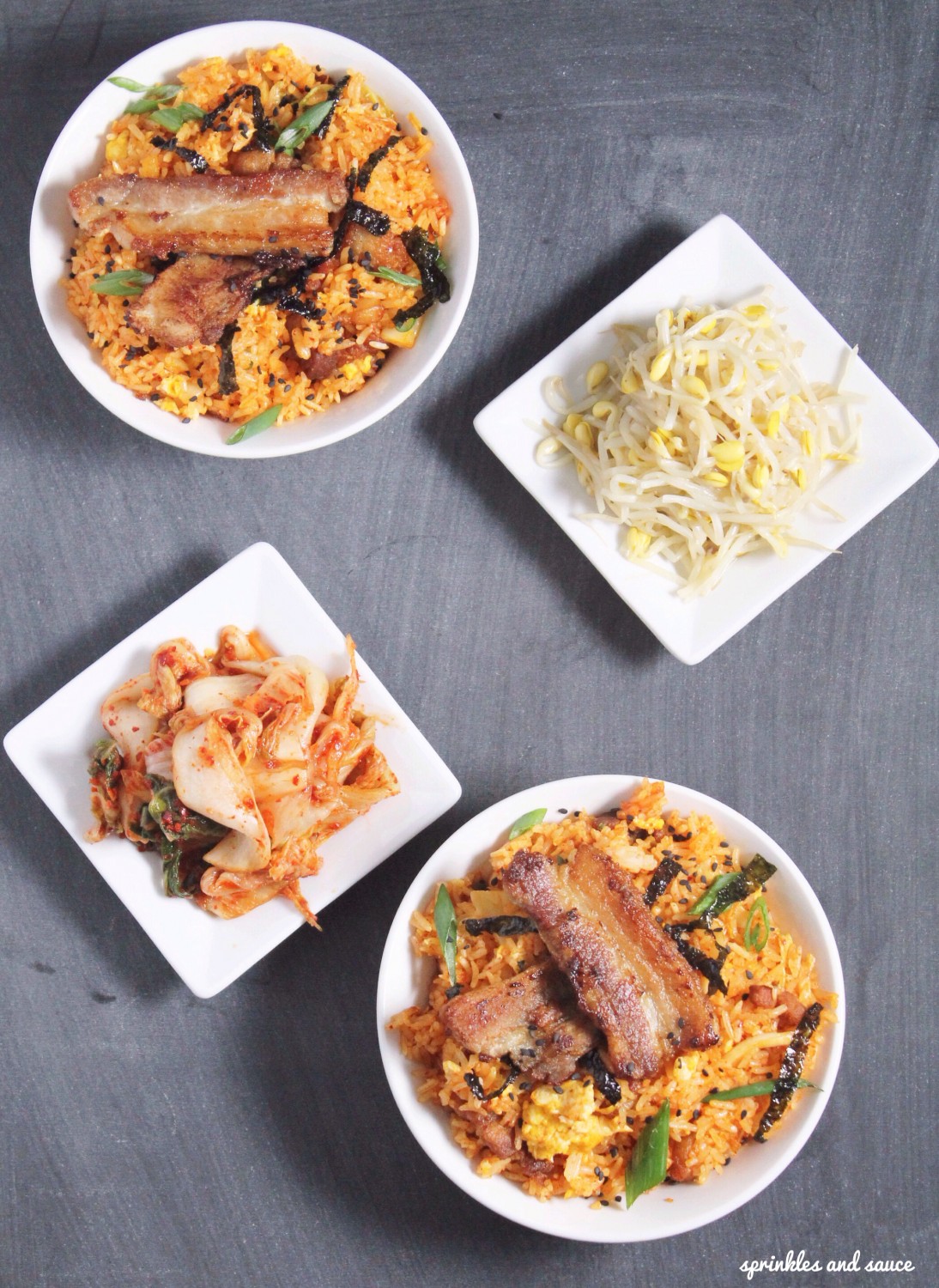 This dish makes a great quick weekday dinner and it's a crowd pleaser because everyone likes fried rice! But this is not any ordinary fried rice – the addition of kimchi makes this fried rice healthy as kimchi is packed with vitamins A, B and C and lactobacilli (which helps in digestion).  We've never attempted to make our own kimchi since as we understand from our Korean friends, the process is long and tedious (they've shared with us their stories of having to peel bushels of garlic and washing a lot of cabbages)! One of these days maybe we'll have them show us how to make our own kimchi.   Making your own kimchi for this recipe defeats the whole quick weeknight dinner though, so off we went to our local Korean grocery store to purchase a small tub of kimchi and that's when we spotted something that made us so excited – thin sliced pork belly! Okay maybe the addition of pork belly cancels out the healthiness of this fried rice, but believe us, the addition of crispy pork belly elevates this fried rice to a whole new level of goodness!   Okay, okay enough about the pork belly there.  We also had to get gochujang or hot pepper paste. When Koreans say hot it really means hot so use this paste sparingly if you do not like your food super spicy (I made that mistake before thinking the paste adds nice a colour to the fried rice and so I went all out and added  tablespoons of this paste only to realize later that I cannot handle the heat).    So after you purchase your kimchi, pork belly and gochujang from your local Korean or Asian store, here's what you can do with them:

Kimchi Fried Rice with Crispy Pork Belly
Author:
sprinkles and sauce
Ingredients
1 tablespoon of sesame oil
3 cups chopped thinly sliced pork belly
3 eggs
3 cups of steamed jasmine rice
2 cups of kimchi and juices, chopped
2 tablespoons of the gochujang or hot pepper paste, optional
sesame seeds
green onions
nori
Instructions
Add oil to a large frying pan over high heat.
Once the oil is hot, add the chopped thinly sliced pork belly.
Fry up the pork belly until crispy and set aside.
Add the eggs into the pan and quickly stir the eggs to break it apart.
Add the cooked jasmine rice to the pan with the eggs and stir.
Add the kimchi and gochujang and stir to combine.
Finally add the crispy pork belly and stir to combine,
Garnish with sesame seeds, green onion and nori.