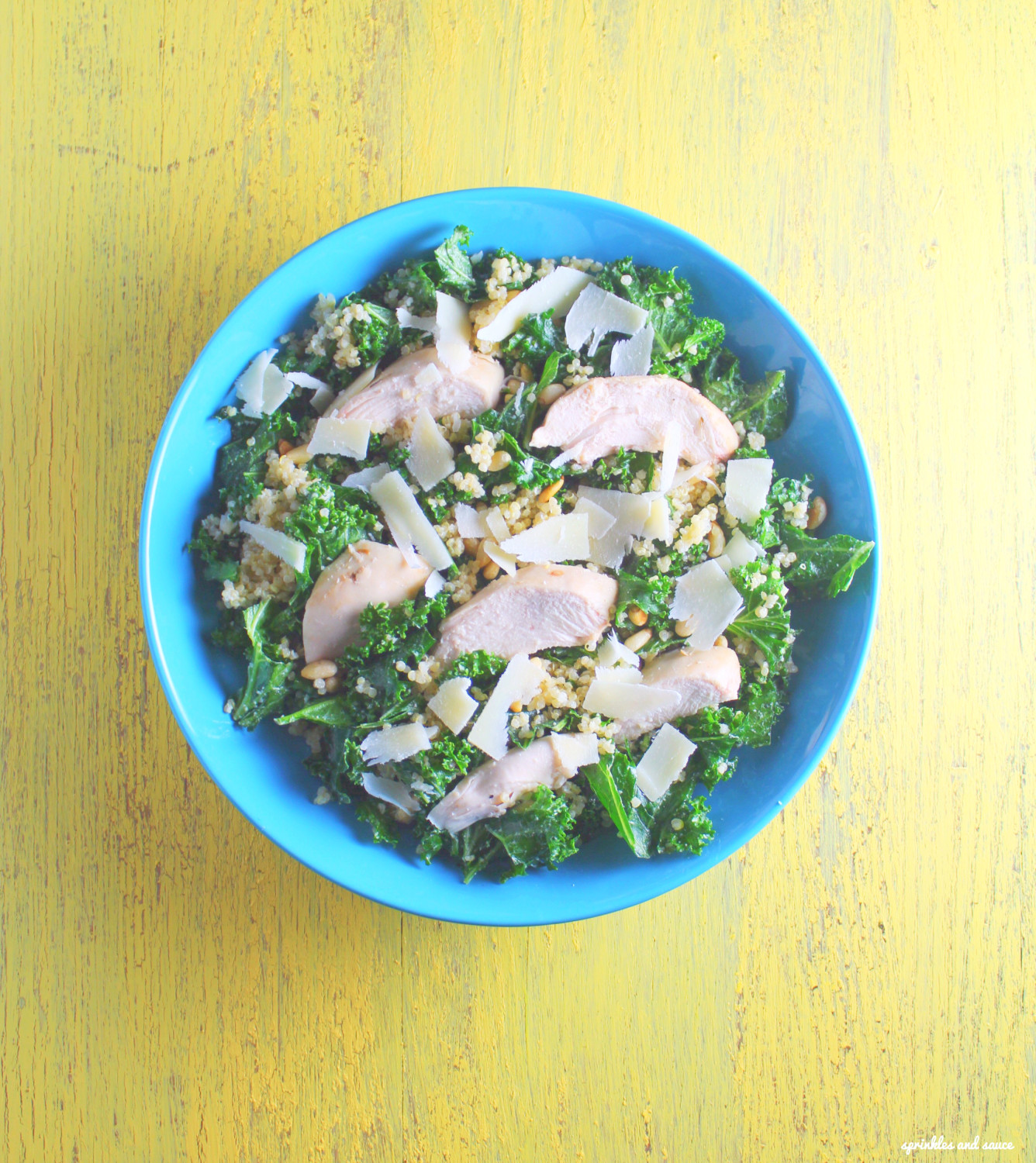 My brother was on a health kick once and decided he was going to eat more salads.  Well, his choice of salad at that time was caesar salad loaded with bacon bits, creamy dressing and croutons.  Healthy? Well, not so much.  I am not going to be a hypocrite and say that I don't love me a big bowl of zesty, garlicky caesar salad too, but recently I came across a caesar salad recipe that is not only super tasty but super healthy for your body too!
A bowl of this kale caesar quiona salad is so healthy because you have chunks of white chicken for your protein, pine nuts for some good fats and kale for your greens! And the dressing is just the right amount of creaminess with a tiny little bit of mayo, anchovy paste, lemon juice and garlic!  Let's not forget the quinoa friends.  Because the addition of quinoa to this nontraditional caesar salad makes a bowlful of this salad a full meal, we packed this salad up for our lunch, but I suppose it's a great dinner option too for those nights that it's just too hot to turn on the stove! Another amazing thing about this salad is that you can pick up your favorite rotisserie chicken, chop up the breasts and you can use the carcass for broth and the remaining meat for another meal like chicken salad sandwich.  We picked up our roasted chicken from Rowe Farms and I have to say its definitely worth paying a bit more for their organic roasted chicken because there's no funky smell, the meat tastes clean and your conscience feels better too!
Well, I guess my brother could have used this recipe when he was on his health kick, but I'll pass it on to him anyway should he decide to go on another one! Nothing like a big sister telling his little brother what to do.   But whether you're on a health kick or not, I say try out this recipe and I am sure it'll become your fave summer go to salad! Here's details for you:

Kale Caesar Quinoa Salad
Ingredients
2 tablespoons hot Water
2 tablespoons Mayonnaise
1½ tablespoons Olive Oil
1 tablespoon fresh Lemon Juice
½ teaspoon Anchovy Paste
¼ teaspoon Black Pepper, freshly ground
1 Garlic clove, grated
1.5 ounces shaved Parmesan cheese, divided (approx. 6 tablespoons)
5 cups Lacinato Kale (also known as "Dino Kale"), thinly sliced stemmed
1½ cups Quinoa, cooked
1½ cups skinless, boneless Rotisserie Chicken Breast, chopped
2 tablespoons toasted Walnuts, chopped (we used toasted pine nuts)
Instructions
Combine first 7 ingredients in a bowl, stirring well with a whisk. Stir in 3 tablespoons Parmesan cheese.
Add kale, quinoa, and chicken; toss to coat. Top with remaining 3 tablespoons Parmesan cheese and walnuts.