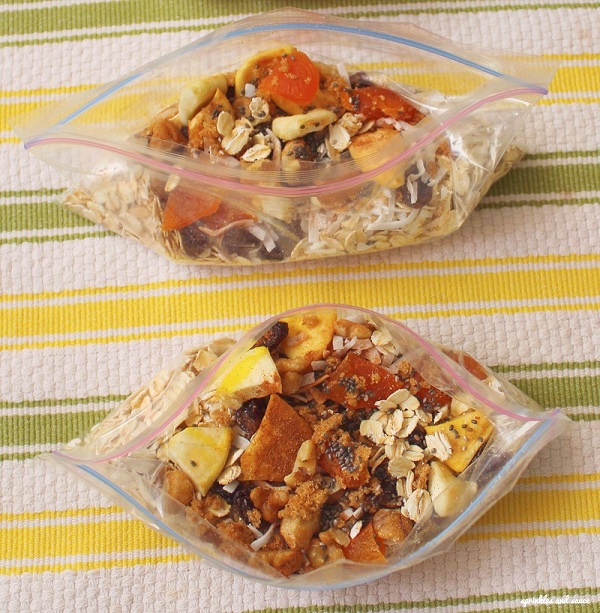 Guys, the weekend is almost over again and it'll be Monday soon enough! UGH! I am not fond of Mondays.  Definitely not! But here's the thing, Mondays also bring something good for us.  Mondays are generally when people want to start eating right and doing all those healthy things.  You start off your Monday well and the rest of your week will follow.  Monday starts your week fresh if you had an h e double hockey stick of a week last week! Mondays are not bad, sometimes.  But here's something that will make your Mondays and the rest of your work week bearable – healthy oatmeal packets to go! I promise, these little packets of goodness will make eating healthier even easier for you.  All you have to do really is to drop a packet in your bag or lunchbox and add some hot water or milk at work and you have a great, healthy, tasty breakfast to start your day! And making these packets is so ridiculously easy that you can make a whole bunch at a time.  It's perfect for people who are always on the go, for moms who have to get up and get their kids ready and off to school and for anyone who just wants a hearty, delicious breakfast to start their day off right.  So pretty much, what I'm saying is, these healthy oatmeal packets to go are great for everyone! So here's the how to for you for these easy, on the go, healthy, delicious packets of goodness:
Healthy Oatmeal Packets to Go
Author:
adapted from theyaarinfood.com
Ingredients
Fore each serving:
½ cup rolled oats
2 heaping tablespoons sliced dried apricots
2 tablespoons walnut pieces (any nut will work, really)
1 tablespoon raisins
2 tablespoons sliced dried apple rings
1 teaspoon turbinado or brown sugar
1 tablespoon coconut flakes
1 tablespoon chia seeds
1 generous pinch cinnamon
1 generous pinch cardamom
1 generous pinch sea salt
Instructions
Combine all the ingredients in a sealable bag.
When ready to use, combine all ingredients in a bowl (if microwaving) or a saucepan (if heating on the stove.)
Add one cup of water.
Heat until just creamy.
Add milk, cream or Greek yogurt if desired.
Serve immediately.
Notes
If you like, you can use mason jars instead and so you don't have to bother with putting the packet in a bowl. You can simply add your liquids, let it sit for a bit and enjoy!
Also, you can change up your dried fruit. The original recipe called for dried cranberries and crystallized ginger. But you can add dried blueberries, dried pears, dried peaches, etc.
You can also omit ingredients you don't like and substitute others like dark chocolate chips, mixed nuts, etc.
 you can easily change up the ingredients for these packets, but here's a few that we like
don't forget, fibre is your friend!