Tuesdays in our household mean seafood for dinner.  We adhered to this weekly routine for years –  every Tuesday we had salmon or fillet of sole or shrimps or red snapper or scallops or fish sticks, you get the drift.   One fine Tuesday, we took a pass on fish and then it was followed by another Tuesday and several Tuesdays later, we fell out of that routine.  Then one day a couple of weeks ago, I came across this recipe for stuffed fish.  I was intrigued. So I went to the grocery store with my list and bought all the necessary ingredients.  I came home, started prepping for dinner and then realized that my fish fillets were not thin enough to roll.  I was disappointed.  My brain decided to do its thing until finally a light bulb went off – use the filling as topping instead! Ding ding we got ourselves a winner! That fine Tuesday,  haddock topped with crab and wild rice was born!   In one forkful, you have your flaky white fish, soft, delicate and sweet crab meat and nutty and earthy wild rice.  Seafood Tuesdays, here we go! We're back in the routine and we're loving it!  If you want to start your own seafood routine in your home or just want to try something new, here's the recipe for you: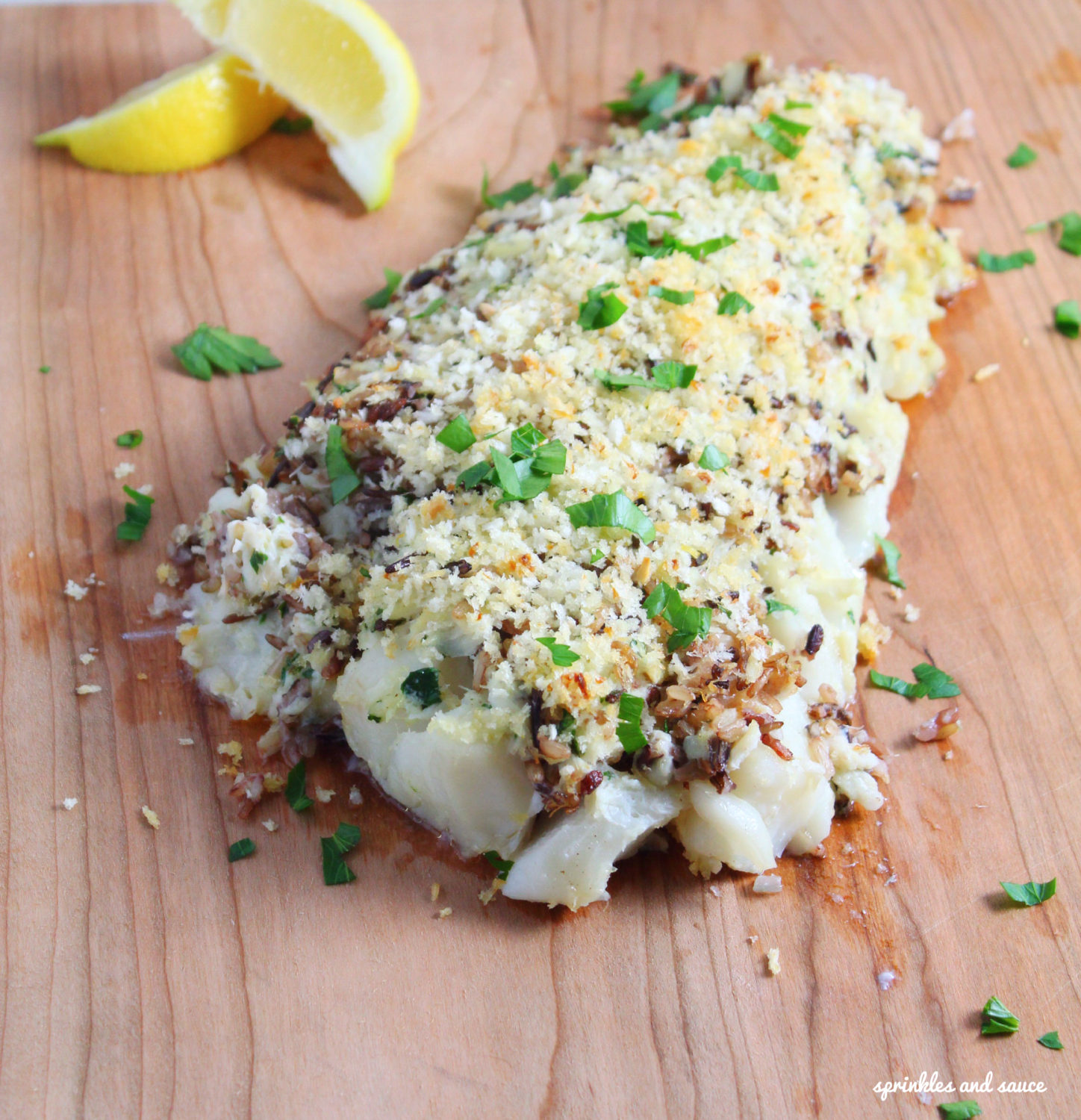 Haddock Topped with Crab and Wild Rice
Author:
adapted from epicurious.com
Ingredients
4-four ounce haddock fillets*
4 ounces of crabmeat
1 and ½ tablespoon mayonnaise
1 tablespoon of parsley, chopped
1 cup of wild rice blend
1 garlic clove, minced
2 teaspoons of olive oil
¼ cup panko breadcrumbs
1 teaspoon of freshly grated lemon zest
Instructions
Preheat oven to 450F.
In a small sauce pan, bring 1 and ½ cups of water to boil.
Stir in 1 cup of your wild rice blend.
Reduce heat to low and simmer on low for about 15 minutes until water is almost absorbed. Remove from heat and set aside and let it cool.
In a bowl, add the crabmeat, mayonnaise, parsley and cooked wild rice. Season with salt and pepper and mix. Set aside.
In another bowl, mix your minced garlic, olive oil, breadcrumbs and lemon zest. Season with salt and pepper. Set aside.
Cover a baking sheet with parchment paper and grease it. Lay the fish fillets on the parchment paper and top each fillet with your crab and wild rice mixture. Then top each fillet with the garlic breadcrumbs.
Bake in upper third of oven until just cooked through, about 20 minutes.
Serve fish with lemon wedges.
Notes
*The original recipe called for sole fillets, but I imagine you can use any whitefish.