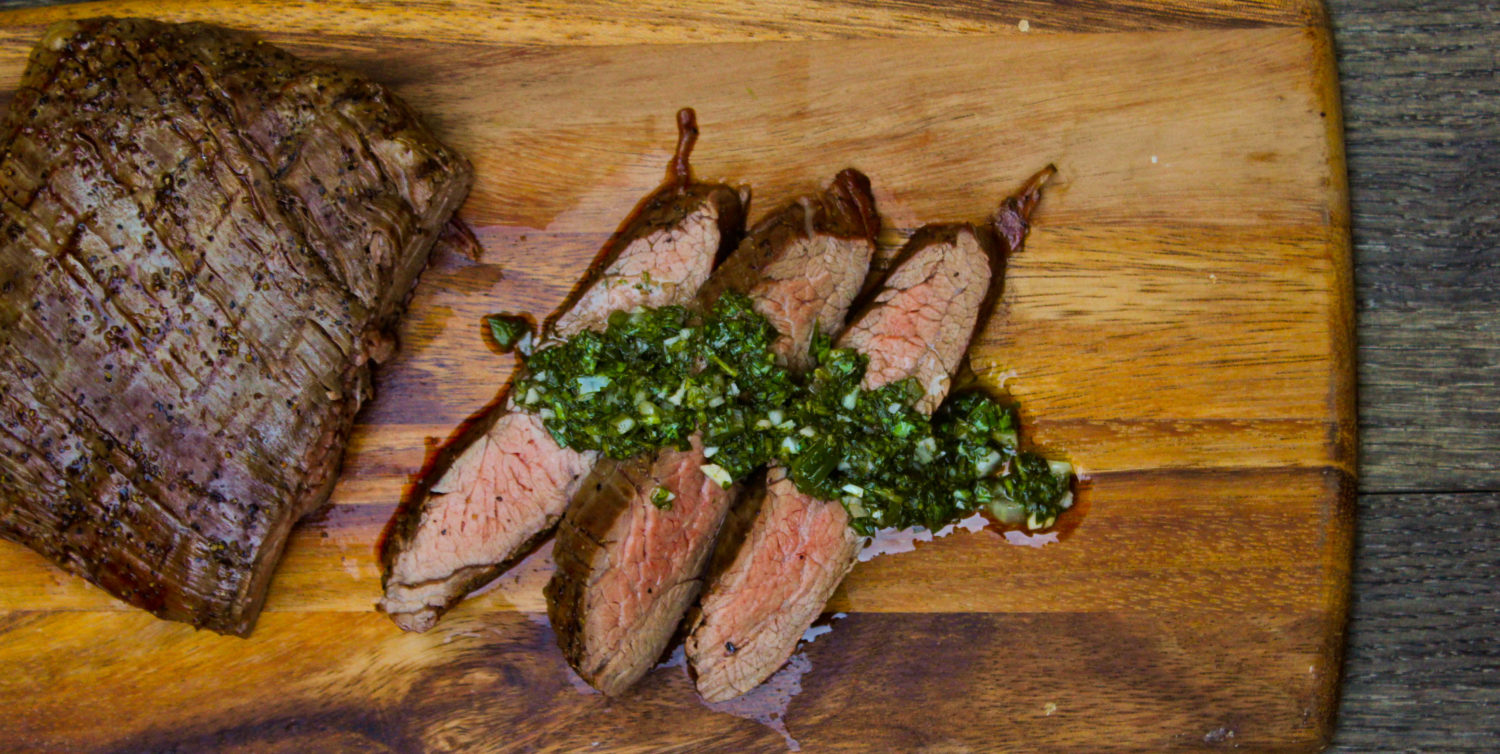 I have a confession to make. I used to be very afraid of large chunks of meat.  No, not because I'm a vegetarian.  I like meat and I eat it often.  But I was afraid of large cuts of meat because I didn't know how to prepare them.  Arkadi on the other hand has no such fear.  Often times he'd come home from the grocery store with an excited "boyish" look on his face to show me his purchases from the butcher shop. I, of course, would burst his bubble! However, gradually I learned to overcome my fear.  My first venture out of my comfort zone was to roast an entire turkey. Surprisingly, it turned out so good and so I decided to try it roast another.  After that, I branched out to bigger cuts of pork and made shredded pork from pork butt.  And then finally, I decided to try my hand at beef and purchased a flank steak.  We love grilled meat and we don't eat a lot of red meat so when we do eat it, we want to make sure it's good!
What is flank steak you ask?  It's from the lower stomach portion of a cow so it does have a lot of hard-working muscles which means it can be a little tough.  And it's different from a skirt steak in that it's thicker and wider cut of meat.  Although it can be a little tougher cut of meat, flank steak is full of beefy flavour and it marinates very well.   The best part of flank steak is that it's a cheaper cut of meat so it's easy on the wallet while delivering that nice beefy flavour!
Here are some tips we scoured for you on how to best prepare flank steak:
look for a cut with uniform thickness
cook it quickly and in high heat – aim for a nice rare or medium rare
after cooking, let it rest for a good 5 to 10 minutes
cut against the grain – "Huh?" Don't worry, here's a video we found for you
Are you ready to try it for yourself? Well, here's an easy and delish recipe for you:

Grilled Flank Steak with Chimichurri Sauce
Ingredients
1 1½ lb flank steak (about ½' thick), cut it in half crosswise
Kosher salt and freshly ground black pepper
½ cup Chimichurri Sauce
For the chimichurri sauce:
½ cup red wine vinegar
1 teaspoon kosher salt plus more
3-4 garlic cloves, thinly sliced or minced
1 shallot, finely chopped
1 Fresno chile or red jalapeño, finely chopped
½ cup minced fresh cilantro
¼ cup minced fresh flat-leaf parsley
2 tablespoons finely chopped fresh oregano
¾ cup extra-virgin olive oil
Makes about 2 cups
Instructions
For the chimichurri sauce:
Combine vinegar, 1 tsp. salt, garlic, shallot, and chile in a medium bowl and let stand for 10 minutes.
Stir in cilantro, parsley, and oregano.
Using a fork, whisk in oil.
Season with salt to taste
For the steak:
Sprinkle flank steak lightly with salt and let sit at room temperature for 30 minutes.
Pat dry with paper towels and season again with salt and black pepper.
Build a medium-hot fire in a charcoal grill, or heat a gas grill to high
Cook 3-4 minutes per side until meat is nicely charred and medium-rare.
Transfer steak to a carving board
Let rest for 5-10 minutes.
Thinly slice.
Serve with Chimichurri Sauce.
What is
chimichurri sauce
you ask? Well
it's a super fresh, super flavourful Argentinian sauce that's served best with grilled meats
. We say it's really an all around sauce that goes well with meat, poultry and fish! And all those herbs, garlic and olive oil not only makes for a real tasty, earthy, fresh sauce but it's all good, clean ingredients!  Ready to try it out? Go and get grilling!