There are endless options for accommodation here in Chiang Mai. If you're staying here long-term, you can rent a condo, a house, a townhouse or a serviced apartment. Some of our friends here rent a townhouse for a lot cheaper than what we're paying monthly, but they did have to furnish the house themselves. Some pay a bit more for a fully furnished house, but they don't have a pool or gym. Our friends with children live in muban or gated communities and those usually have a community center with a pool and a gym. And we have some friends who, like us, choose to live in condos. There are so many options here that it can be a bit overwhelming at first. So what it really comes down to are three things: 1) what you need in your new home and what's important to you (do you need a lot of space? do you have to have a pool? do you need a western kitchen or can you do with a Thai style kitchen?) 2) your budget and 3) location. Figure those things out and you can go from there.
Before we left Toronto, we spent hours looking through all sorts of rental property websites trying to figure out where we can stay in Chiang Mai (some of the ones we emailed never responded and some others responded but it was difficult for us to understand their response). Our research helped us figure out what we can expect and what certain things mean like what's a Thai style kitchen and what furnished versus unfurnished looks like. But for us, it was a bit scary to commit to a place for 3 months or more when all you have to go by are pictures online and a bit of description about the place. So what we did was we booked a place for 1 month before we left Toronto and then we used our first month to meet with real estate agents who took us to see rental properties.
Riverside Condo
We booked a studio unit at Riverside Condo through Airbnb.com for 30 days. The location of the building was very convenient because you had two mini marts right outside the building where you can buy water, SIM card, toilet paper, snacks, etc. The building is also close to a fresh market, western grocery store (Rimping), food stalls, restaurants, coffee shops and it was not far from the Old City. We didn't have transport in August, but it was a not a problem getting around because there are a lot of red taxis and tuk tuks waiting for passengers just outside the building. The unit we rented was nice and it had a washer, toaster, a couch, TV, and air conditioner. Because it's just a studio unit, it's really small for two people, but because we were only there for 30 days, it was not too bad.  The building is old, but they do keep it clean. There is a laundry service on the first floor of the building and their fees are fair and they do a good job. The pool is old and small, but it's clean and definitely a welcome retreat from the heat! As far as we know, the rent per month for a studio unit starts at 10,000 baht plus utilities. There is a real estate agency on the first floor of Riverside Condo and they would be more than happy to show you available units in the building. We actually have several friends who live at Riverside, some long term and some short, and they're all happy with their units and landlords! A side note, the building is full of farangs (foreigners) and so if that's not you're thing, Riverside Condo might not be for you.
being on the 18th floor, we had an awesome view of the Mae Ping River and surrounding mountains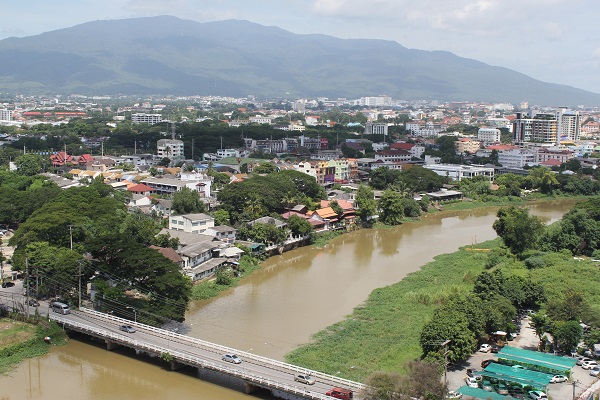 D Condo Sign
To start our search for a long term rental unit, we went on different rental agency websites and met with their representatives.  In the end we decided to go with Perfect Homes.  Our real estate agent from Perfect Homes was Kwang and when we met with her we told her we are looking to rent a 1 bedroom condo unit for about 10,000 baht per month in a building with a pool.  We also told her that we would prefer to have a washer in the unit and a western style kitchen. She took us to a couple of buildings and showed us some condo units that fit our needs and budget.  We decided to go with D Condo Sign because it's a new build, the unit was clean and had what we needed, the building is well maintained and the price was right! Our unit has a washer, a small balcony, one air conditioner and the building has a nice, big pool, a gym, security and it's right behind Central Festival Mall. The kitchen is likely my least favorite place in our tiny, 30 square meter condo because the fridge is small, there is no pantry, no oven and all I have is an induction cooker. Having said that, we definitely do not cook as much here as we did back home. Our place is really small compared to what we're used to back in Toronto, but it has everything we need and because it's small, it takes us no time to clean.
When we finally decided on renting a unit at D Condo Sign Kwang helped us with all the paperwork and communicated our needs and concerns to the landlord. Don't hesitate to make requests or address any concerns about a unit you're interested in. In our case, our unit initially did not include a washer and cooker and we told Kwang that we were really interested in the unit but needed those appliances. Kwang then communicated that to our landlord who said she will add a cooker and washer to our unit without changing our monthly rent of 10,000 baht. And much to our delight, when we moved in, the landlord provided us with additional items like plates, utensils and mugs. Another thing to keep in mind is that when renting in Thailand, you do need to provide first month's rent and two month's rent for security deposit (so in our case, we had to pay 30,000 baht up front when we signed the lease). Also, along with signing a lease, as foreigners, we provided copies of our passports and visas to the landlord and rental agency.
The first 30 days of rental, we communicated any concerns through the rental agency. For instance, our cooker exploded on day 29 and we emailed Kwang who then emailed the owner. The matter was dealt with promptly and we now have a new cooker. After 30 days, if anything happens to the unit or to any appliances provided by the landlord, we will have to communicate the issue directly to the landlord who will then assess if the matter needs to be addressed by her or if it's our responsibility to fix. We're hoping that nothing goes wrong during the rest of our stay here!
We chose to find our new home the way we did because it ensured us that we know exactly what we're getting, we got a feel for the new area we're moving into and there were no miscommunication which can sometimes happen when you communicate solely be email.  So far, we're happy with our unit and the building.  Admittedly, moving countries and relocating can be very, very overwhelming, but a lot of your worries can be alleviated by diligently researching your soon to be new home. Of course, you can't prepare for every eventuality, but by doing proper research, you can gain enough information to make your move go smoothly. We also found it helpful to read realistic and informative posts from bloggers like tielandtothailand.com, paperplanesblog.com, and 8milesfromhome.com.
We hope this post helps you in your search for your new home! In the meantime, here are some pictures of our new home:
the building complex has a very resort like feel to it
the buildings and grounds are well maintained and clean
we purchased a Thai lounger in addition to our couch because as you can see, the couch is big enough for one person!
because the unit is small, we maximize all available storage units.  as you can see our bed frame doubles as our shoe closet!
and here's our favorite place – our beautiful, massive pool!
it's definitely a welcome retreat from the Thai heat! 
Lastly, here's why we love our new location:
1)  We are close to Bangkok Hospital and Lanna Hospital
2)  The following grocery stores are close to us: Big C Extra, Rimping, Makro and Yok (great for baking supplies)
3) We can walk to Central Festival where we do our banking and pay our telephone bills (DTAC).  It also have a decent fo, a Daiso (Japanese store where everything is 60 baht), movie theater, skating rink (if you feel homesick) and yet another grocery store called Central Festival Food Hall.
4) We have an LPG station close by and a couple of 7Elevens just down the road.
5) We are close to Highway 11, 1001, 3029, 118 and it takes us about 15 minutes (no traffic) to get to Tha Pae Gate.