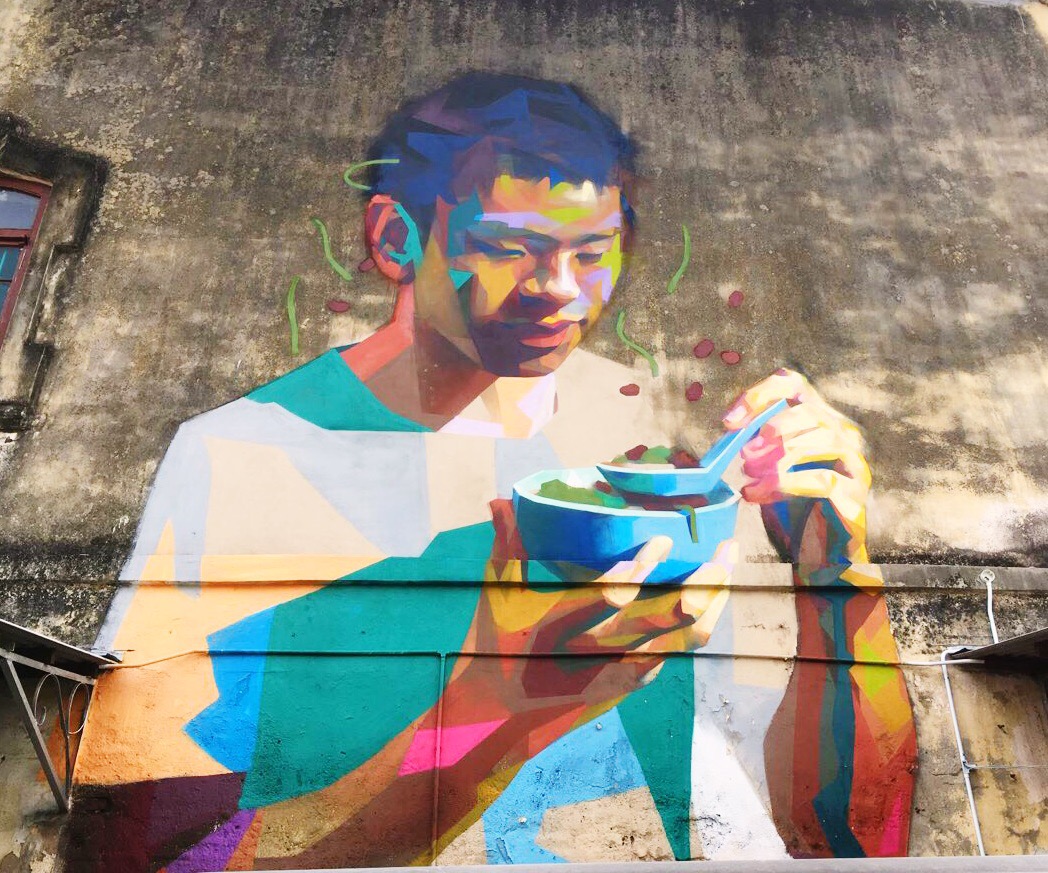 We have heard so much about the food scene in Penang that we decided to check it out for ourselves.  As foreigners living in Thailand, the government requires us to leave and re-enter the country every 90 days.  What can be a taxing, inconvenient experience can easily be turned into something adventurous by visiting surrounding countries! So for our first visa run this round, we decided to fly out to Penang and check out what it has to offer.
The island of Penang has more to offer than just its variety of good food.  Penang was a well established trade hub in its early years.   As a trade hub, Penang acquired a variety of cultural influences from places both near and far and today,  those influences can still be seen in the island's architecture, food and general life.  Georgetown, the second largest city in Malaysia, has retained much of its old world charm and is a UNESCO World Heritage site.  There are plenty of things to do in Penang, but we say you can easily get a sense of what Penang is all about just by exploring the streets of Georgetown.  Here are some places we visited and a little bit about them:
Cheong Fatt Tze Mansion aka Blue Mansion 
We were impressed with all the architectural details and all the painstaking efforts to restore this elegant mansion to its former glory.  Do note that there are only three tours per day – 11 am, 2pm  and 330 pm.  The tour is about 45 minutes and it costs RM 17 for adults and RM 8.50 for children.
If you want to learn more about this beautifully preserved mansion, visit cheongfatttzemansion.com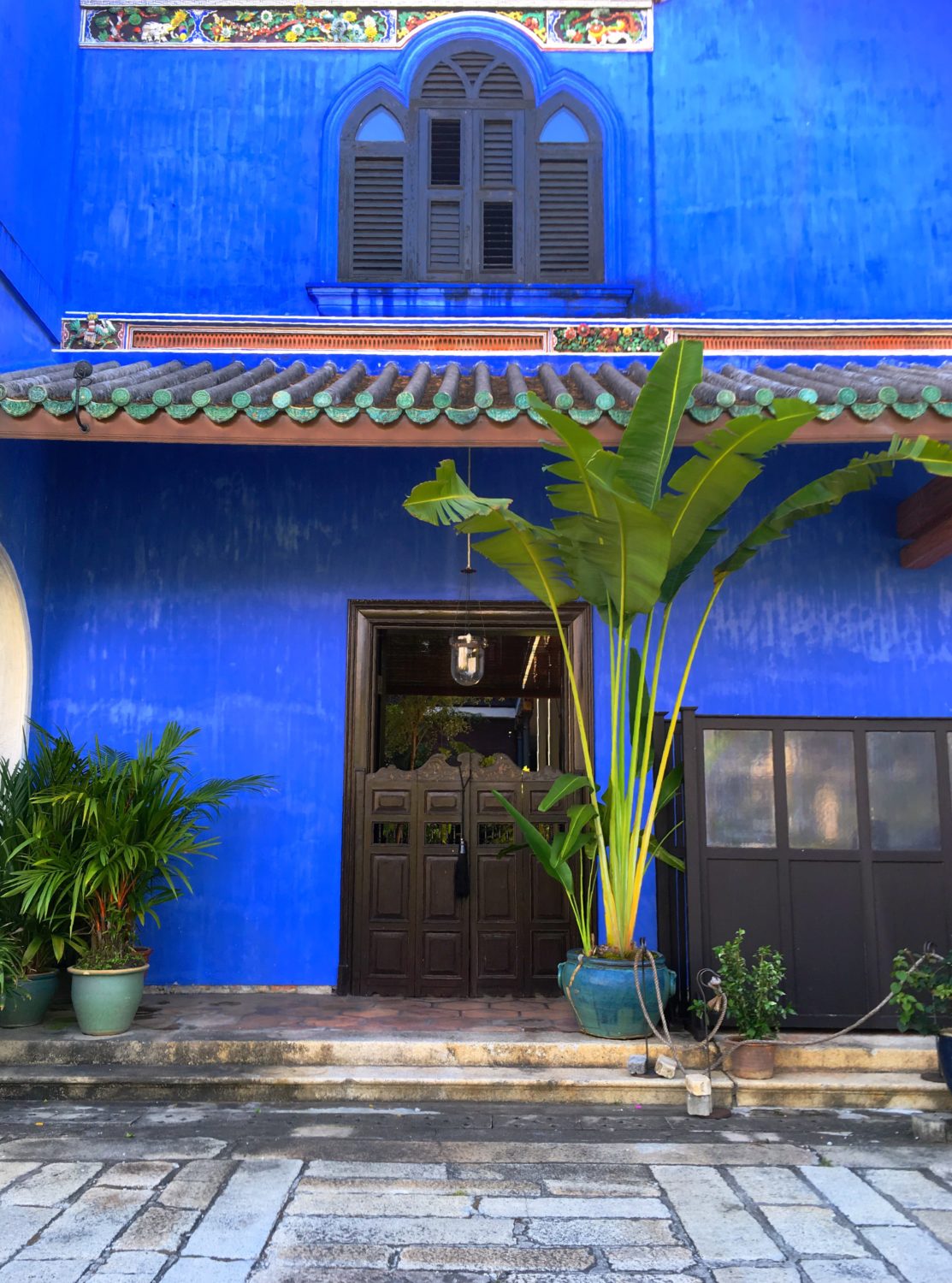 Khoo Kongsi 
A clan house or kongsi is a building where Chinese families gather to worship their ancestors and Khoo Kongsi is part of the 5 big clan houses for the Hokkien community in Penang.  Khoo Kongsi was built to show the success of the Khoo family from Sin Kang clan village from Hokkien province.  The clan's heritage can be traced back as far as 650 years back and it is the most distinctive clans in Malaysia to this day.  Read more about this ornate clan house here.  You can do a self guided tour of the house for RM 10 or you can join a tour group.
Georgetown Street Art
It's very easy to get lost in the streets of Georgetown because literally every corner has it's unique beauty to offer whether it be a wall mural on a quiet alley, colourful lanterns crisscrossing above you or just admiring the beautiful colonial buildings, shop houses and temples.
But probably the most popular, Instagram worthy things to watch out for are the art all over the streets of Georgetown.  The most popular, thanks to social media, are the murals painted by Lithuanian artist Ernest Zacharevic.  But since 2012, various other street art have propped up all over the streets of Georgetown including the Sculpture At Work series highlighting the daily life of Penangites and the city's personality through steel rod caricatures.
If you're looking for a handy street art map, here's one we like: http://theoccasionaltraveller.com/2016/03/07/where-to-find-street-art-in-penang-outside-george-town-core/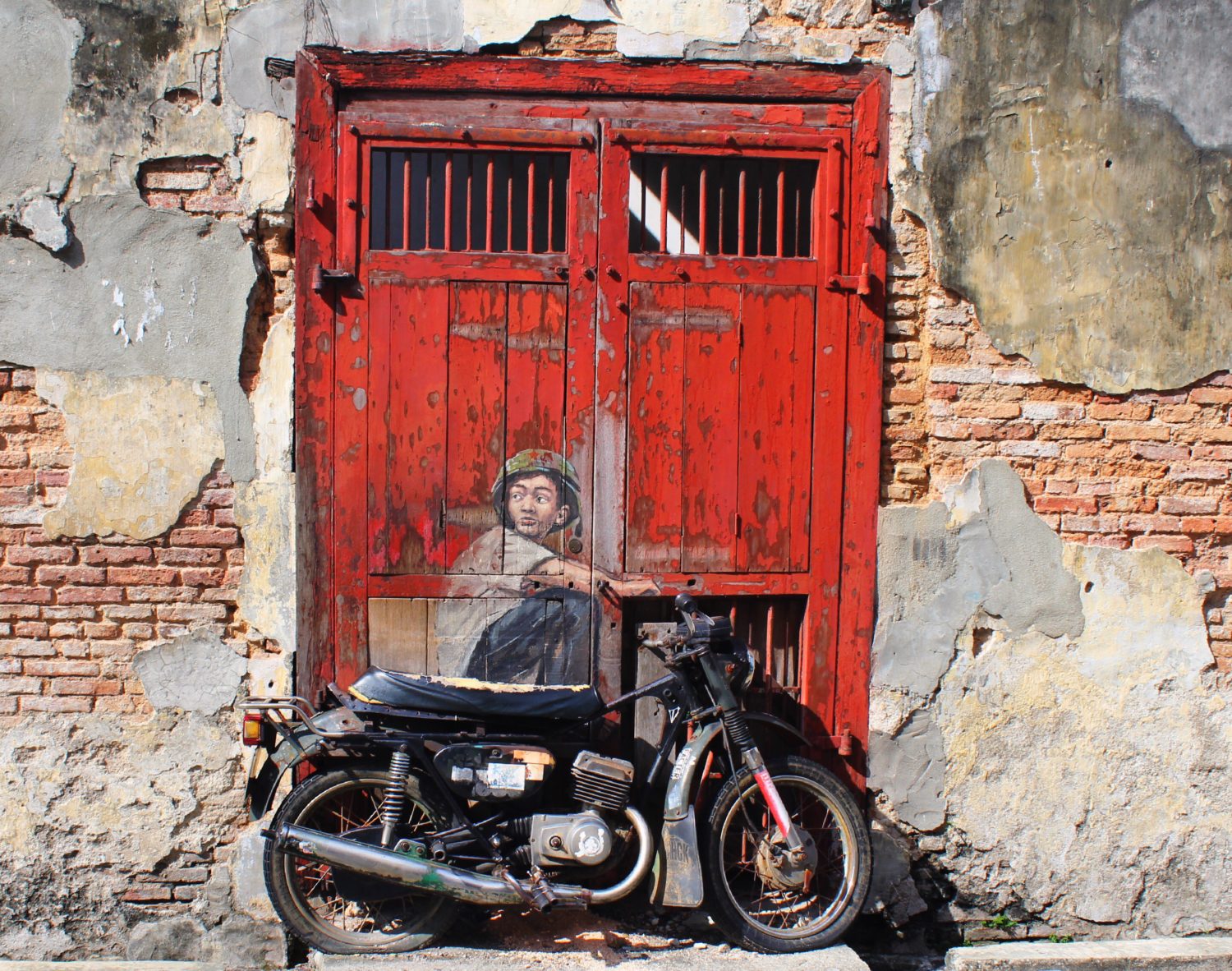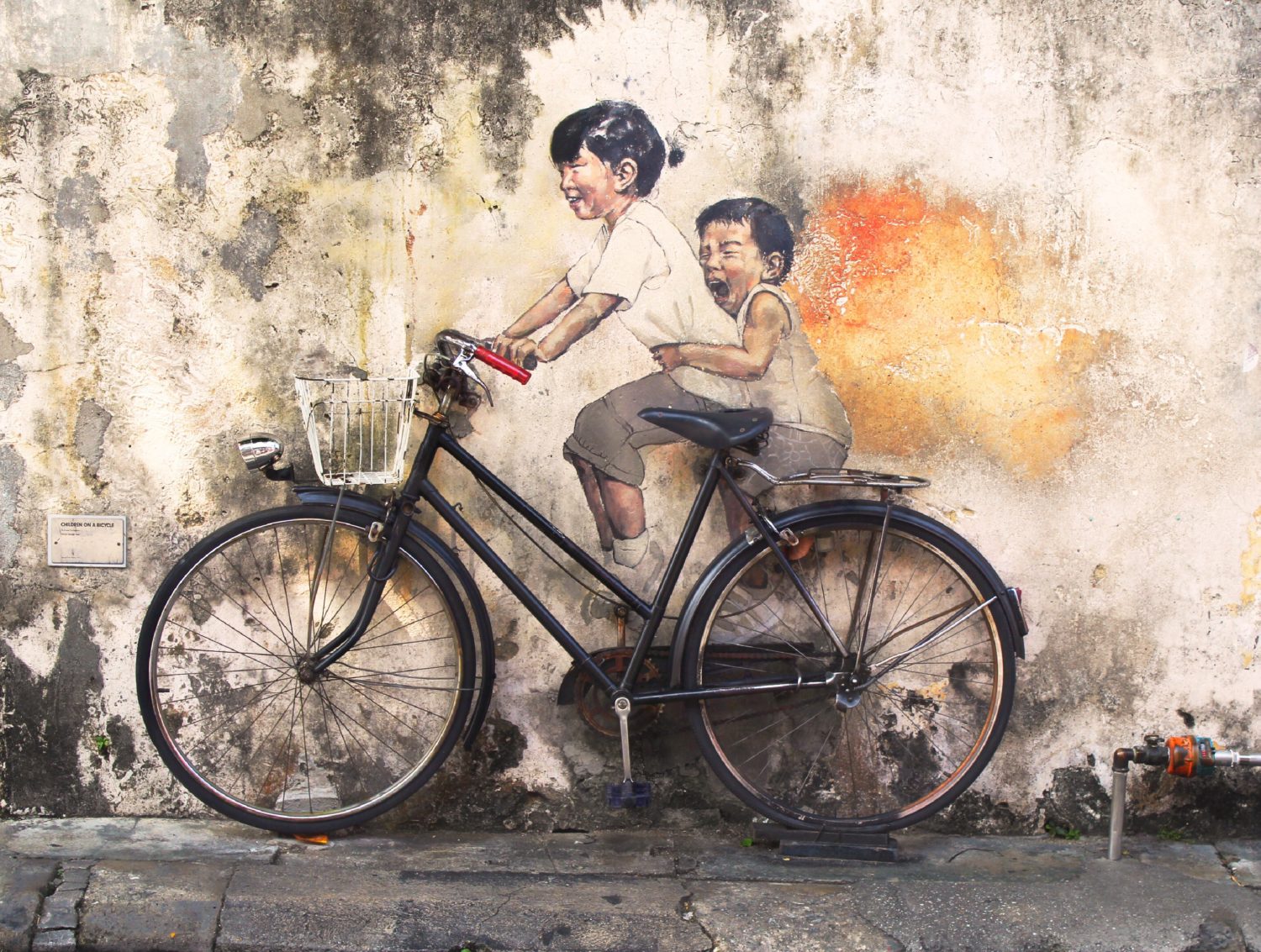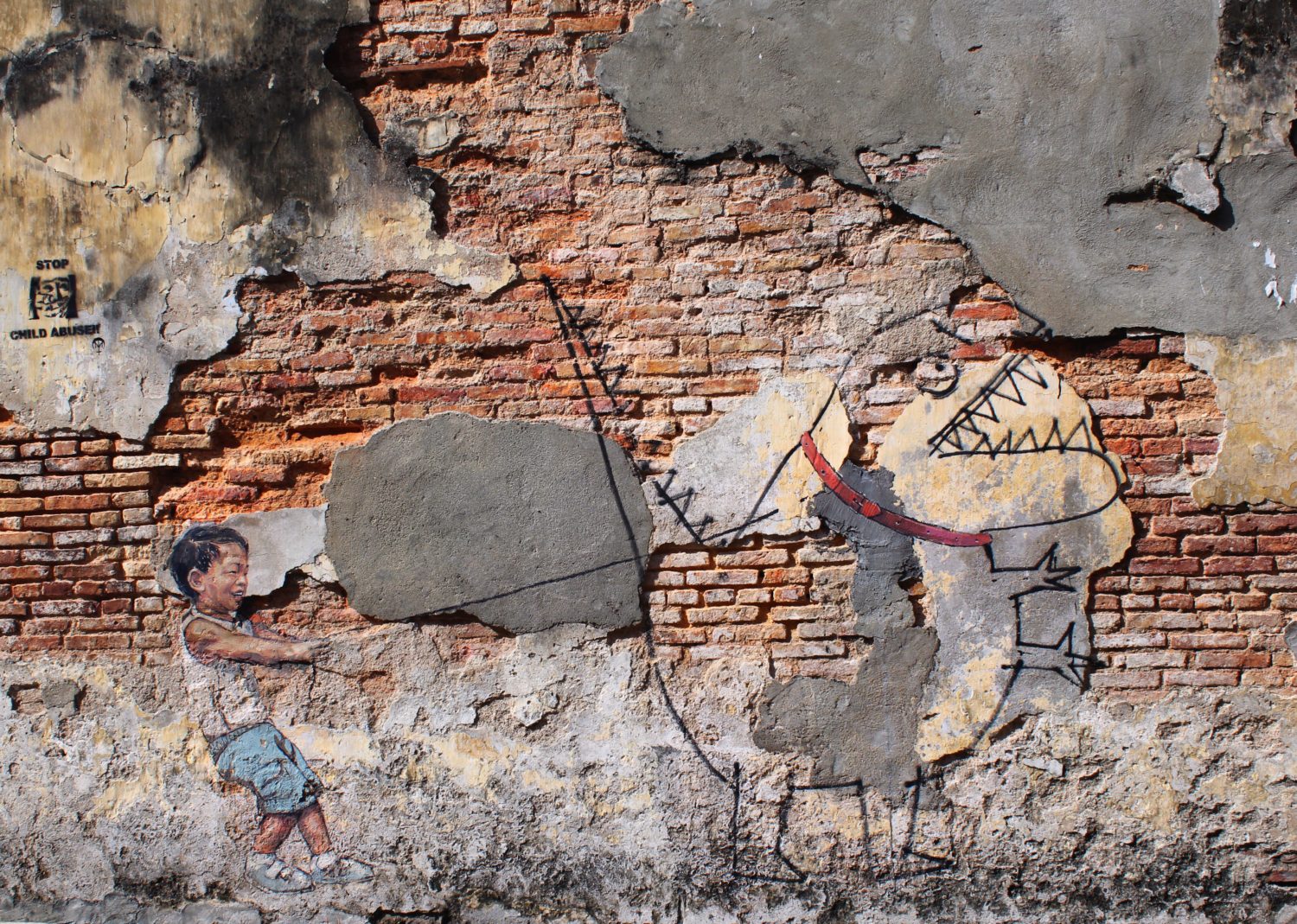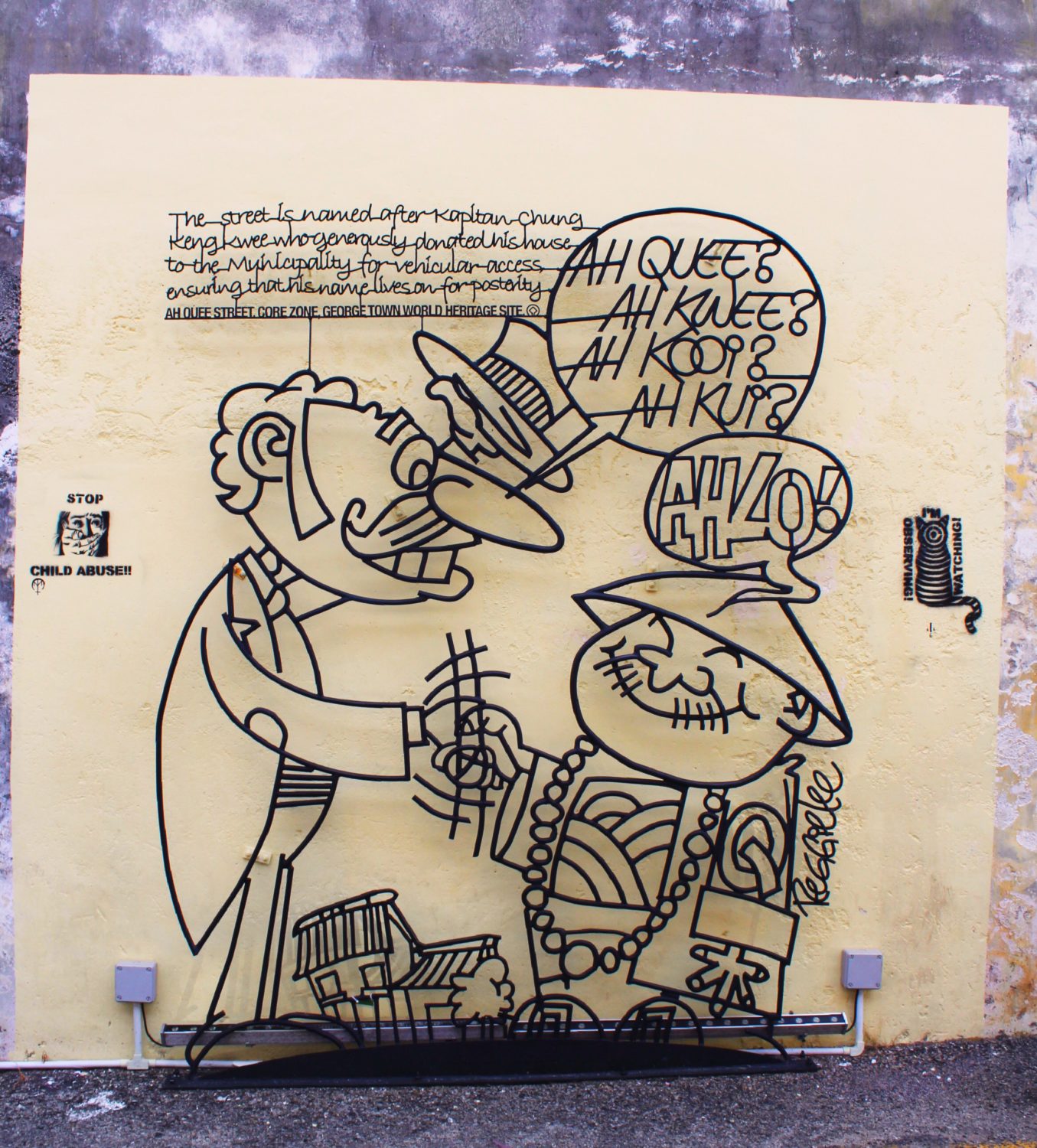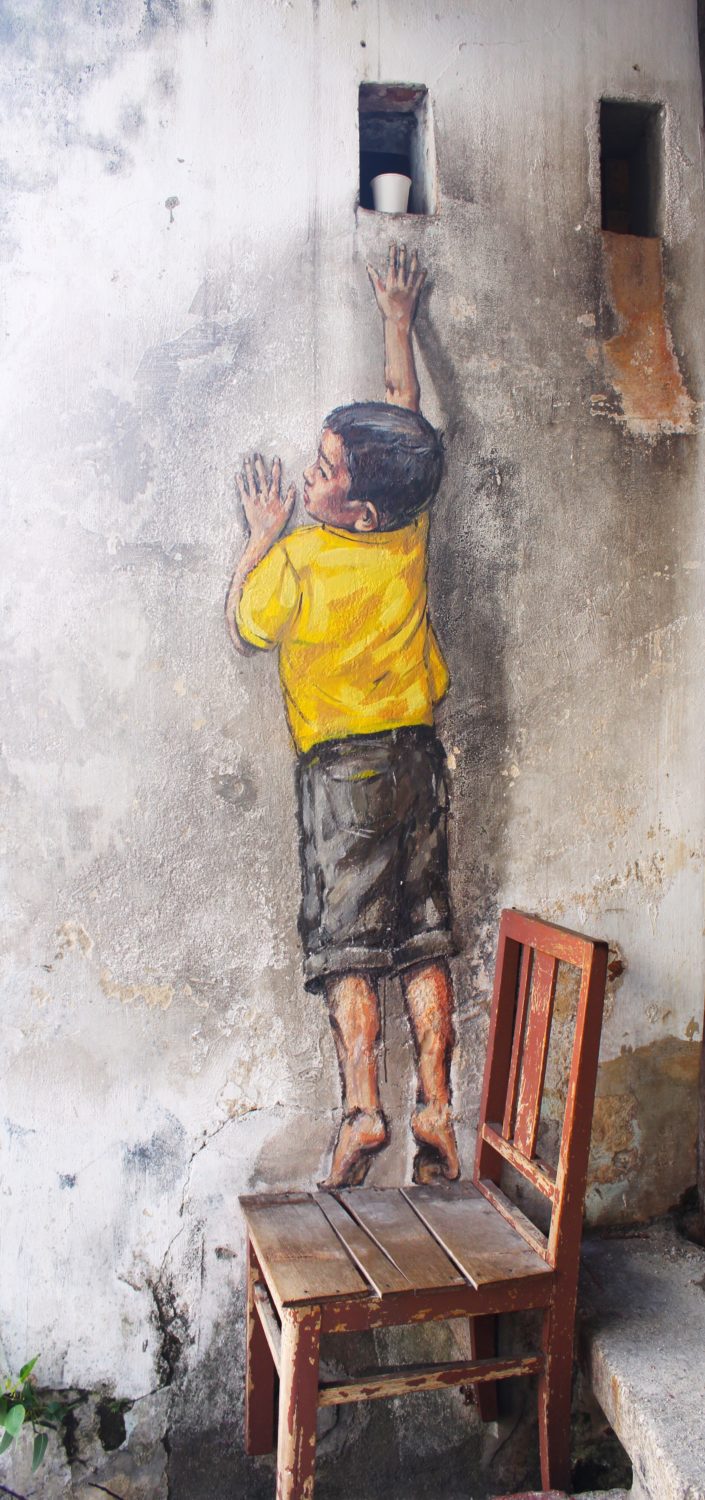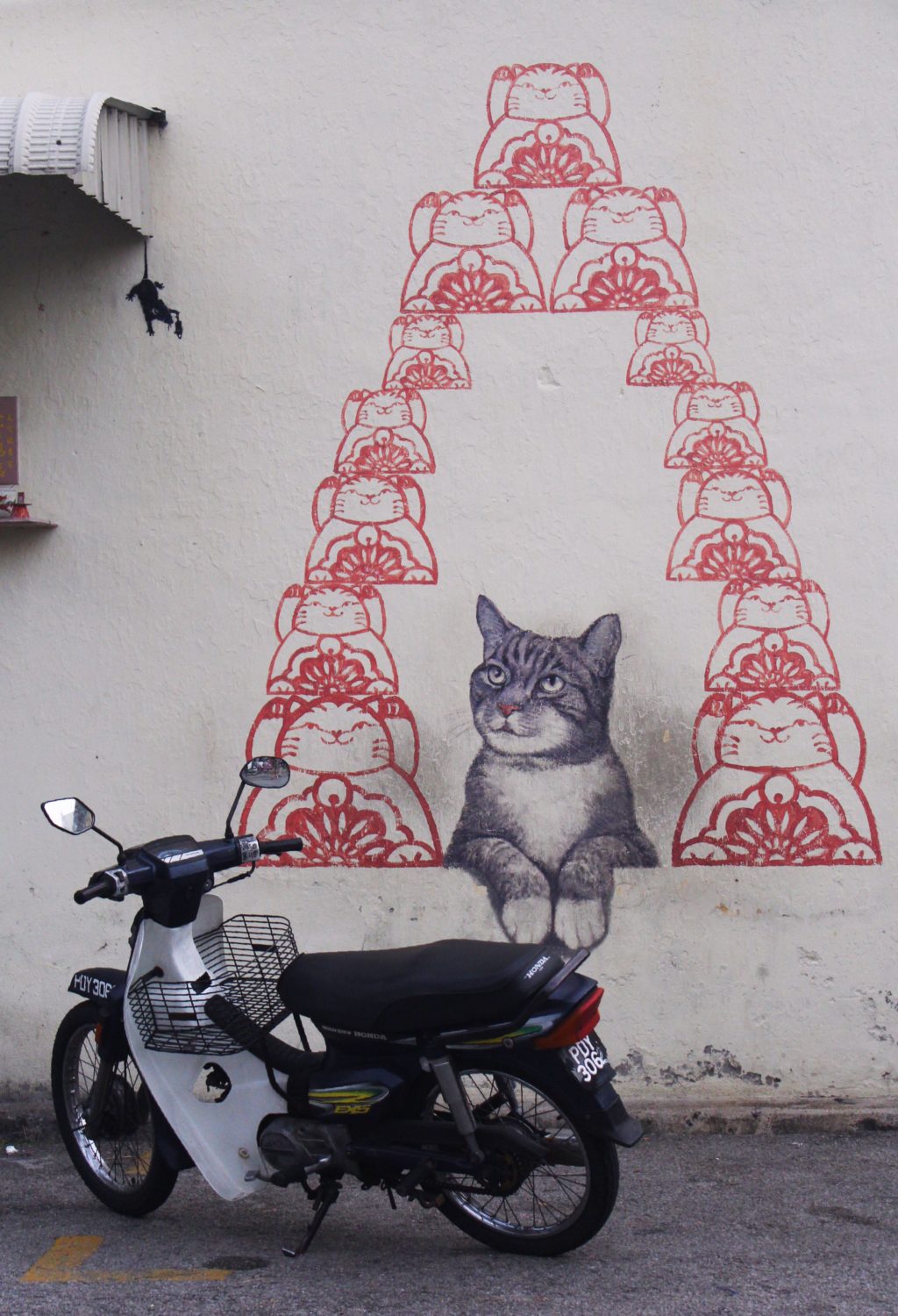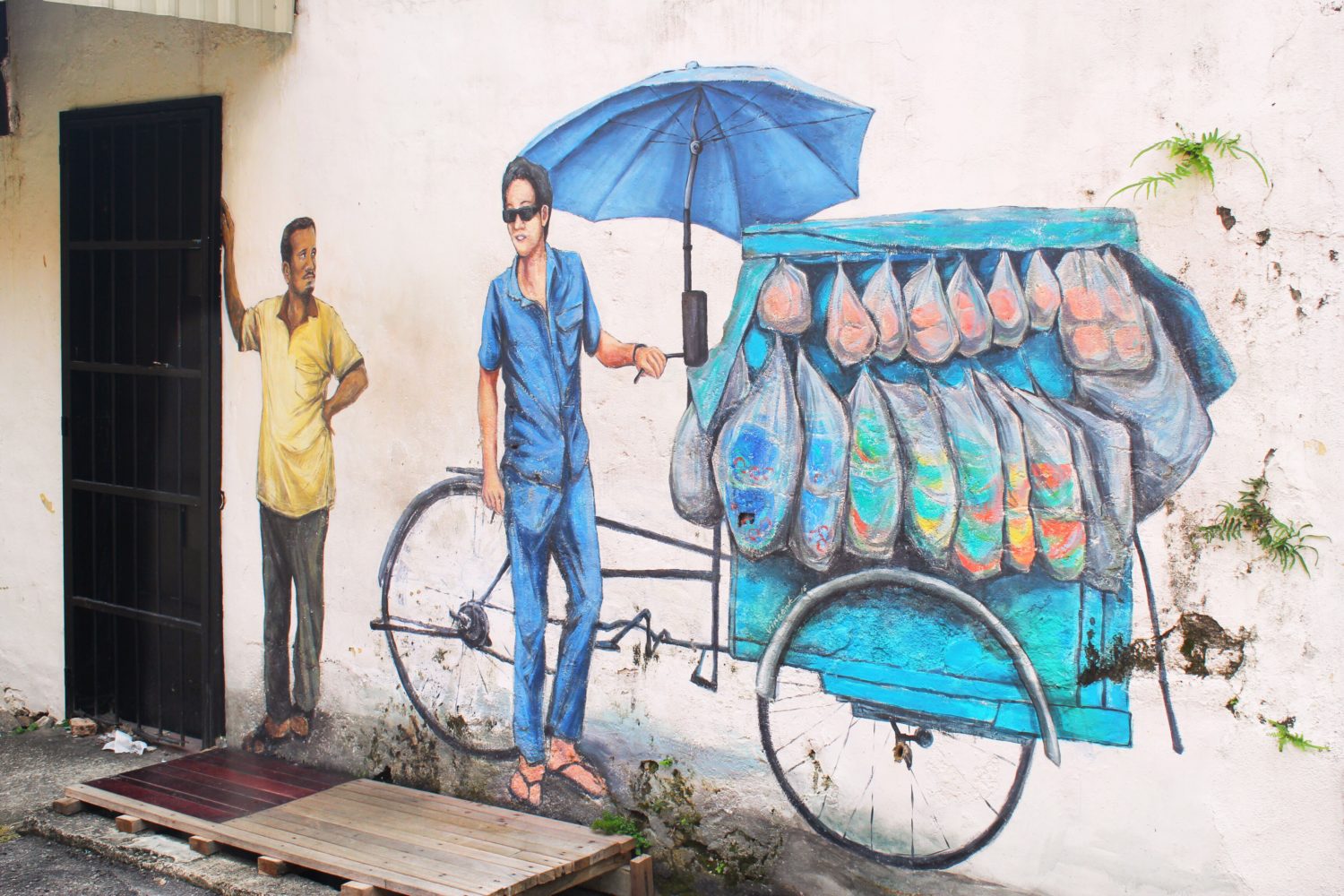 Clan Jetties 
These jetties or floating villages were established back in the 19th century and today, they still house many families and visiting these villages will give you insight on the day to day life of these villagers.   But one word of caution: you need to be very respectful of the residents and their privacy.  We did see many pop up shops in front of homes and villagers selling trinkets to the tourists who flood their narrow wooden piers, but we also saw many signs posted on front doors saying :"No pictures."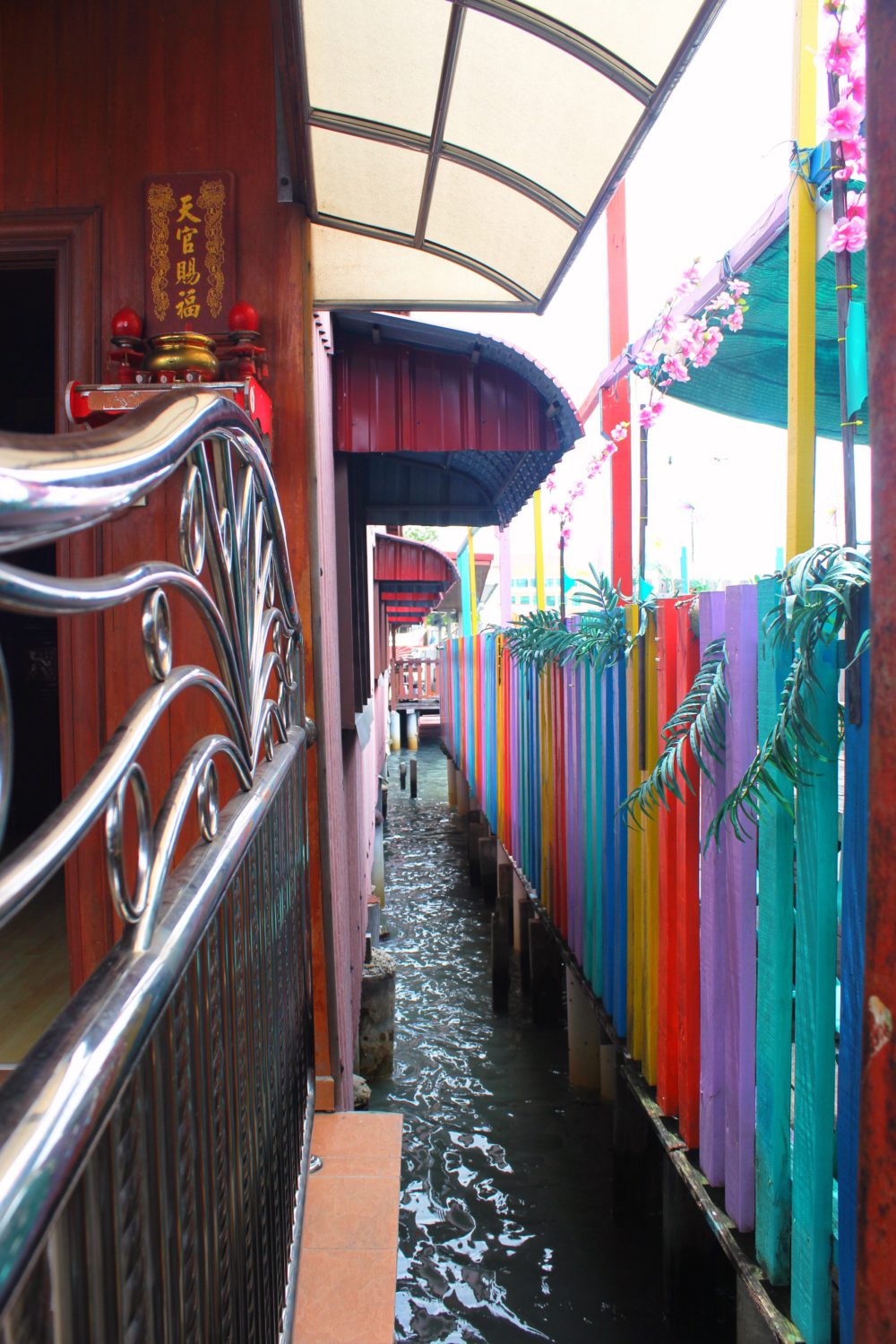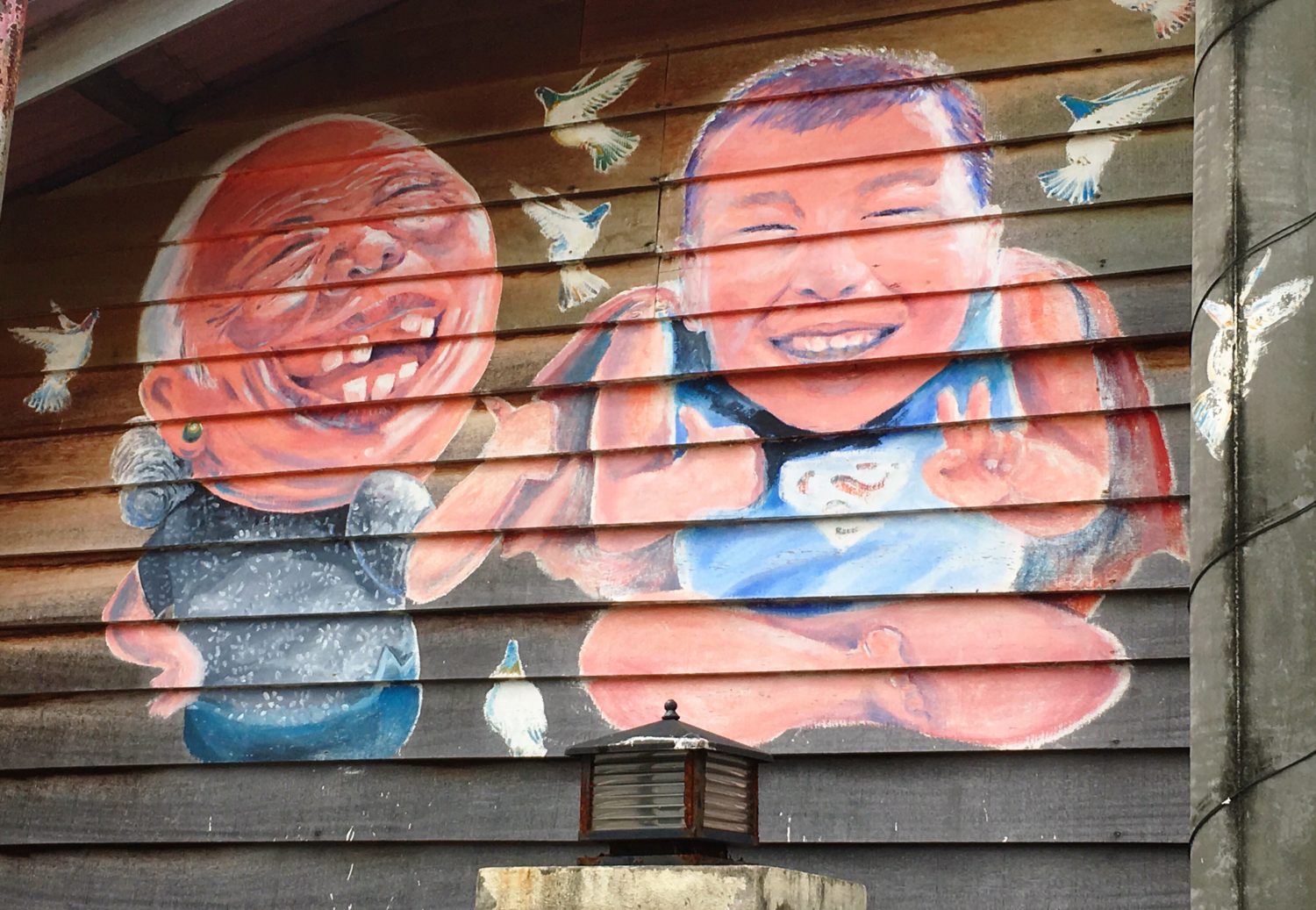 Street Food 
We saved the best for last! Living in Thailand, we eat a lot of Thai food and so we were very excited to go to Penang and eat Indian, Chinese and of course, Malay food!  Here are some mouthwatering pictures of all the yummy food we sampled while in Penang:
So before we end this post, we want to give you guys a couple of tips when you visit Penang:
Tip no. 1 : Prepare to walk a lot when you visit Penang because we think it's the best way to really explore any place, but if you are tired of walking, take advantage of the CAT free shuttle buses all over the city.
Tip no. 2: Let's face it, staying in hostels is fun when you're all of 18 years old, but for some of us we need to stay in a place that's clean and comfortable after a whole day of sightseeing.  Having good, clean accommodation to relax and refresh yourself while traveling is just as important as exploring the sites and scenes of any place you're visiting!
After an extensive search on Agoda.com, we stumbled across Areca Hotel Penang and we were extremely happy with our choice of accommodation.  First of all, Areca Hotel Penang is a restored heritage hotel, so the rooms, hallways and lobby have retained their old world charm with all the modern comfort  to make your stay that much better!  The rooms are so comfortable (soft mattress which we definitely miss since moving to Thailand) and impeccably clean.  The hotel also has a cafe that offers a variety of western and local dishes for breakfast, lunch and dinner.   The staff, managers and chef are also incredibly friendly and helpful. We felt like family while staying at Areca.  Another thing to love about this hotel is its closeness to downtown Georgetown.  The hotel is located off of Penang Street and it's literally a stone's throw away from must visit street food carts, restaurants, money changers, convenience stores (for those late night chips and beer hankering), etc. You can easily walk to the Blue Mansion from the hotel and back.   Because it's so close to downtown Georgetown, we'd start our walking trip early in the day after breakfast and then go for a quick nap and cool down in our hotel room and then go back out when the sun's down and the heat is more bearable.  We highly recommend staying at Areca when visiting Penang!
Here are some photos of the hotel: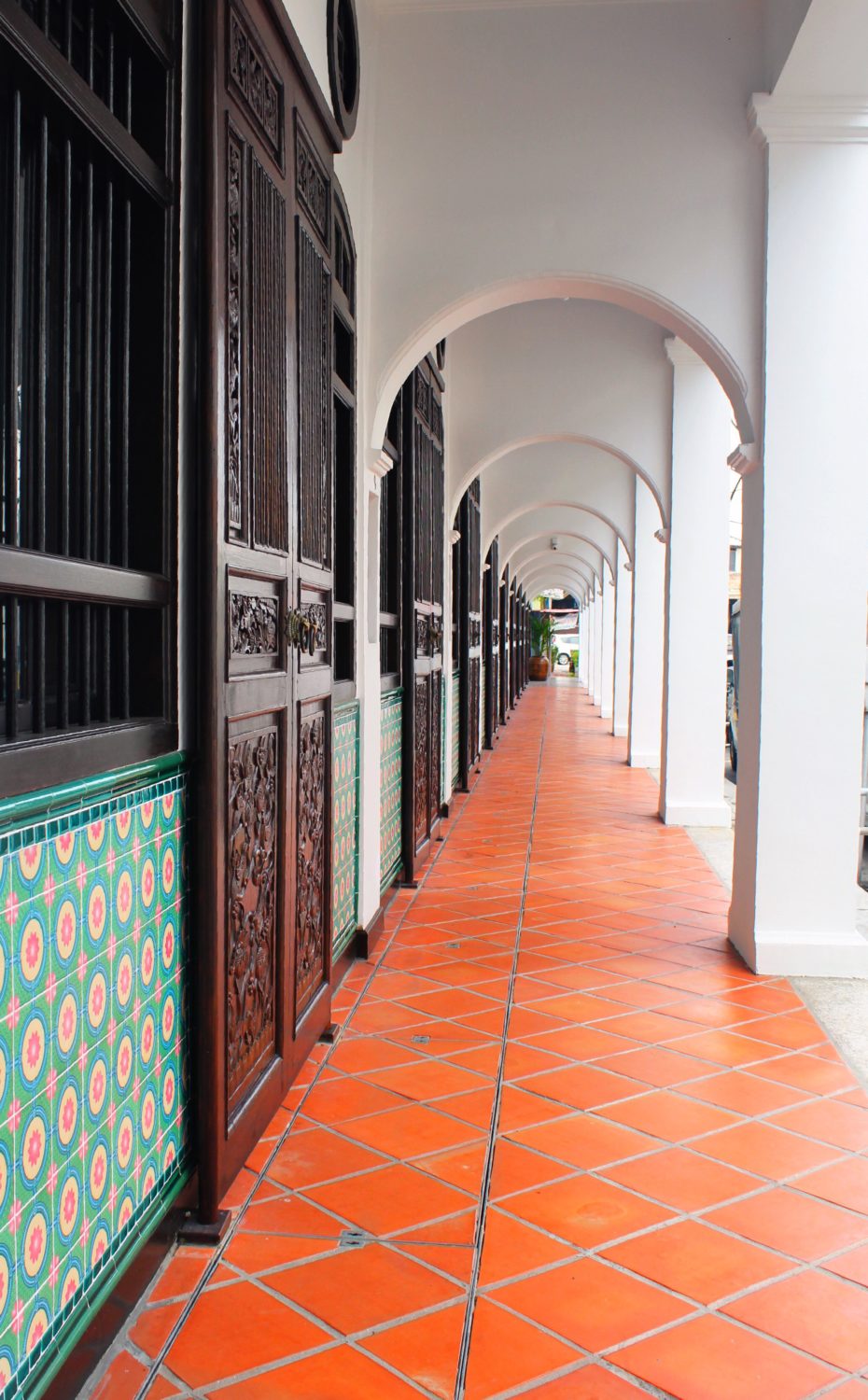 Make sure you visit Cafe Areca which is a little restaurant in the hotel.  The breakfast options are extensive and our fave breakfast was their potato rosti with beef bacon, cheese, mushrooms and egg! It was seriously amazing and so filling which is what you need to do all that walking!  Areca Hotel also recently opened for dinner and just like for breakfast, they offer Malay and western dishes! The chef and staff in the cafe are top notch.
Tip no. 3:  Take in the architecture, the people, the activities and just explore the streets of Georgetown to get a sense of its diverse residents and culture.  Here are some of charming streets and buildings we were able to capture: