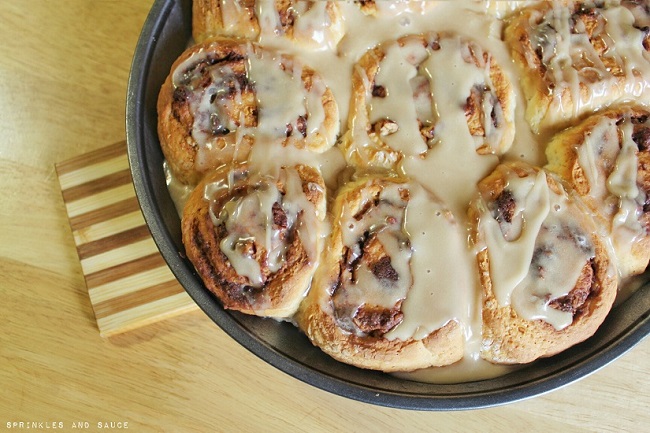 Everyday after school, I was faced with a temptation.  No, it was not cigarettes or drugs or anything like that.  It was a cinnamon bun! You might laugh but it took every ounce of self control on my part not to buy a cinnamon bun everyday after school.  You see, there was this evil shop selling freshly baked cinnamon buns slathered with creamy frosting that I had to pass everyday on my way home.  Once in awhile, the temptation will get the better of me and I'd buy one.  Then I'd rush home, open up the box, inhale all that sweet odour and finally dig in.   I'd savour each and every perfect bite of that frosted, pillowy dough filled with cinnamon sugar and pecans.  Oh those were the good ol' days when my metabolism didn't hate me as much and I could eat my day's worth of calories, sugar and fat in one sitting! Recently, I was craving a cinnamon bun and decided to try my hand at making them from scratch. I love baking and I love browsing through baking websites and blogs! And one of our favorite baking blog is sallysbakingaddiction.com. Sally is a self confessed baking addict and I imagine that this addiction makes her husband, Kevin, and dog, Jude, very happy indeed! Not to mention her neighbours, friends and family. Hey Sally, if you're looking to adopt two adults, we're free and will totally do your dishes for you!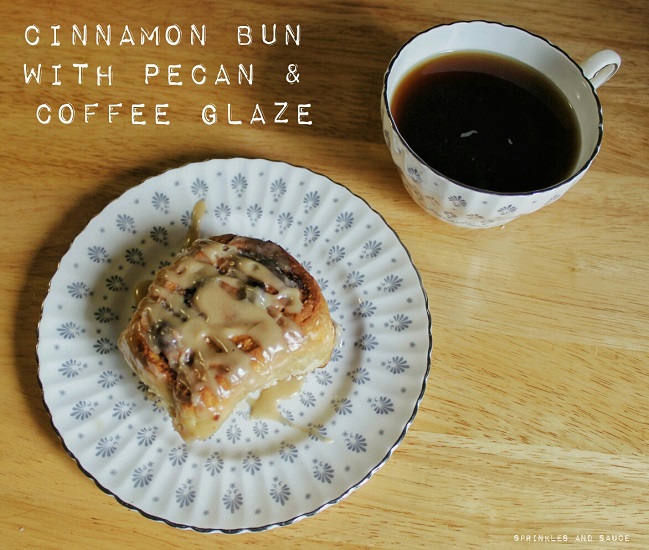 Her recipe for cinnamon buns is easy and great for yeast beginners. You can either bake the buns the same day or make it ahead and bake it the next day! The recipe yields about 11-12 rolls and they make for a great after dinner dessert or afternoon tea accompaniment. Okay, okay, if you want to eat one for breakfast, go ahead! We won't judge. So if you're craving for something sweet and have a little bit of extra time on your hands, try this recipe out and let us know what you think!

Easy Cinnamon Rolls with Pecans and Coffee Glaze
Author:
sallysbakingaddiction.com
Ingredients
ROLLS
2 and ¾ cups (345g) all-purpose flour (measured correctly)
3 Tablespoons granulated sugar
1 teaspoon salt
1 package Red Star Platinum Yeast or any instant yeast (1 packet = 2 and ¼ teaspoons)
½ cup (120ml) water
¼ cup (60ml) milk (I usually use skim)
2 and ½ Tablespoons (40g) unsalted butter
1 large egg
FILLING
3 Tablespoons (45g) unsalted butter, softened to room temperature
1 Tablespoon ground cinnamon
¼ cup (50g) granulated sugar
COFFEE GLAZE
1 cup (120g) confectioners' sugar
1 teaspoon vanilla extract
2-3 Tablespoons (30-45ml) strong coffee (or use milk/cream instead)
Instructions
Make the dough:
Set aside ½ cup of flour. In a large bowl, toss the 2 and ¼ cups flour, the sugar, salt, and yeast together until evenly dispersed. Set aside.
Heat the water, milk, and butter together in the microwave until the butter is melted and the mixture is hot to touch. About 115°F (46°C).
Stir the butter mixture into the flour mixture.
Add the egg and only enough of the reserved flour to make a soft dough. I only needed ⅓ cup, but you may need the full ½ cup.
Dough will be ready when it gently pulls away from the side of the bowl and has an elastic consistency.
On a lightly floured surface, knead the dough for about 3-4 minutes.
Place in a lightly greased bowl (I used non-stick spray) and let rest for about 10 minutes.
Make the filling:
After 10 minutes, roll the dough out in a 14x8 inch rectangle.
Spread the softened butter on top.
Mix together the cinnamon and sugar and sprinkle it all over the dough.
Add more cinnamon/sugar if desired.
Roll up the dough tightly.
Cut into 11-12 even pieces and place in a lightly greased 9-inch round pan.
I used a pie dish, lightly sprayed with nonstick spray.
Loosely cover the rolls with aluminum foil and allow to rise in a warm, draft-free place for 60-90 minutes.
Here is what I do: heat the oven to 200°F (93°C). Turn oven off. Place rolls inside oven and allow to rise.
After the rolls have doubled in size, preheat the oven to 375°F (190°C).
Bake for 25-30 minutes until lightly browned. I covered the rolls with aluminum foil after 15 minutes to avoid heavy browning.
Make the glaze: Right before serving, top your cinnamon rolls with glaze.
Mix the confectioners' sugar, vanilla and 2 Tablespoons coffee together until smooth and drizzle over rolls.
If it seems too thick, add 1 more Tablespoon coffee.
You can replace the coffee with milk or cream instead, if you do not want a coffee flavored glaze. If you prefer a thicker glaze, add more confectioners' sugar and then add a pinch of salt to cut the sweetness, if desired.
Notes
Rolls are best enjoyed the same day, but stay fresh and soft in a covered container at room temperature or in the refrigerator for 5 days. Glaze the rolls immediately before serving. Rolls (with or without glaze) freeze well, up to about 3 months. Thaw in the refrigerator and heat up however you prefer.

!Make ahead/overnight: This dough can be made the night before through step 4. Cover with plastic wrap and let rise in the refrigerator overnight. The next morning, remove from the refrigerator and allow to rise at room temperature, about 1 hour.

If you want to add pecans like we did, add ½ cup of chopped pecans and sprinkle them along with the sugar and cinnamon mixture.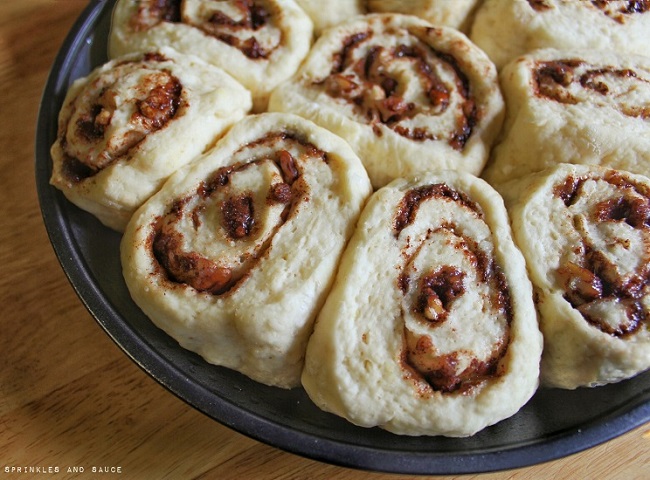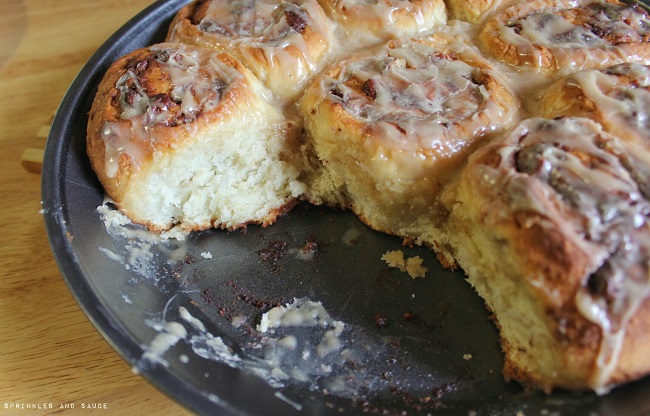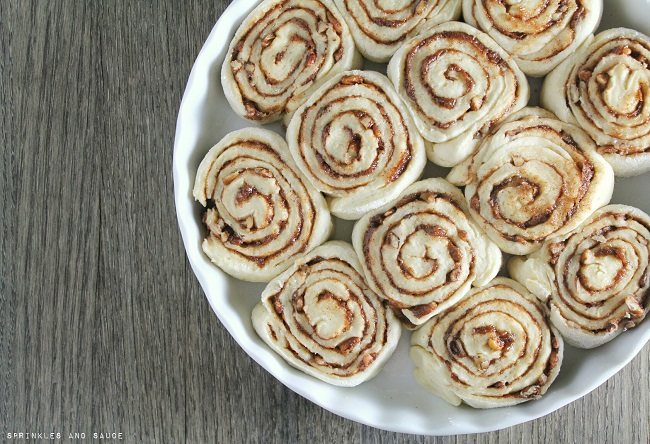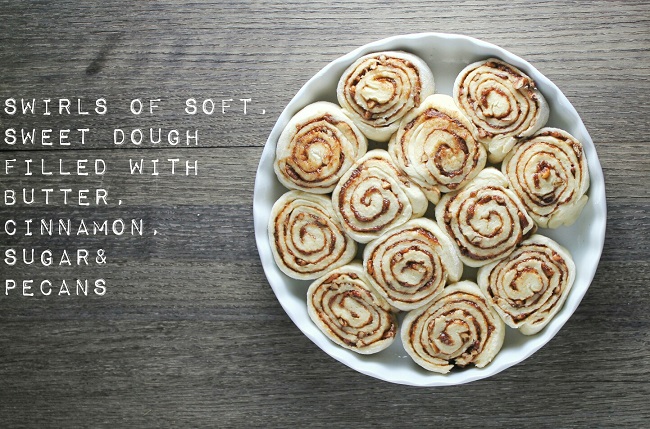 *the last two pictures are of my first attempt to make these cinnamon buns.  as you can see, the dough did not rise as much.  it could have been the yeast i was using or i did not let the yeast bloom properly.  in any case, as with everything else, practice makes perfect! don't get discouraged if your first or second or more attempts fail just try again and use your husband, friends and families as your guinea pigs!