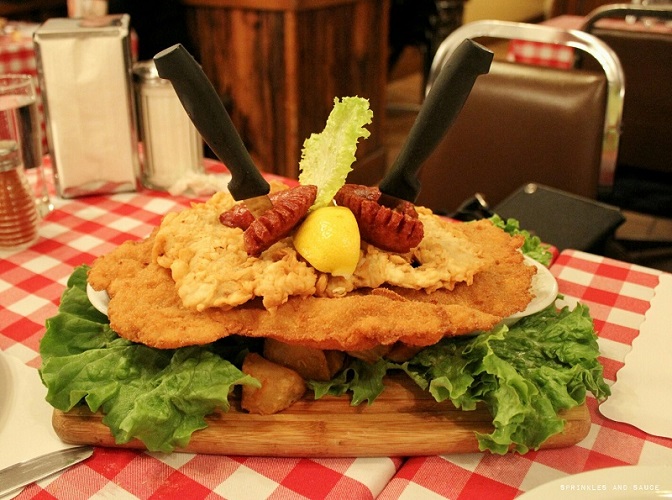 Winter's coming! And you know that means, right? It's time to unearth your elastic pants and put some meat on your bones. Indulging on comfort food is really the only way to deal with winter. For realsies. If you're hankering for some good ol' fashioned, rustic, just like grandma's cooking kind of food, head on over to Country Style Hungarian Restaurant. You won't be disappointed. Here's what you can expect – cottage style decor, red and white gingham, vinyl chairs, rustic vibe and good old fashioned Eastern European home cooking. It's one of those restaurants you go to and makes you miss your grandma's cooking or makes you wish you have an European grandma at home!
The restaurant has an extensive menu, but we usually get the same stuff. We order their cucumber salad (so simple, yet so addictive), cabbage rolls (stuffed with rice and pork) served with a dollop of sour cream, sprinkling of paprika and on top of sauerkraut and of course, their Country Style Wood Platter! You cannot miss this platter. But it's definitely not for the faint of heart. It's a giant wooden plate filled with fried potatoes, schnitzels and fried sausage. You can get an order enough for one or for two. But trust us, the platter for one is enough for three people. Unless you're insanely hungry and need a lot of protein. Their menu is pretty big and they have the usual European comfort food like chicken paprikash, goulash soup, and perogies. We've never had their dessert because we're just too full by the time we finish the platter, but we reckon their desserts are just as good as everything else in their menu! If you cannot eat meat and your friends make you go to this restaurant, don't worry because they have a lot of non meat options to choose from like beet/cucumber/coleslaw salads, breaded cheese, breaded mushrooms, noodles with cottage cheese, etc.
So if you're hankering for some good old fashioned comfort food, try out Country Style Hungarian Restaurant located at 450 Bloor Street West, Toronto, ON M5S 1Y5.
Here are some pictures to whet your appetite:
Cabbage roll stuffed with pork, rice and seasonings served on top of sauerkraut and topped with a dollop of sour cream and sprinkling of paprika.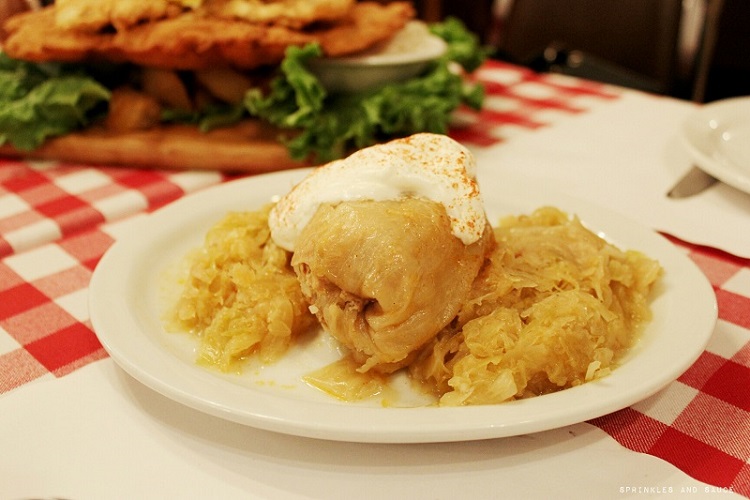 Our favorite part of the platter is the fried Hungarian sausage.  It's on the drier side, but it's spiced well and fried perfectly.  The schnitzels are thin, tender and moist and the breading is crispy.