My little brother and sister in law moved out to eastern Canada a few years ago and every year, they come and visit us here in Toronto.  Last time they visited was a real special visit for us.  My mom usually makes a big ado over my brother visiting and this time around with the baby news and all, it's a much bigger event for all of us!  We've been to Cluny previously and  that first meal got us hooked! We immediately fell in love with the decor and food and so we decided to go back and celebrate the new addition to our family by having a nice family dinner at Cluny Bistro and Boulangerie at the Distillery District.
Cluny is one of the newer additions to the vast array of restaurants at the Distillery District.  On your way into the restaurant, you're greeted by their patisserie filled with mounds of croissants, dainty French pastries and shelves full of little things like jams and pickles.  You then pass by the cafe where you can see a neat row of absinthe fountains and ornate gold mirrors on the wall.  The restaurant itself is rich and opulent, from the patterned floors to the marble oyster bar to the monogrammed plates to an impressive bread bar in the middle of the restaurant and to the servers dressed in stripes and black! The food and cocktails, also, do not disappoint.  First time we went, I ordered absinthe with their lemon and black walnut house made sugar and the second time around, I had their guillotine cocktail. The name of the cocktail is a tad morbid, but it was creamy and refreshing! For food, we have had their duck poutine, beef tongue with frites, chop platter, gnocchi with escargot and veal meatball.  Our favorite is their beef tongue served with frites! The tongue is tender and flavourful with a crispy crust served with their perfectly seasoned and highly addictive frites.
I was just on their website and it looks like their menu has slightly changed so I guess that means it's time to go back and try out their new menu! Also, there's plenty to choose from their dessert line up or you can pick up a couple of pastries on your way out and have your dessert at home instead. Our last visit there, the kitchen treated us with a platter of their desserts as a thank you for our review of their sister restaurant, El Catrin.  It was a very impressive looking dessert platter and it beautifully capped our celebratory dinner.
Here are some pictures from our visits at Cluny Bistro & Boulangerie. Right now, they are participating in Toronto Winterlicious 2015 so head on over to the Distillery District and try out this restaurant for yourself!
absinthe with house made lemon and black walnut sugar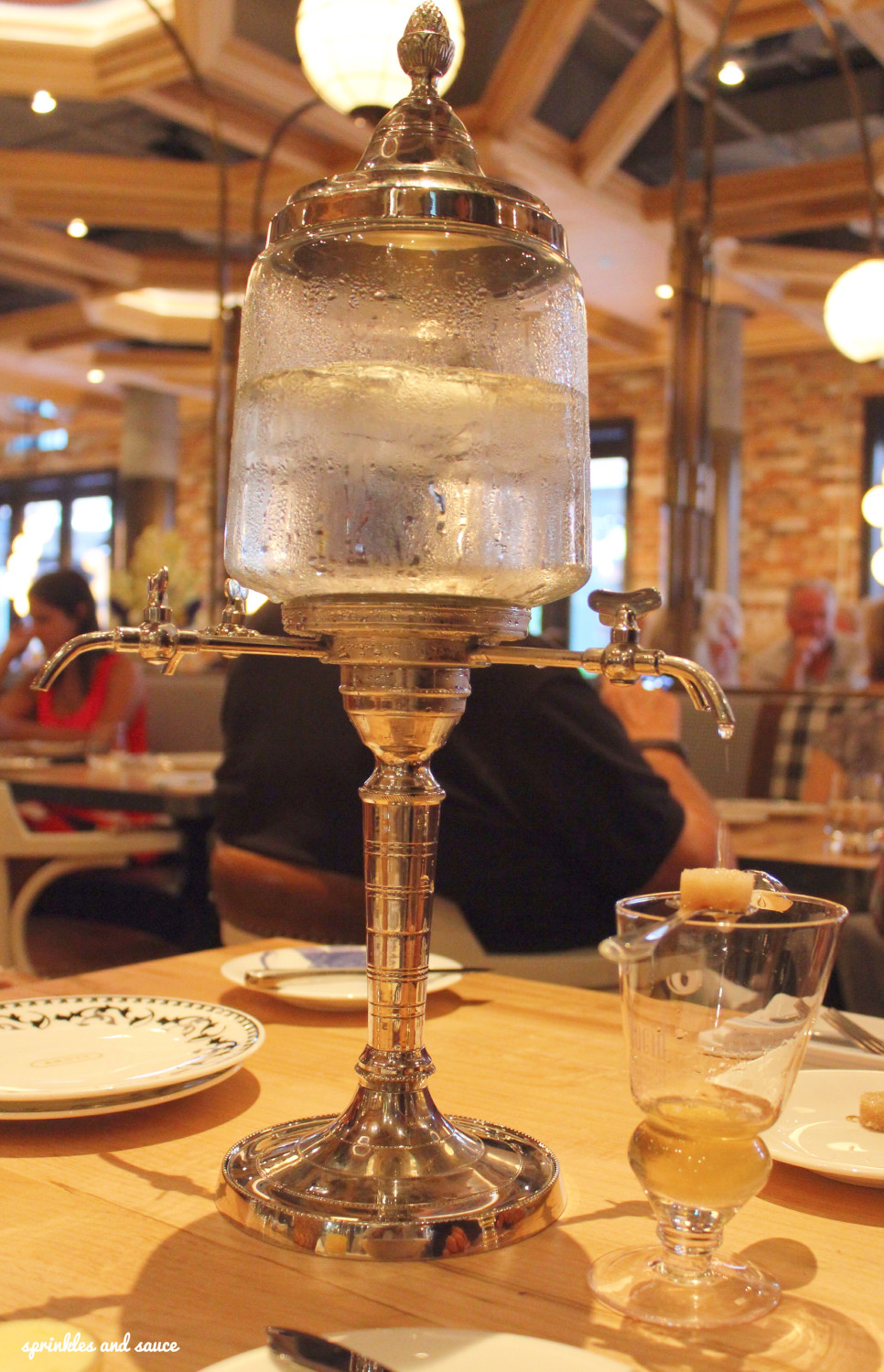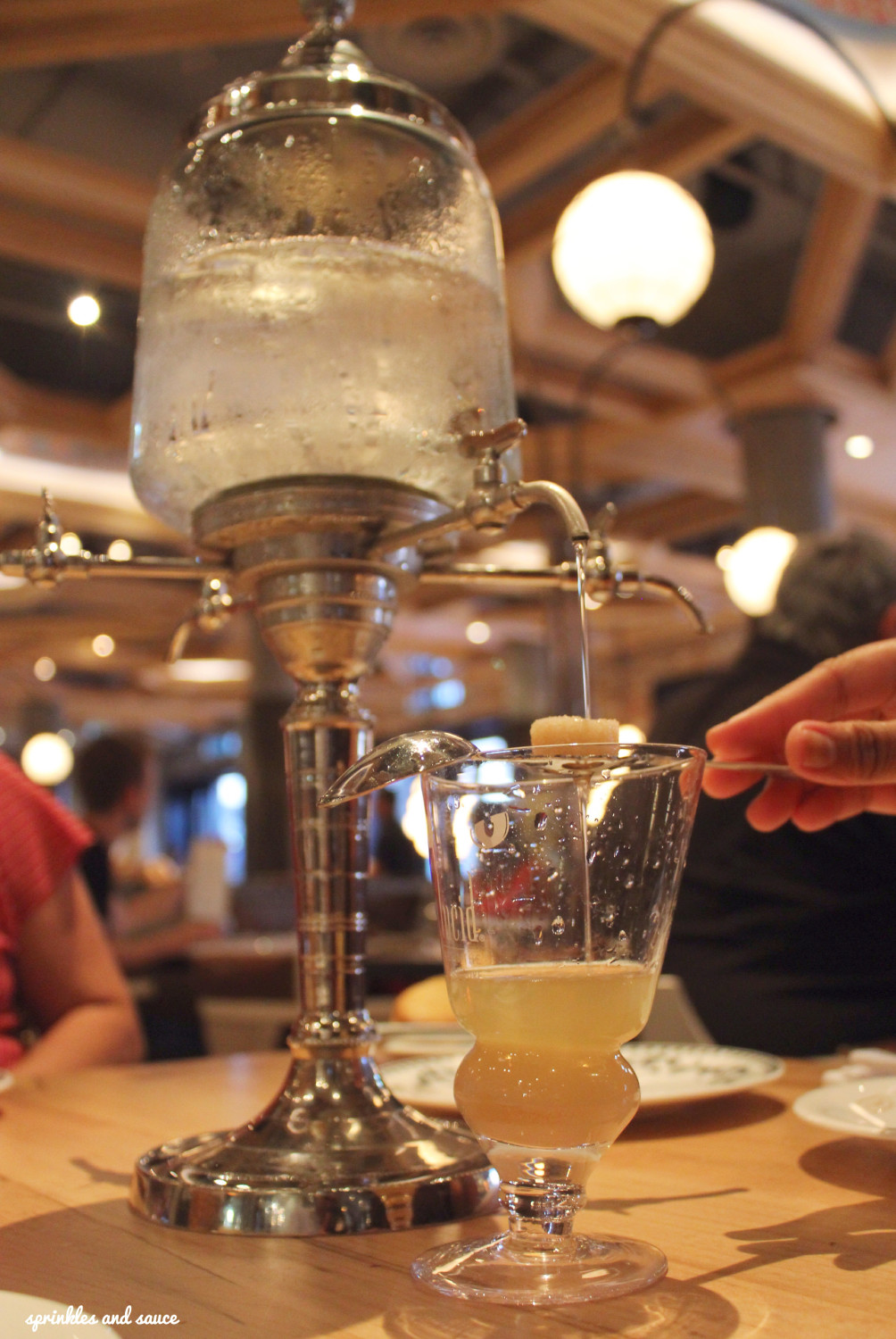 guillotine – bourbon, hazelnut liquer, ginger liquer, eggwhite and citrus
(and my brother photoboming)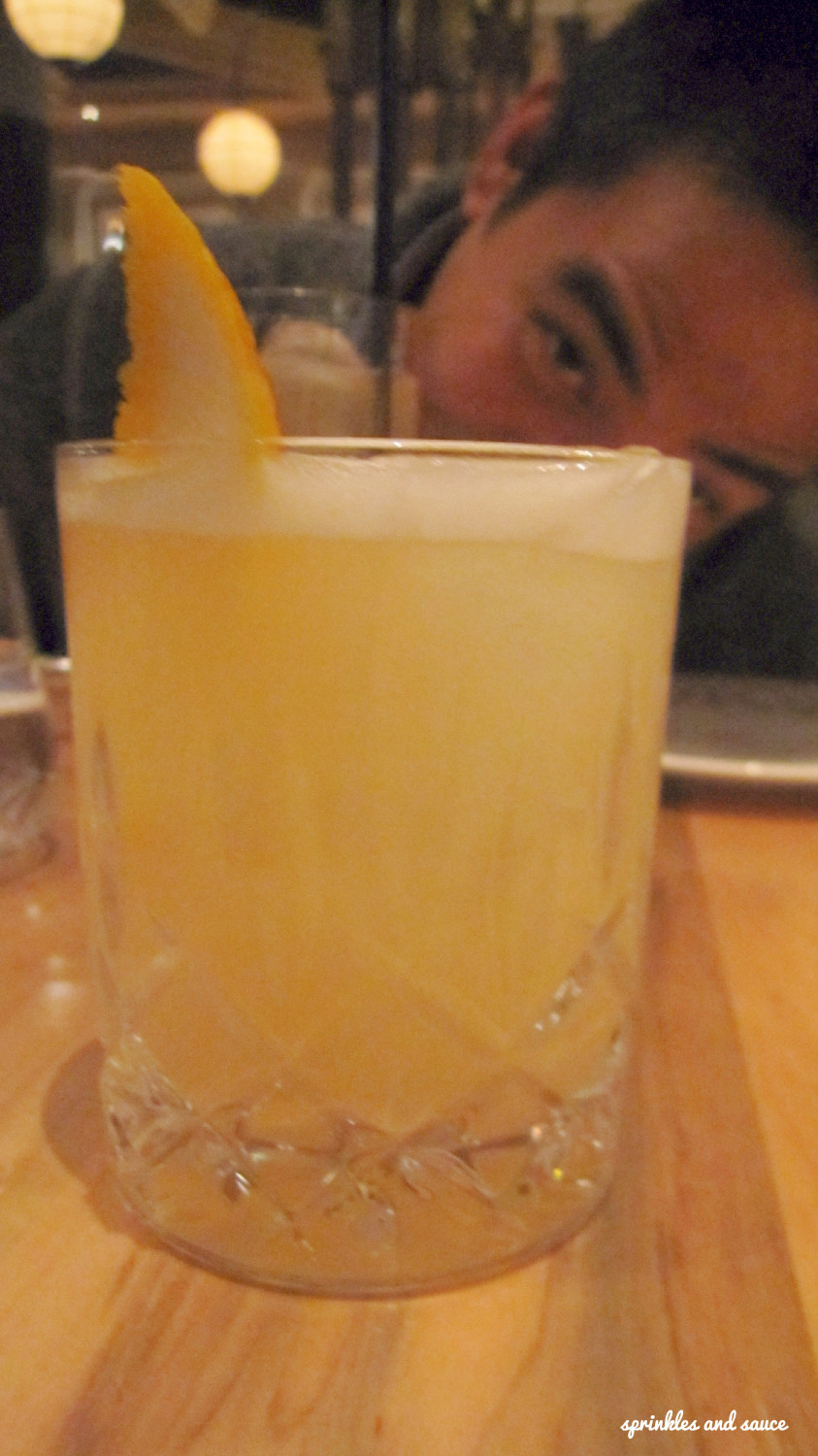 le roi – cognac, green tea, mint and ginger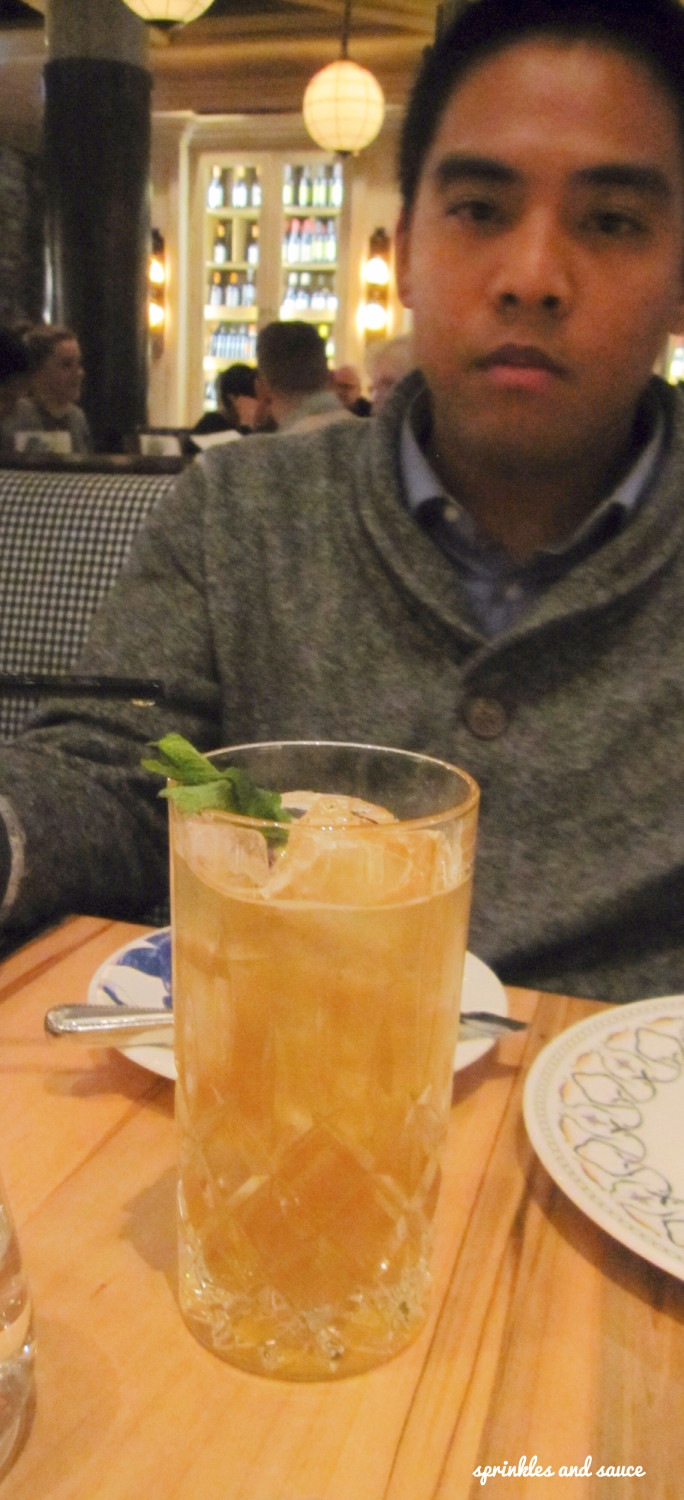 duck poutine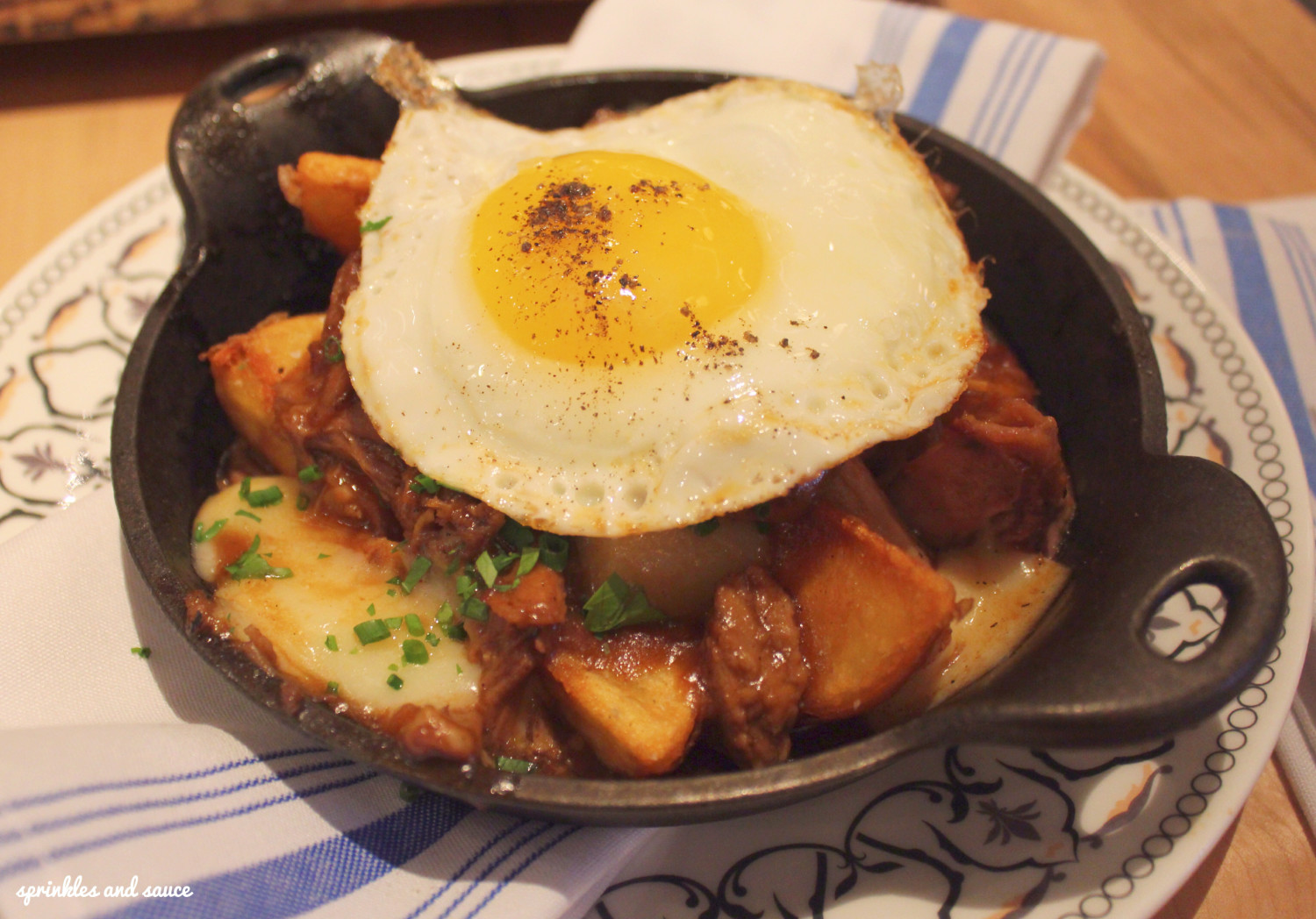 Parisian gnocchi with escargot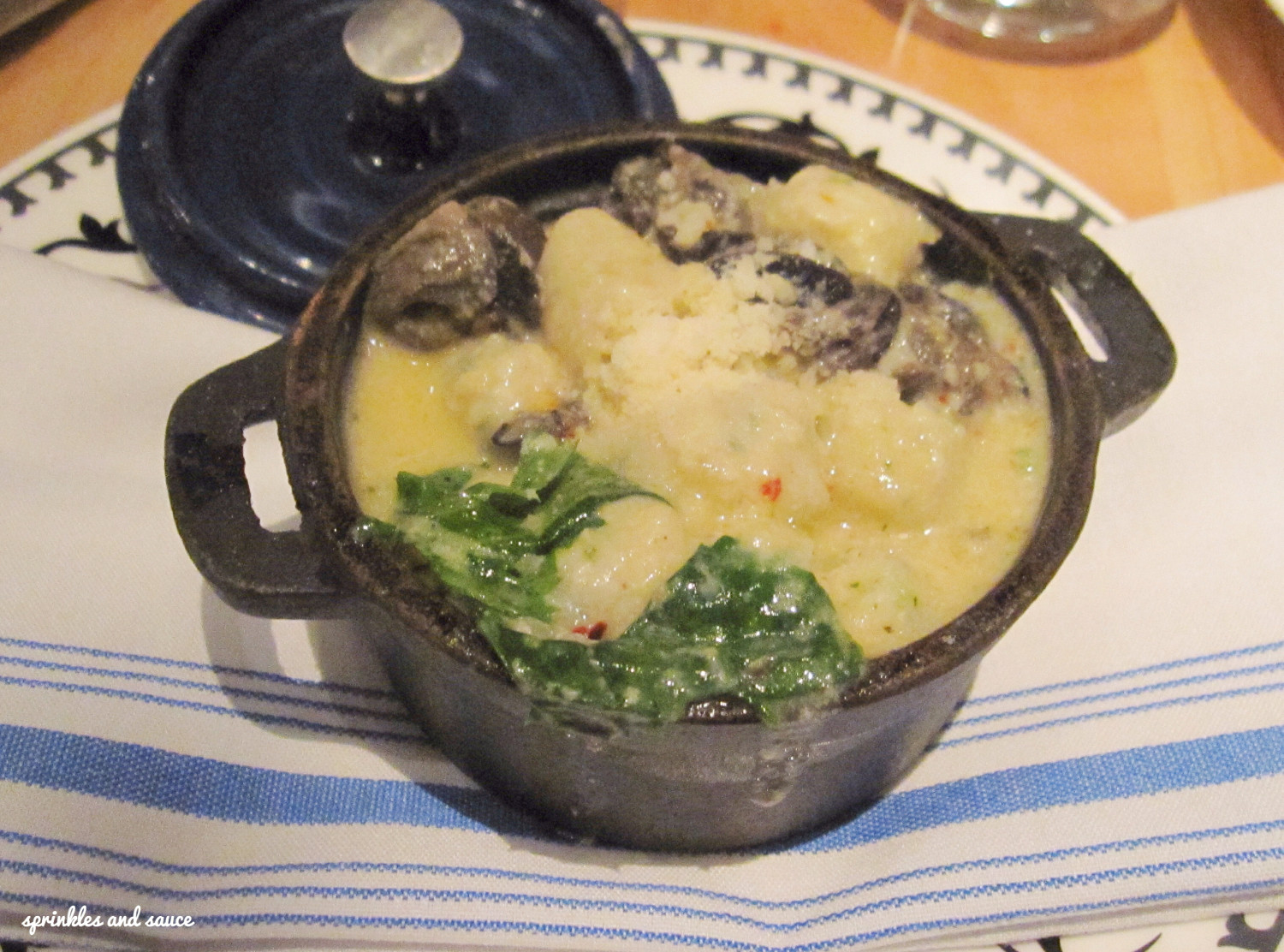 veal tomahawk – tomato braised served with Parisian gnocchi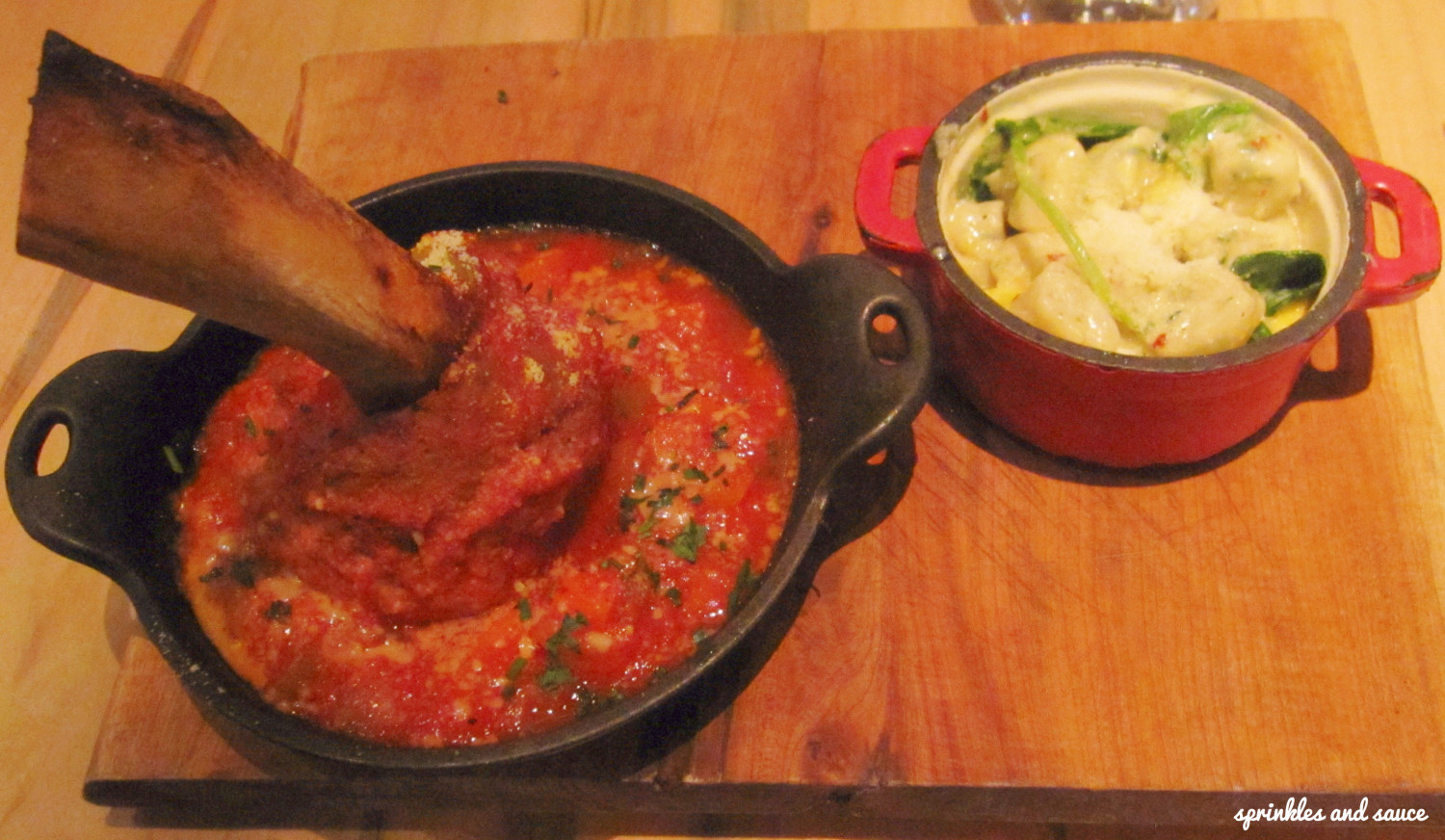 wild boar, brussel sprouts and pomme – it was their special that night
(perfect crackling on the pork btw)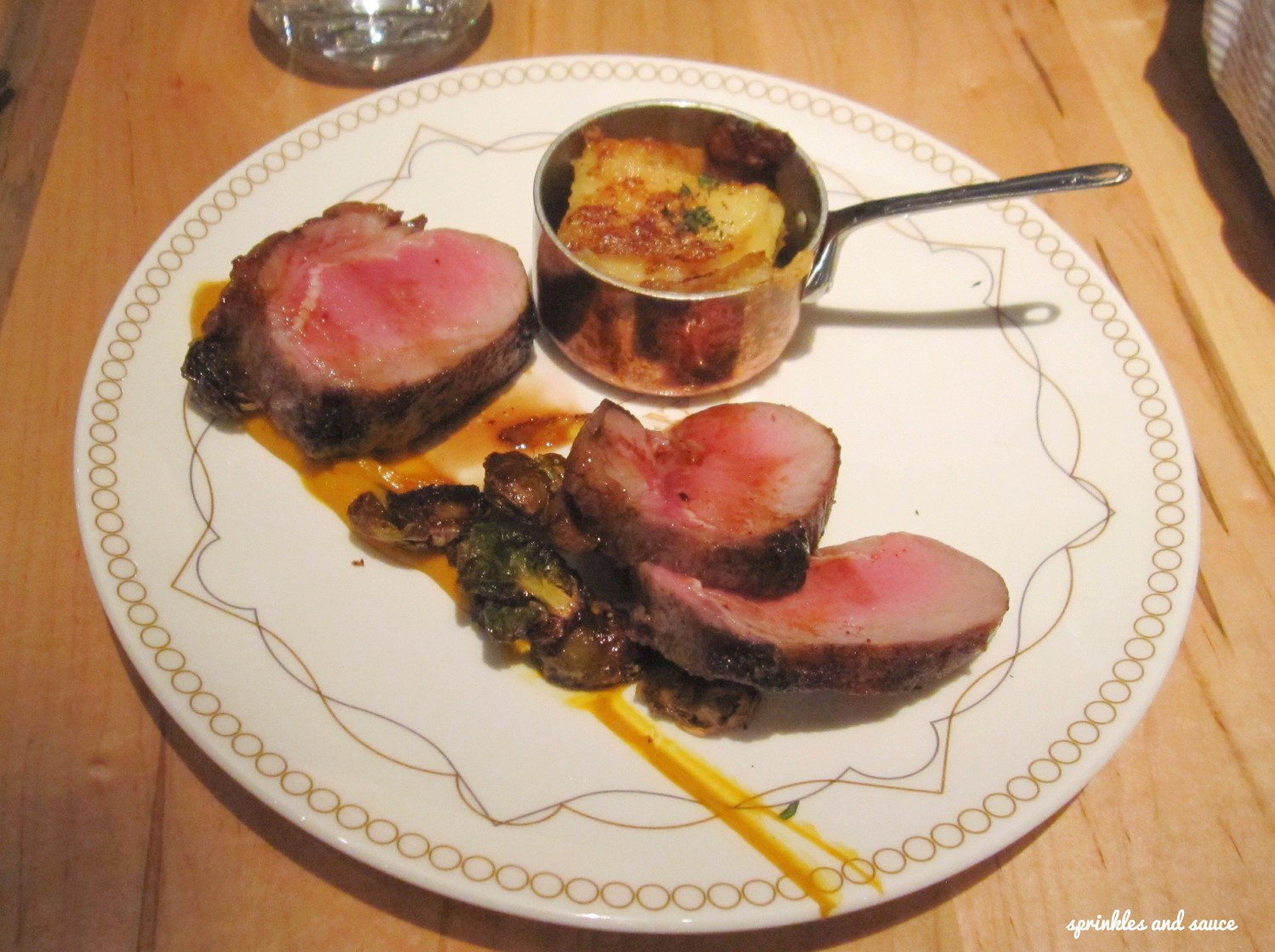 chop platter served with frites – veal chop, lamb chop and steak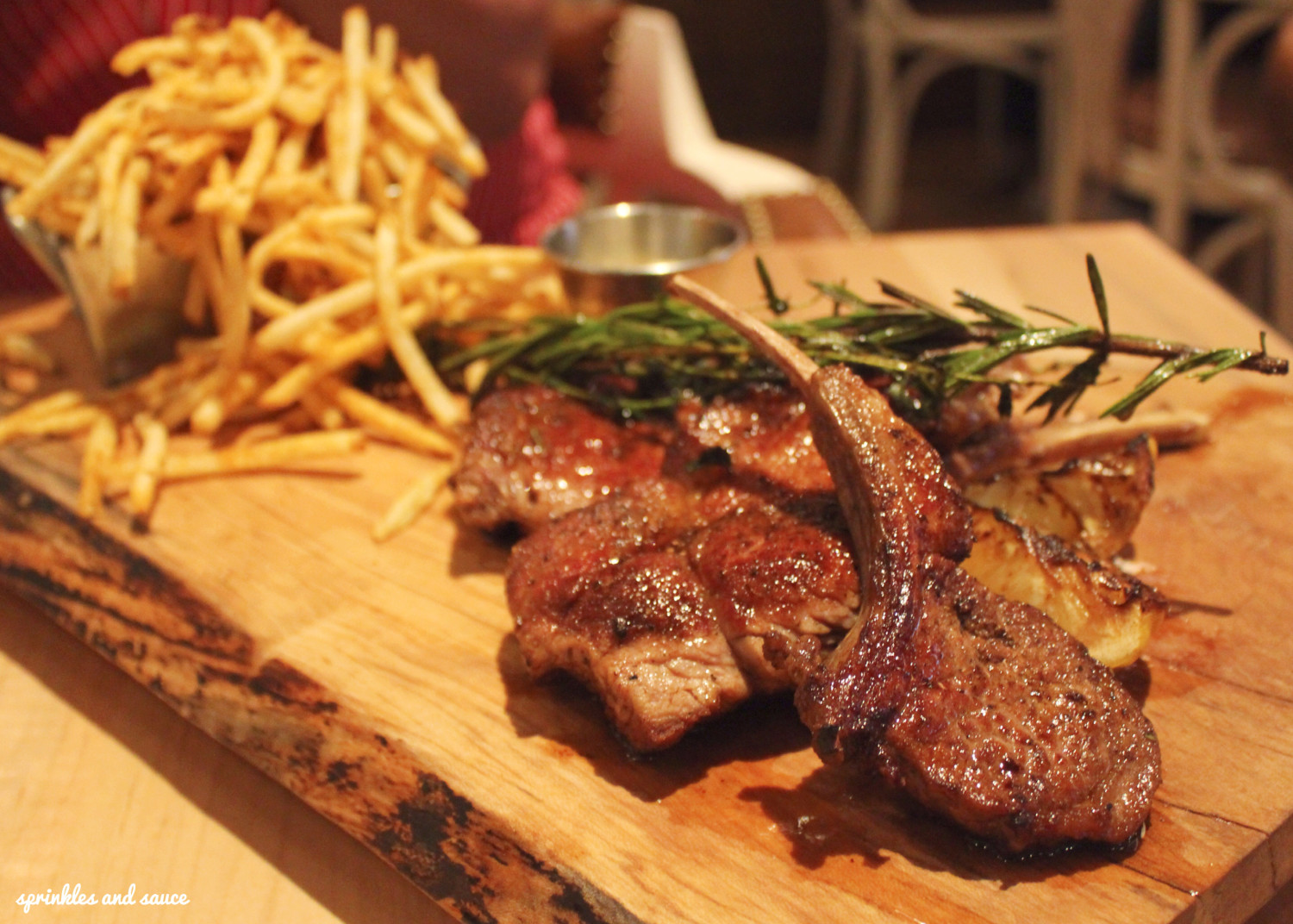 6 oz beef tongue and frites – our favorite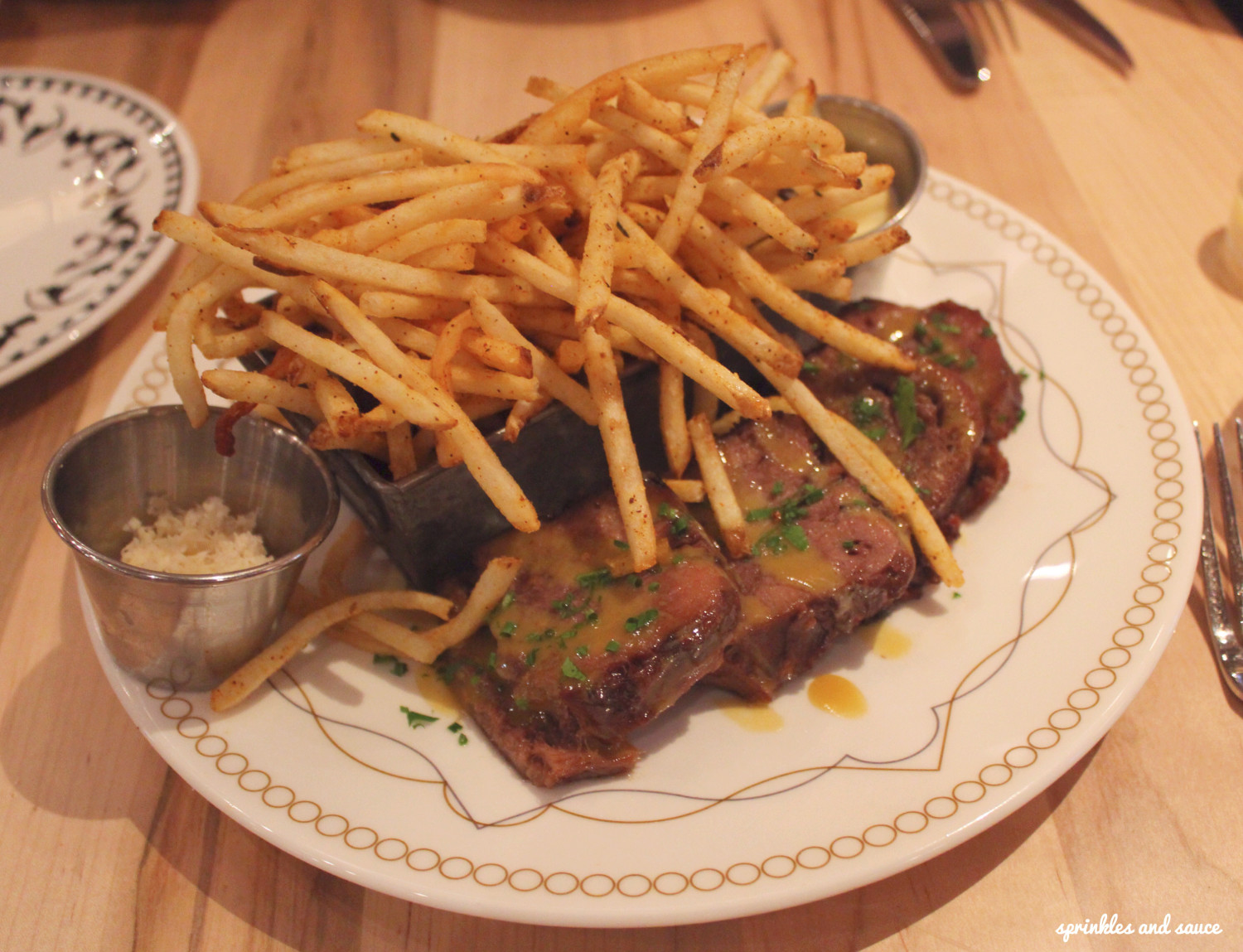 the baker's sampling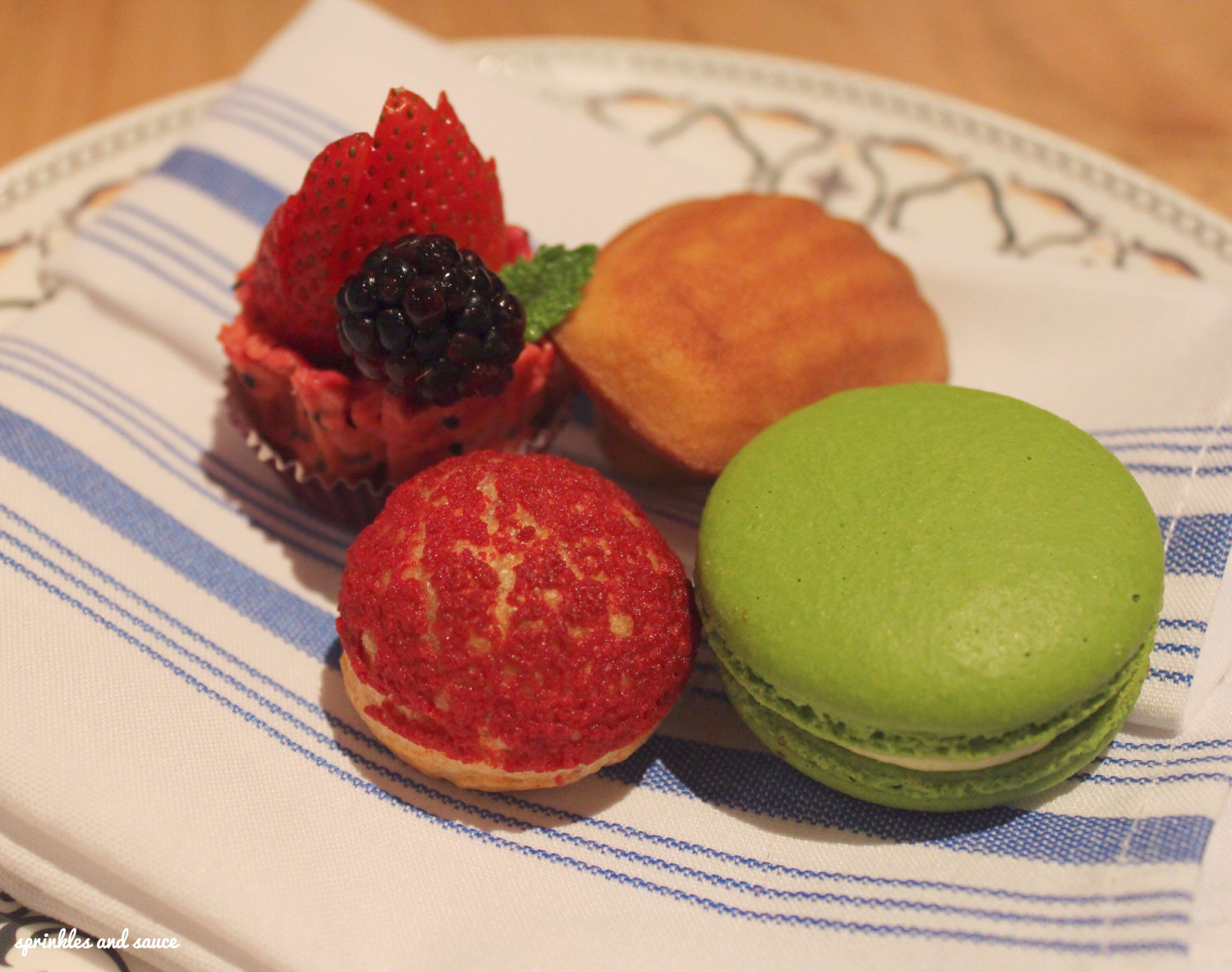 dessert platter – profiteroles, sorbet, cotton candy, meringue and marshmallow