There are so many cupcakeries in Toronto that have popped up over the last few years and I've always imagined that the bakers in the back of those shops baking hundreds of cupcakes everyday must be happy all the time and so I've always envied them! In fact, I wouldn't mind it one bit if all I had to do in a day is to bake and get paid for it!  I know, I know, it's likely not as romanticized as I make it out to be, but seriously cupcakes have a way of making even the coldest heart melt!   Whether it's homemade or store bought, a cupcake tells the recipient this: "I thought of you today and so here's a special treat just for you!"   Okay,  I have to admit cupcakes also make a great "I am sorry, I messed up" gift (I know that's true because over the years, I've found a cupcake or two in our fridge as peace-offerings from the husband and when I see them, I can't even remember why I was upset in the first place!).
If I am being really honest, I've only ever really baked chocolate cupcakes because that's our favorite! What we've been creative with is the frosting!   Not too long ago, a friend asked us to bring dessert over for after dinner.   We already had fresh raspberries in the fridge and all the ingredients to make chocolate cupcakes so we ended up with chocolate cupcakes with raspberry buttercream! Everyone loved the cupcakes and of course, we kept a couple for ourselves at home for the next day!  Here's the recipe for you: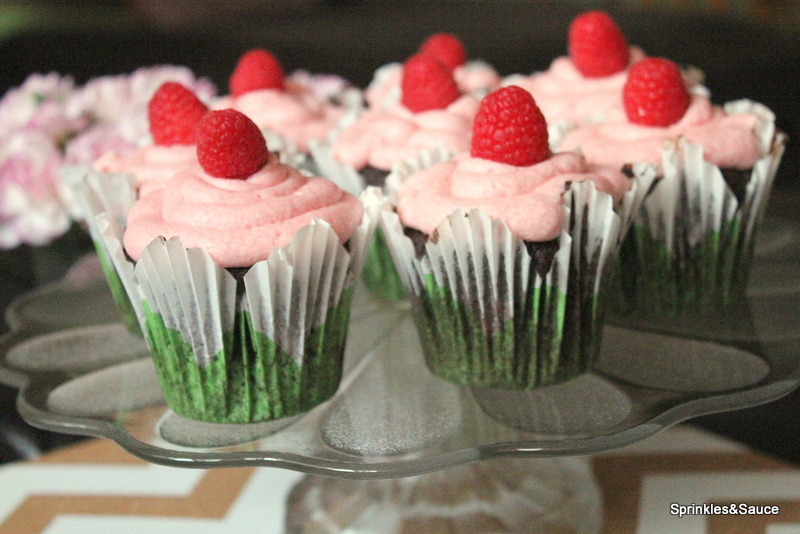 Chocolate Cupcake with Raspberry Buttercream
Author:
adapted from Two Peas and their Pod
Ingredients
For the batter:
1 stick of unsalted butter, cut into 4 pieces
2 oz of bittersweet chocolate, cut into 4 pieces
half a cup of cocoa powder
¾ cup of all purpose flour
half a teaspoon of baking soda
¾ teaspoon of baking powder
2 large eggs
¾ cup of sugar
1 teaspoon of vanilla extract
half a teaspoon of salt
half a cup of sour cream
For the frosting:
2 sticks of unsalted butter
4 cups of powdered sugar
1 cup of fresh raspberries
half a teaspoon vanilla extract
12 raspberries to decorate
Instructions
For the batter:
Preheat the oven to 350F. Line a twelve cup muffin tin with paper liners and set aside.
Place butter, chocolate and cocoa powder in a medium heat proof bowl. Fill a saucepan with water and heat the saucepan on low until the water begins to simmer, then turn off the stove and place the heatproof bowl with the chocolate and butter on the saucepan and melt the chocolate and butter together. When the mixture is smooth, set it aside and let cool.
In a small bowl, whisk together the flour, baking soda and baking powder. In the bowl of your stand mixer, beat the eggs on low speed, then add sugar, vanilla and salt and continue beating until all ingredients are fully incorporated.
Add the cooled chocolate mixture to the bowl and mix to combine. Then sift ⅓ of the flour mixture into the bowl and mix until just combined.
Then add the sour cream and mix until combined.
Finally, add the remaining flour mixture and continue mixing until just combined.
Lastly, divide the batter evenly among the muffin tins and bake for about 15 to 18 minutes or until a toothpick inserted in the middle of the cupcakes come out clean.
Remove the pan and set on a wire rack for a few minutes and then let the cupcakes cool individually on the wire rack.
For the frosting:
Throw the raspberries into a blender and pulse until pureed. Strain the pureed raspberries through a mesh sieve to remove the seeds.
In the bowl of your stand mixer, beat butter on a medium high speed until light and fluffy.
Then reduce speed and add the raspberry puree followed by vanilla extract. Then add the powdered sugar, one cup at a time, scraping the sides of the bowl until well combined.
Finally, frost cupcakes and enjoy!
Notes
Room temperature butter and eggs are best for baking!