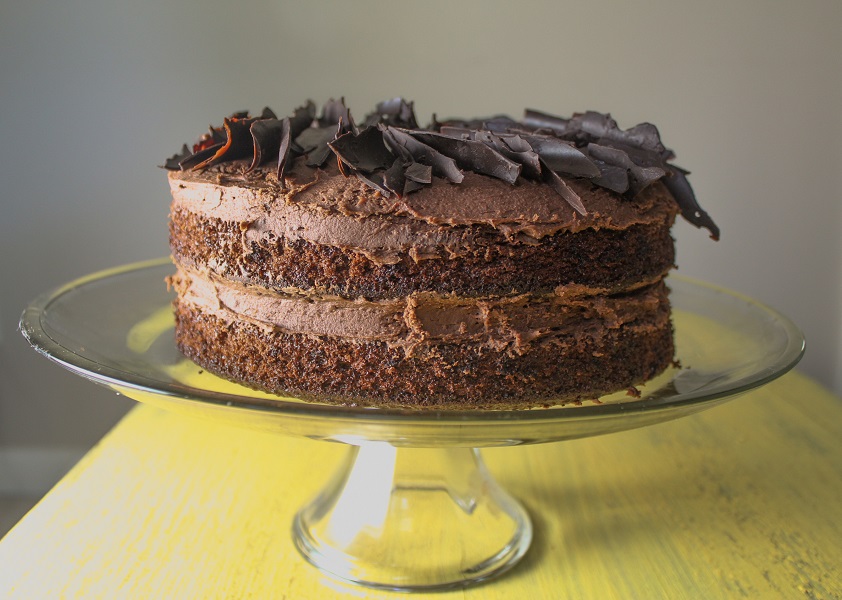 A few months back, we celebrated a very special occasion. It was our friends A & J's  tenth year anniversary and we threw a surprise dinner for them! J is not only beautiful on the outside (she looks like a cross between Julia Roberts and Cindy Crawford), but she's a good egg too!  What I love about J is that I can vent to her, laugh with her, ask for her advice, and generally be a goof ball without feeling judged. J is happy for you when good things happen to you and she's there when you need her the most. That's the kind of friend you treasure, the kind you keep for life. Her husband A is equally as great! He's a computer guy so he's uber smart and he makes us laugh with his quirky antics! They make the perfect match and really balance each other out! So when it came time for their ten year wedding anniversary, we all wanted to do something special for them. Everyone likes chocolate and everyone likes cake, right? And so I made a special chocolate cake for A & J because like that chocolate cake, they're awesome and loved by everyone.
The chocolate cake turned out great! And I have Sarah of bromabakery.com to thank! Her recipe is a definite keeper. In her blog, this cake is called "the best chocolate cake in the world" and you know what? She's right! The cake is really easy to bake, even for a novice baker like myself. You don't need any special equipment, ingredient or technique to make this cake. I also used my favorite chocolate frosting from savorysweetlife.com. And to add a little something, something, I decided to be creative and made a mini cake bunting for them. Here are some pics for you and the recipes as well:

Chocolate Cake with Chocolate Buttercream Frosting
Author:
bromabakery.com and sweetsavorylife.com
Ingredients
For the cake:
2 cups sugar
1¾ cups all-purpose flour
¾ cup cocoa powder
1½ teaspoons baking powder
1½ teaspoons baking soda
1 teaspoon instant espresso powder
1 teaspoon salt
2 eggs
1 cup milk
½ cup vegetable oil
2 teaspoons vanilla extract
1 cup boiling water
For the buttercream frosting:
1 cup unsalted butter (2 sticks or ½ pound), softened (but not melted!)
3½ cups confectioners (powdered) sugar
½ cup cocoa powder
½ teaspoon table salt
2 teaspoons vanilla extract or 1 teaspoon almond extract
4 tablespoons milk or heavy cream
Instructions
For the cake:
Preheat oven to 350° F.
Butter and flour the bottom and sides of two 9-inch round cake pans.
Stir together sugar, flour, cocoa, baking powder, baking soda, espresso powder, and salt in large bowl.
Add eggs, milk, oil and vanilla; beat on medium speed of mixer 2 minutes.
Stir in boiling water (batter will be thin).
Pour batter into prepared pans.
Bake 30 to 35 minutes or until wooden pick inserted in center comes out clean.
Cool 10 minutes; remove from pans to wire racks.
Cool completely.
While the cake is baking, prepare the frosting.
For the buttercream frosting:
Cream butter for a few minutes in a mixer with the paddle attachment on medium speed.
Turn off the mixer.
Sift 3 cups powdered sugar and cocoa into the mixing bowl.
Turn your mixer on the lowest speed (so the dry ingredients do not blow everywhere) until the sugar and cocoa are absorbed by the butter.
Increase mixer speed to medium and add vanilla extract, salt, and milk/cream and beat for 3 minutes.
If your frosting needs a more stiff consistency, add a little more sugar.
If your frosting needs to be thinned out, add additional milk 1 tablespoon at a time.
To assemble:
Once the cake is cooled you may begin to frost your cake.
Start by skimming of the tops of the cakes with a large serrated knife to ensure the cakes are even and do not puff up in the center.
Add a little bit of frosting on your cake stand.
Add the first layer of your cake onto the dollop of cake frosting. This helps your cake to stay in place.
Add a thick layer of frosting on top of your first cake. Even out the frosting using an offset spatula. Make sure you frost all the way to the edge of the cake.
Add the other cake layer on top and frost the top layer.
You can frost the sides of the cake or leave it bare for a rustic naked cake look.
I added chocolate shards on top, but you can use chocolate shavings if you like or leave it bare.
Notes
The cake recipe makes one two-tiered 9 inch cake.
The frosting recipe yields 3 cups of frosting. If you are making a naked cake, divide the frosting between your middle layer and top layer.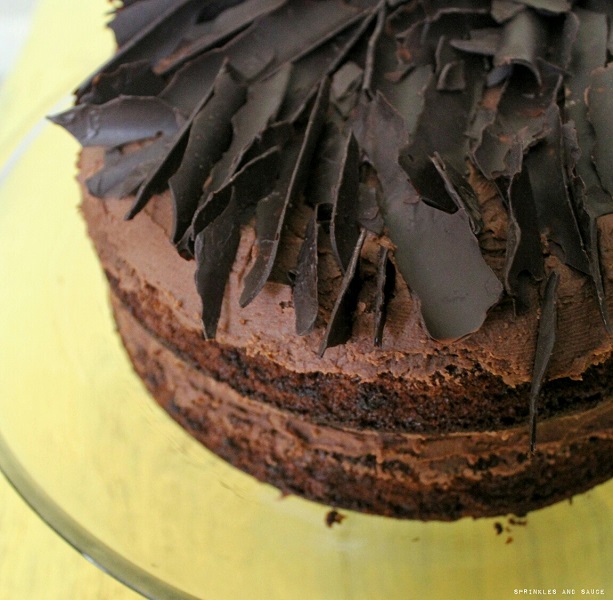 You can leave the top of your cake with just frosting, but if you wish to add a little bit of pizazz, make some chocolate shards and garnish your cake with them.  Here's a link on how to make chocolate shards: https://www.youtube.com/watch?v=-7kRTtXld7E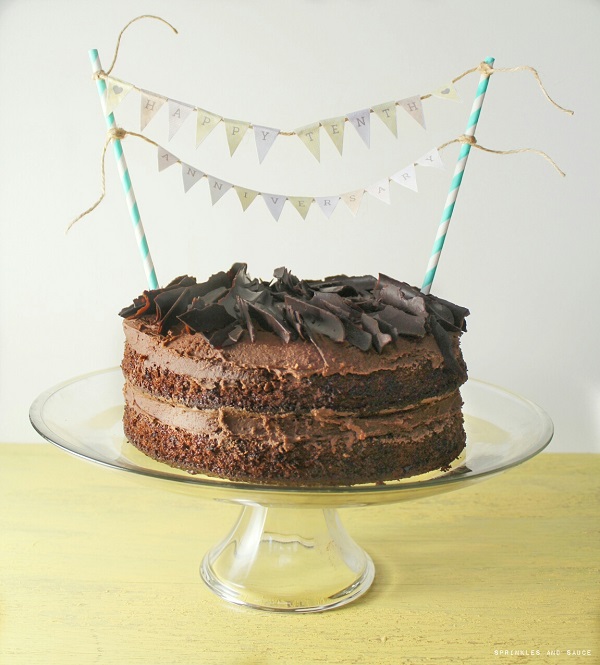 And because it was our friends' tenth year anniversary party, I wanted to make a cake bunting as a topper for the cake.  It's pretty easy and it really makes the cake much more festive.  Here's a link on how to make cake bunting: http://www.thetomkatstudio.com/2010/10/diy-party-projects-mini-cake-bunting-tutorial-free-printable-alphabet-pages