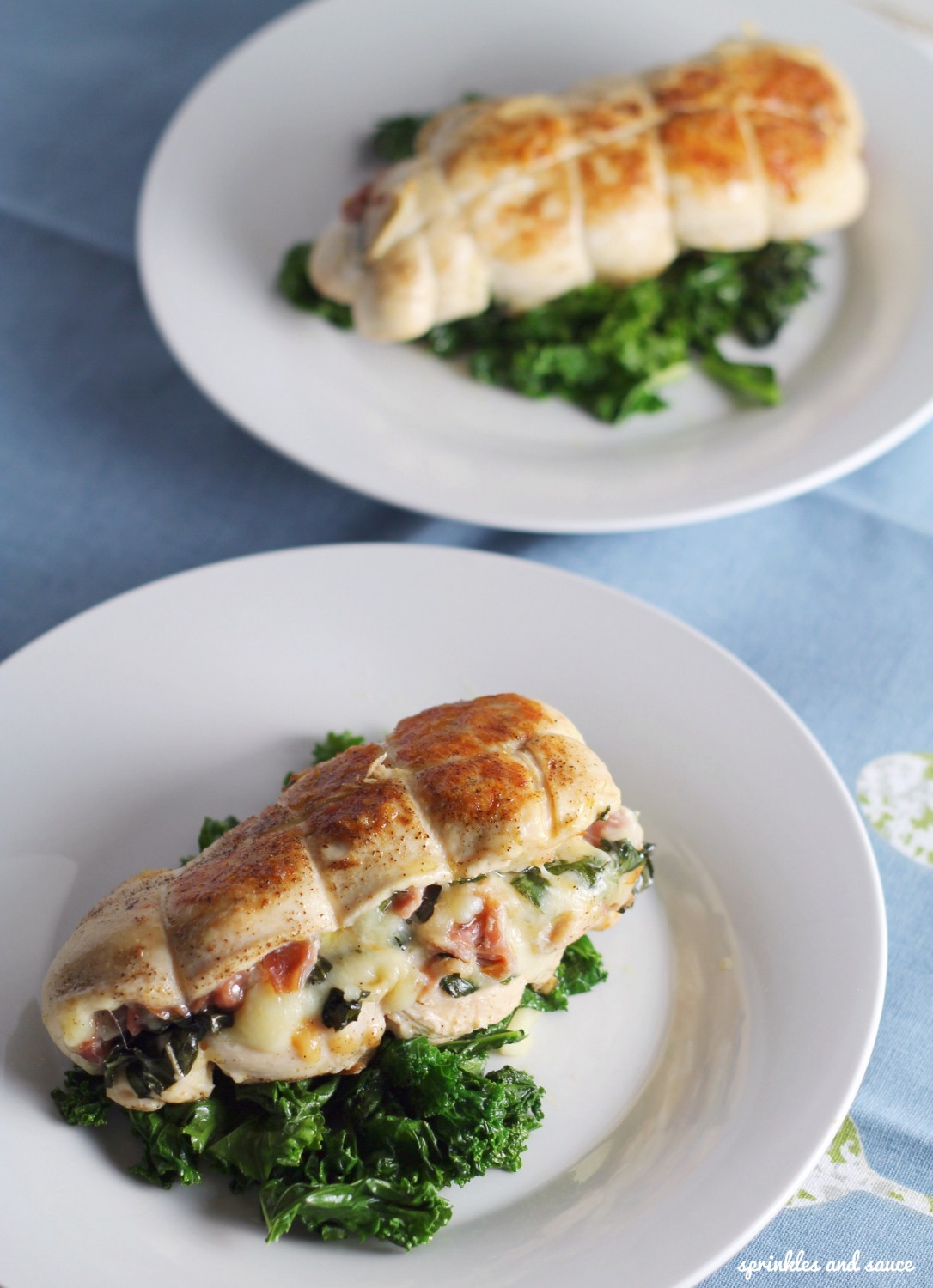 These days I am all about making meals from what we already have in the fridge.  For instance, not too long ago, my family came to visit us for a few days and my mom decided to pack our fridge with giant Costco items.  She does this all the time.  She is always scared that there's not going to be enough food, but she always ends up buying enough food for ten families!  Anyway, we had a big package of prosciutto from Costco and so I decided to search for recipes with prosciutto in it.  I am glad I stumbled upon bevcooks.com because I found the perfect recipe to use up all the leftover prosciutto we had!
This chicken stuffed with prosciutto, mozzarella and basil is just fantastic! It did take a little longer to prep than say a stir fry, but the result is a beaut!  The chicken breast remains juicy, the prosciutto adds that right amount of saltiness, the mozzarella adds creaminess and that melted goodness and of course the basil adds freshness to round up the flavours!  Here we served it with sauteed kale, but you can easily fancify it by serving the chicken on top of pasta or mashed potatoes.  If you are watching your carbs, you can serve it like we did here – with sauteed kale.  I promise, when you take a bite of this chicken you won't even care about carbs! So, how do you make this stuffed chicken goodness you ask? Well, here's the recipe for you:

Chicken Stuffed with Prosciutto, Mozzarella and Basil
Author:
adapted from bevcooks.com
Ingredients
4-5 chicken breasts
8-10 slices of prosciutto, chopped
1 cup of basil leaves, torn
2 cups of shredded mozzarella
1 bunch of kale
3 garlic cloves, minced
olive oil
salt and pepper
Instructions
For the chicken breasts:
In a bowl, combine the chopped prosciutto, basil leaves and mozzarella. Set aside.
Slice each chicken breasts in half, but not all the way through.
Lay chicken breasts flat on a flat surface and cover with plastic wrap.
Pound each chicken breast until about ½ inch thick.
Season both sides with salt and pepper.
To stuff the chicken breasts, add the prosciutto mixture to the side closest to you and then flip the flap over the mixture. Secure the chicken breasts with kitchen twine or toothpicks.
Repeat procedure until you've stuffed all chicken breasts. Set aside.
For the kale:
Preheat oven to 350F.
Wash and tear off kale leaves from the stem.
In a large frying pan, heat olive oil over medium heat.
Add the minced garlic and let it bloom for about 30 seconds.
Then add your kale leaves and saute until kale leaves are just wilted.
Season with salt and pepper.
Transfer sauteed kale onto a plate and set aside.
Add a little more olive oil to the pan.
Then add chicken breasts and sear chicken breasts for about 4-6 minutes on each side.
Transfer pan into oven and bake chicken for about 12-15 minutes until chicken is cooked through.
Serve stuffed chicken breasts over sauteed kale.