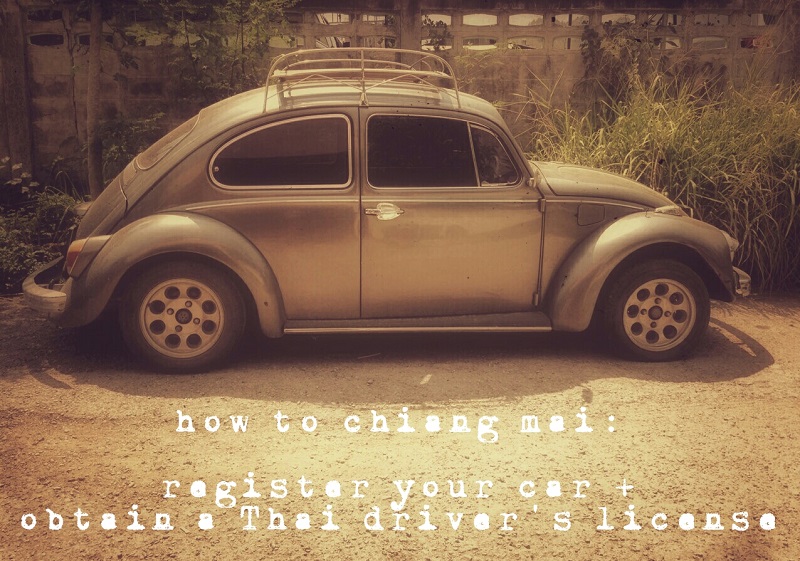 When we were planning our move to Thailand, we both decided that we would brave it and use a motorbike to get around.  We were not excited or comfortable with the idea, but renting or buying a bike was a whole lot cheaper than a car so we thought we'd suck it up and do whatever everybody else does here.  Our first day here in Chiang Mai slapped that idea right out of our heads.  The traffic is a lot busier than what we expected.  The driving style is very different here and we're not referring to the fact that they drive on the left.  There are motorbikes everywhere and big Hilux trucks bullying everyone on the roads.  Don't get us wrong, there are, of course, rules of the road here.  But they're not always enforced nor followed.  And because we don't have any real experience riding a scooter, we decided to hunt for a used car instead.  If you're confident on a bike, have the proper license to drive one and use common sense, you'll be just fine here.  But if you're like us and are nervous on a bike and would rather have your skin intact, maybe buying a used car is a better option for you.
We bought our car from friends of ours who were leaving Thailand the month we moved to Thailand.  We are now proud owners of a 1996 Toyota Corolla! That's right, our car is 20 years old.  Twenty years old. It's the oldest car we've ever had.  Even though it's old, it's well maintained and has great air conditioning (trust us, AC is your best friend when it's over 40C out). We decided that we'd also get our Thai driver's license along with registering our car so it took us a bit longer to process everything.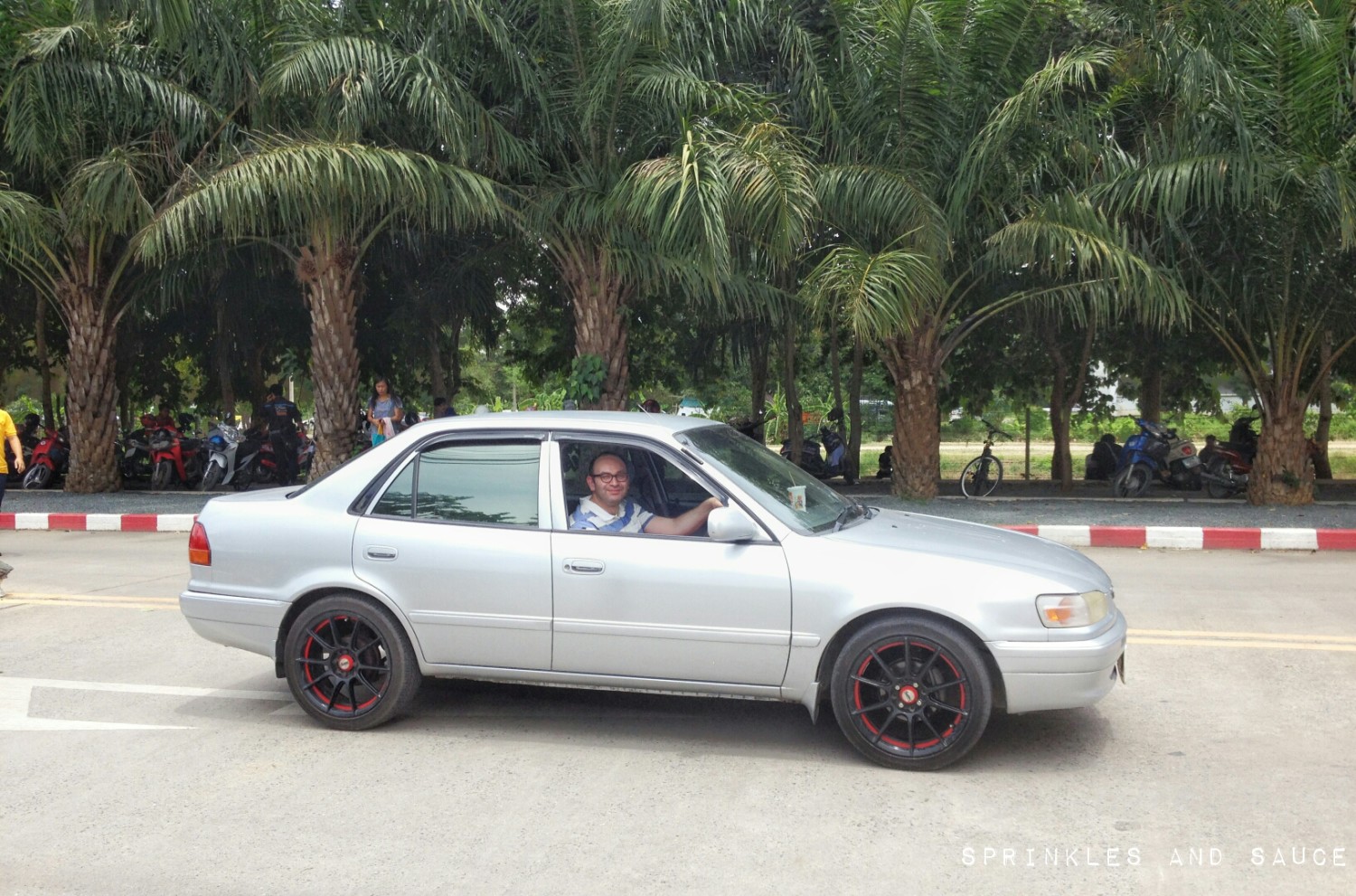 VEHICLE REGISTRATION 
To transfer the ownership of a car and to obtain a Thai driver's license, you need to go to the Department of Land Transportation in Hang Dong ( 18.746009, 98.961540 ).  And you'll need the following documentation to transfer ownership of your car:
Photocopies of your passport and visa stamp (in our case, we provided copies of both our passports since we wanted the car registered under both names)
a Residence Certificate for each registered owner
the vehicle's blue book
a signed copy of the seller's ID (Thai ID card if the person is local or passport if a foreigner)
transfer forms filled out and signed by the seller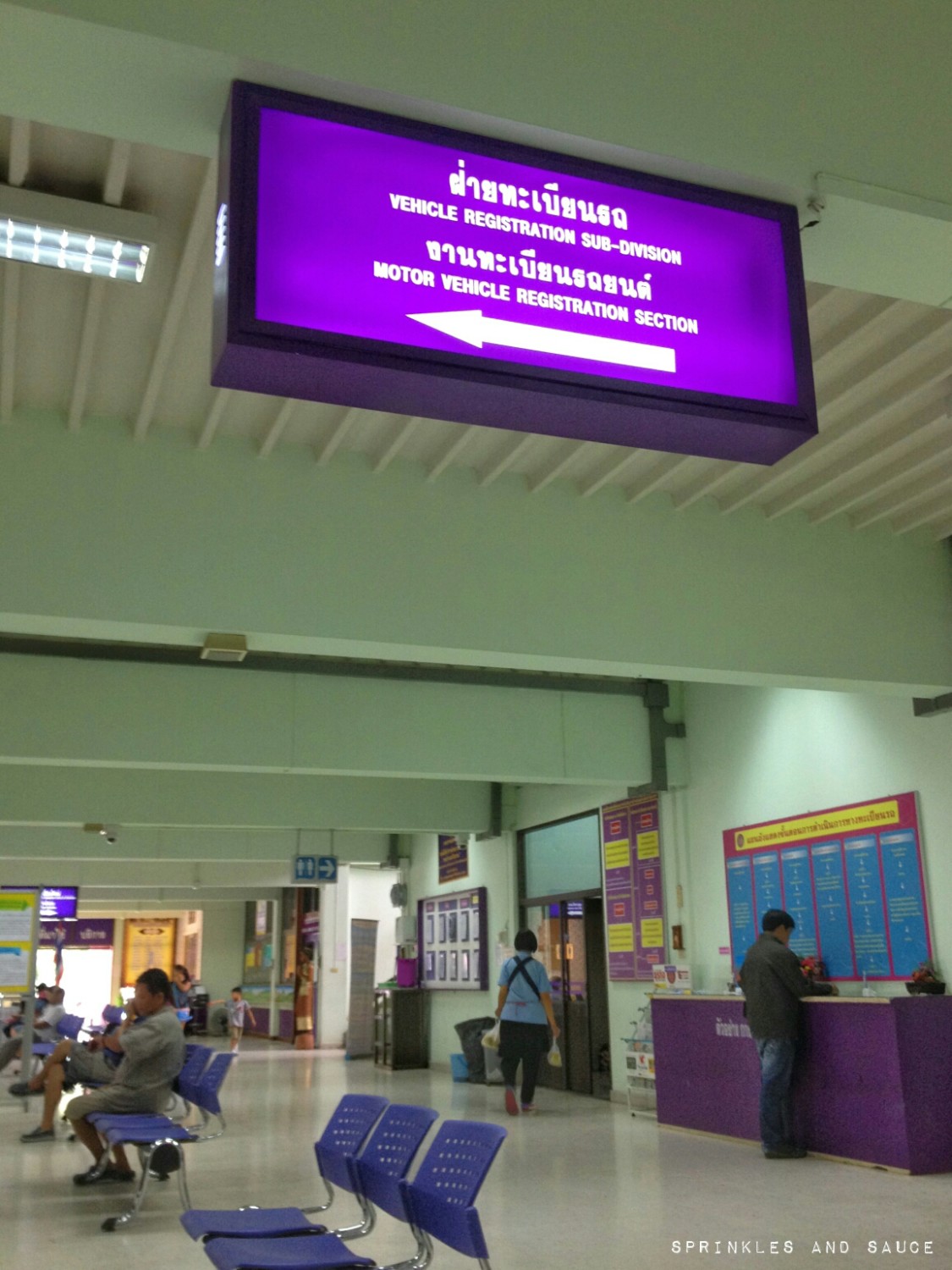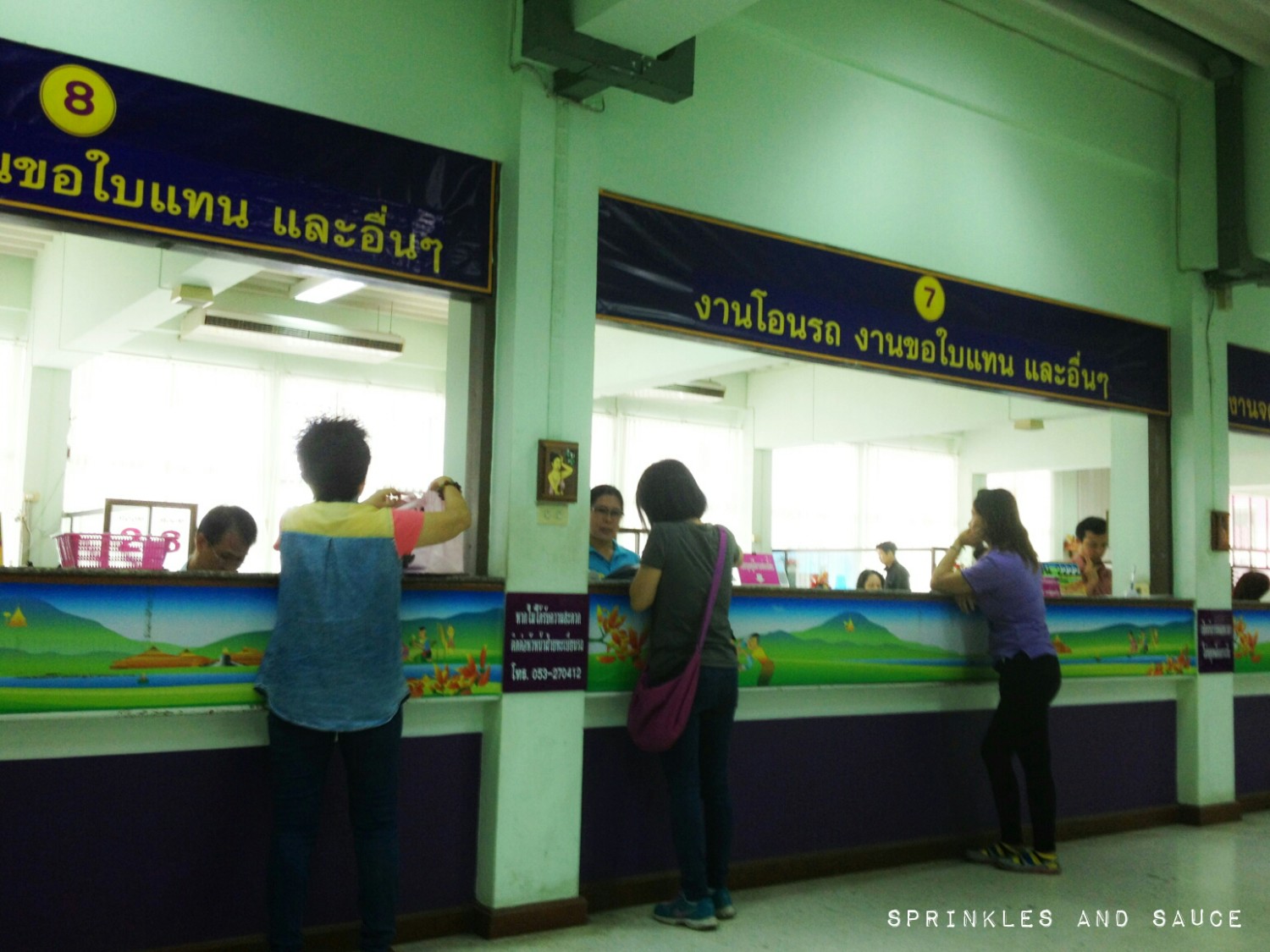 In our case, our car has a Chiang Mai license plate so all we had to do was to process the transfer from the old to the new owners.   So once you get to the DLT in Hang Dong (it's easy to spot because the office has purple fencing in front), you will see an information desk where the person will tell you which window you need to go to.  We were told to go to window no. 7 and waited for our turn.  Once you're called to the window, present all the documents  listed above.  At this point, we didn't really know what was going on because we don't speak Thai and the lady didn't speak very much English.  But she proceeded to look over the documents and did her thing.  As she was looking at the documents completed by the seller (the seller completed them the day before and simply handed us the completed forms), she looked up and asked us if the seller was with us today.  We panicked because he wasn't and it was going to take him over an hour just to get to the DLT from where he was in the city.  We didn't know what else to do so we told the lady that the seller did all his paperwork and was at DLT the day before.  We described what the seller looked like ("farang, blonde hair, tall, Australian") and thankfully another lady remembered seeing him the day before and so all was sorted out.  We still don't know exactly what was wrong, but it was sorted out so we decided not to ask any questions.   The window 7 lady then told us to go to another window where we were asked to pay 600 baht for processing fee and mandatory insurance.  After paying, we were then given some more papers and told to go to the vehicle inspection area.  The inspection office is at the end of the hall.  But what you actually need to do is to drive your car around the building and line up outside to wait for your turn. Here's a tip: because the wait for inspection can be a long one, bring snacks or a lunch with you.  We waited for at least 2 hours before our car was inspected.   Once you drive your car in the inspection area, you get out of your car, hand over the papers to the attendant and then they proceed to do the inspection.  You can either wait inside for it to be done or watch the inspection.  We thought it was a safety inspection, but it wasn't.  The officials basically want to make sure that the engine and vehicle chasis numbers match the blue book numbers.  Once the inspection is done and everything is good to go, our queue number was called and we picked up all the papers.  We then brought all the papers back to window no. 7 and was told to pick up the blue book the next business day. Here's a tip: because we had to surrender the blue book to DLT and we didn't want to drive around the city without any proof of ownership, we made a copy of the book and kept it with us in the event we're asked to provide proof of ownership.  The next business day, we showed up at window no. 7 and were given the blue book with all our information on it.   You don't want to ever lose that blue book.  We're sure there's some way to possibly get another book issued if you lose yours, but paperwork here in Thailand takes a lot of time and can be very confusing.  So guard that book.
THAI DRIVER'S LICENSE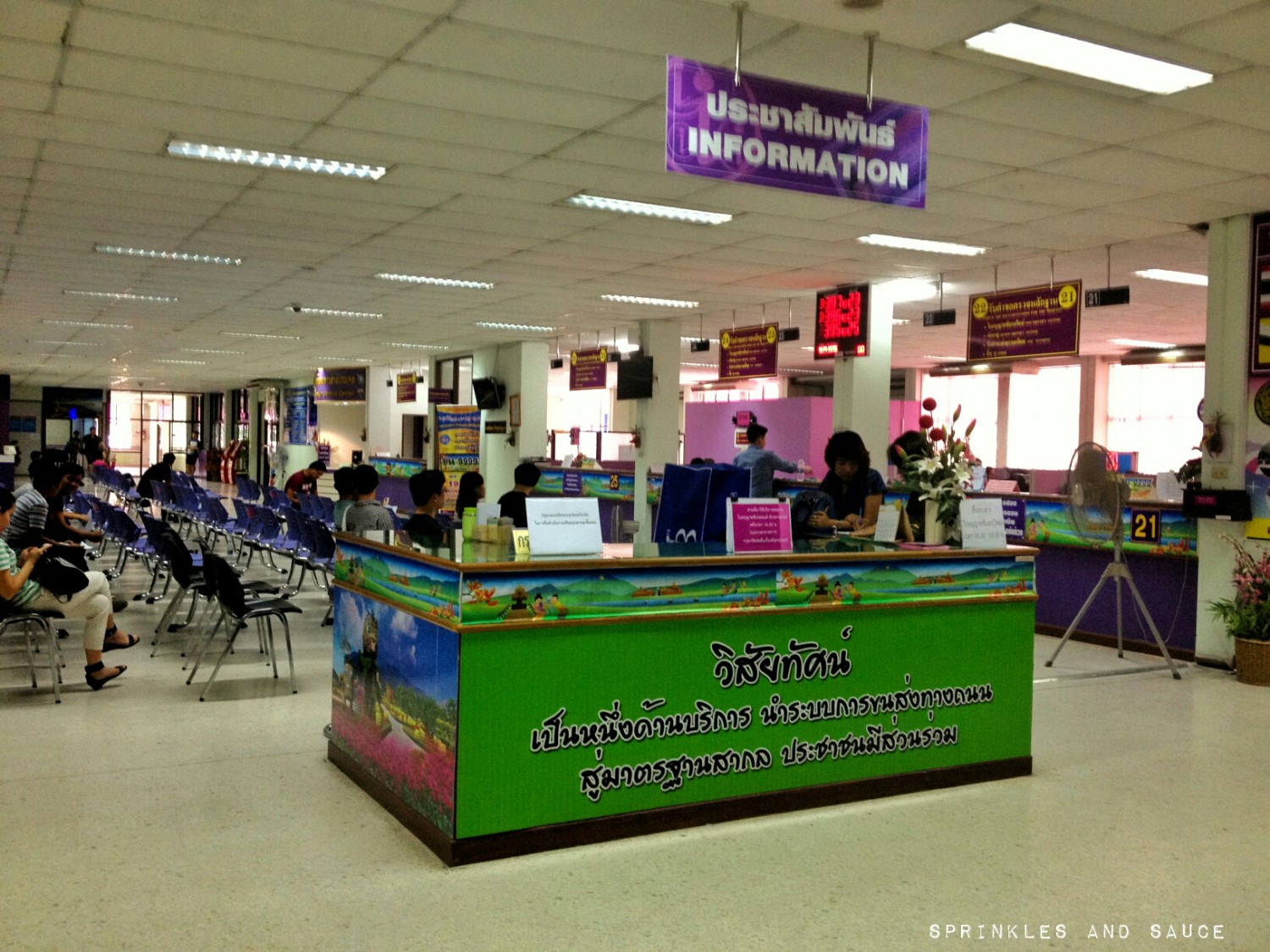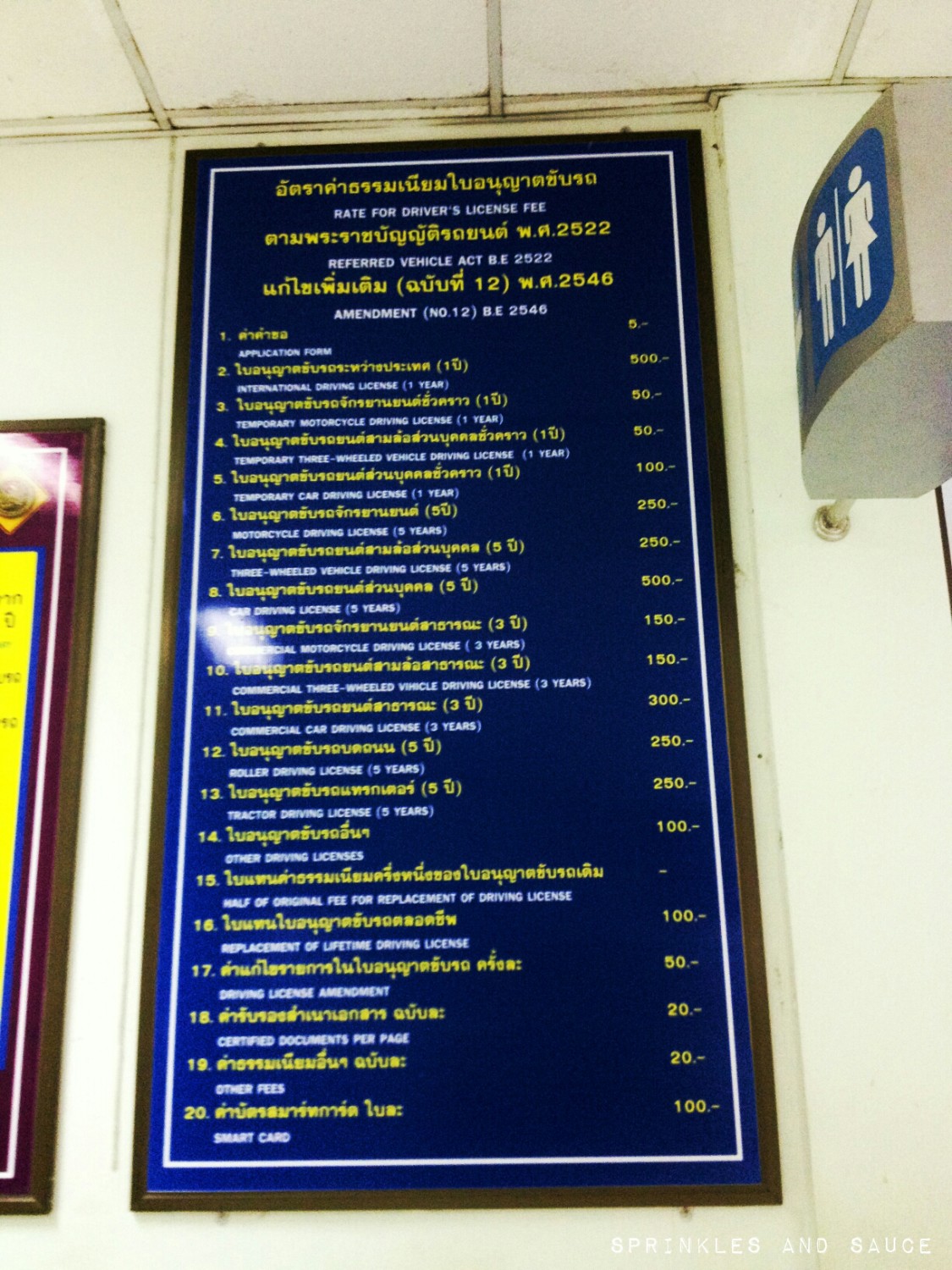 Before leaving Toronto, we decided to both get international driver's licenses.  And even though technically we can drive in Thailand with just our international licenses, we thought it'd be better to get Thai driver's licenses.  The process to obtain one is a long one, but it's mostly a waiting game.  The process itself is easy and straightforward.  And having a Thai driver's license actually has some benefits, for example you can present your Thai driver's license instead of your passport as identification.  And when you visit places like a national park, you can present your Thai driver's license and get the local price instead of the tourist price.   Because transferring ownership of the car took us half a day, we decided to stay a few more hours in DLT and go up the second floor and get our Thai driver's licenses.  So here's the documents you need:
completed application for driver's license
a copy of your passport and visa
residency certificate for each person
medical certificate (you can obtain this from any hospital.  you simply show up at any hospital, tell the receptionist that you need a medical certificate for a driver's license and you then get examined by medical professionals.  after paying the fees, you'll be given the certificate.  we obtained ours from Rajajev Hospital by Holiday Inn and it cost us 200 baht each for medical certificates).
valid license and/or international license
Here's what you need to do:
Go up to the information desk to obtain a Thai driver's license application and complete the form
You then present the completed form and all of the above listed documentation to counter no. 21.  After the person at counter no. 21 examines all the documents, you're asked to pay a fee of 210 baht each for processing.  After paying, you're told to proceed to the examination area.
The only test we had to do was a colour test.  All you have to do is go up to the colour test counter and you say what colour traffic light is on and you pass.  We think that we only had to do this test because we have our International driver's license so you may have to do other tests if you just have your country's driver's license.
We then had to wait for our turn to have our pictures taken.  Once you're queue is up, you go to the photo booth area, they take your photo and present you your brand spanking new Thai driver's license in no time.  
The Thai driver's license you'll be given is actually a temporary one.  They used to issue them for just one year, but the standard right now is 2 years.
Last tip: Don't panic if you don't have any of copies of your documents.  Go to the second floor and at the end of the hall, there's a photocopy center.  They charge about 2 baht per copy for black and white.  
Overall, the entire process is tedious, but not complicated.  We hope that this post helped you in some way to obtain your Thai driver's license and to register your car! If you have helpful tips you want to share, feel free to do because sharing is caring!