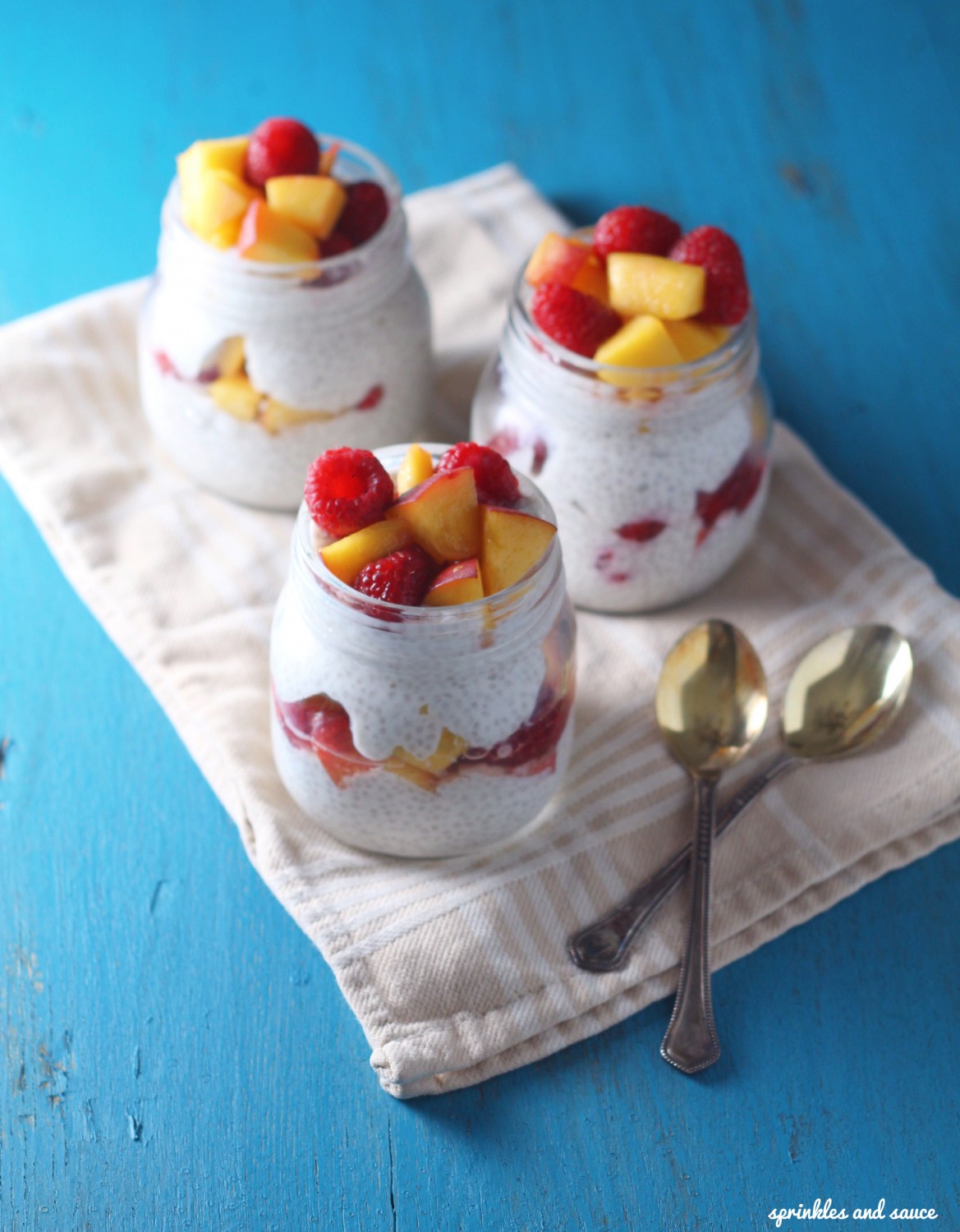 Chi chi chi chia.  You can thank me later because now you have chi chi chi chia in your head playing over and over again! Hey, don't blame me, sharing is caring!  All joking aside guys, chia has been in everybody's radar since forever since it's one of the trendy superfood everybody is going on and on about.  We usually like to sprinkle some chia seeds on our yogurt, pancake batter or add them to smoothies, but to fully appreciate the beauty of chia seeds, we decided to jump in the bandwagon and make chia pudding.  And since summer just officially ended and we can't seem to let go of it yet, we decided to add some summer fruit to our chia pudding.  This chia pudding with peach and raspberry makes for an excellent breakfast option not only because it's nutritious, but it's so filling and making it ahead before you go to bed means you can just grab it and go on those busy weekday mornings.  So put down that buttered bagel or bacon and egg breakfast sandwich and try something that your body will thank you for. Here's the recipe for you:

Chia Pudding with Peach and Raspberry
Author:
adapted from foodnetwork.com
Ingredients
1 cup of unsweetened vanilla flavoured almond milk
1 cup of plain greek yogurt
2 tablespoons of maple syrup
1 teaspoon of vanilla extract
a pinch of salt
¼ cup of chia seeds
2 small peaches, diced
1 cup of raspberries
Instructions
In a bowl, whisk together the almond milk, yogurt, maple syrup, vanilla extract and salt.
Then whisk in the chia seeds and let the mixture stand for about 30 minutes.
Once the pudding has thickened, spoon the pudding onto individual containers and top or layer with the peaches and raspberries.
It keeps well in the fridge for 2 days.
Here are some fun facts about chia seeds:
1) Chia seeds come from a flowering plant in the mint family.
2) Trytophan is also found in chia seeds and not just in turkey, but the combination of protein, vitamins, antioxidants, etc. in chia seeds make them an excellent option if you need some boost in energy.
3) Chia seeds are packed full of Omega 3 oil, which makes them an excellent source of Omega 3 oil for vegetarians.
4) Chia seeds are extremely high in antioxidants.
5) These tiny little seeds have six times more calcium than milk.