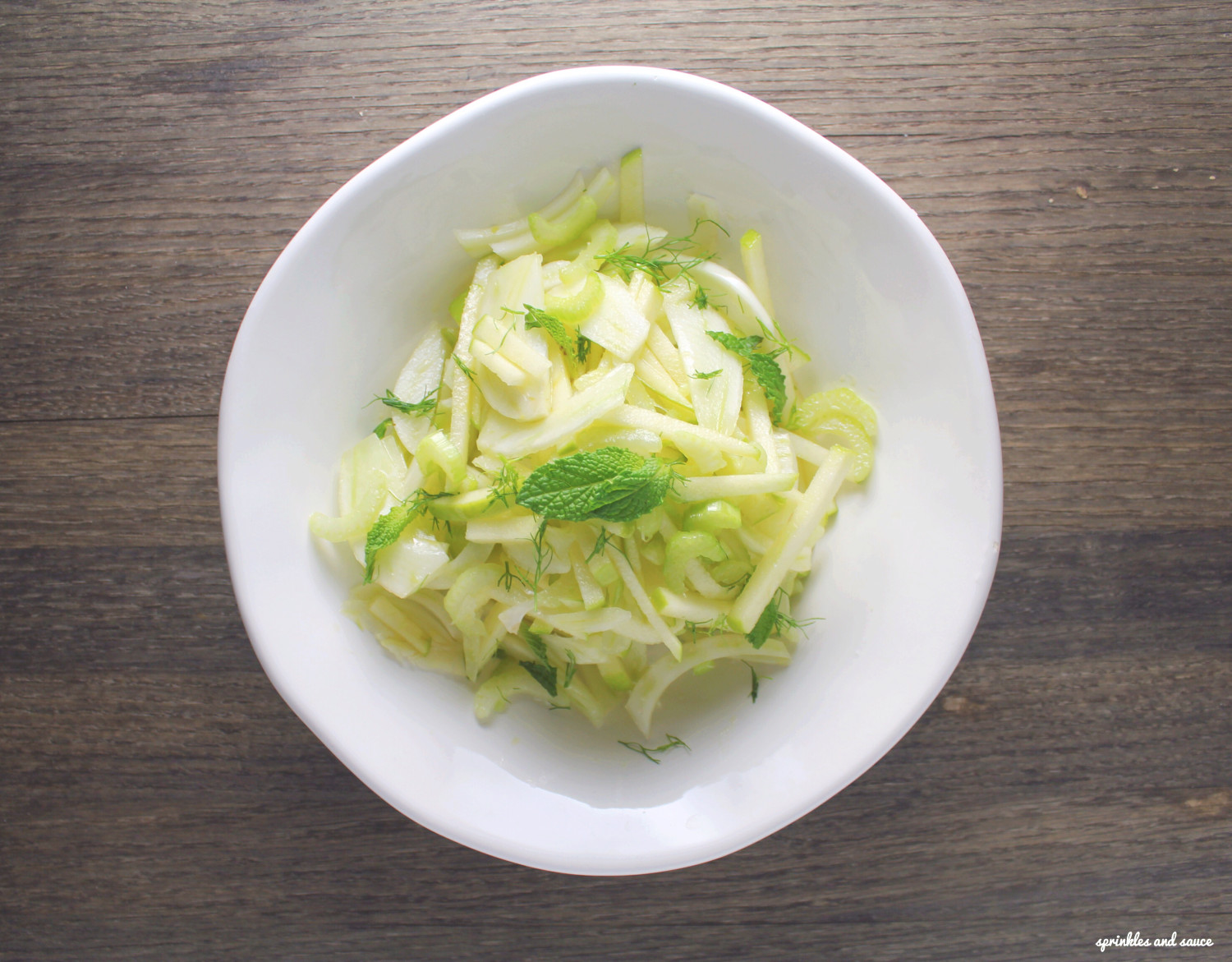 If you're craving something crunchy, savoury and fresh, then this salad is perfect for you.  Fennel, celery and apple have such subtle flavours that when they're combined together, they make for a crisp, refreshing salad.  I've tweaked the dressing a bit to add a little bit of that something, something, in the form of fish sauce.  Don't freak out.  Just give me a chance and keep reading.  Please.  The addition of fish sauce to this salad does not make the salad fishy or funky at all because the fish sauce fades into the background but it does add a little ooomph to the dressing.  So what I am saying here is that this tweaked version is safe for your super picky friends.  Just don't tell them you added fish sauce until after they eat it (insert evil laugh here).
Fennel is a bit underrated I think.  Some of you might even be wondering what fennel looks like.  Well, a fennel bulb looks like a combination of celery, onion and dill weed.   I prefer it fresh and cut up in a salad, some like munching on it for a refreshing after dinner palate cleanser and some like it grilled to bring out the anise flavour even more.  No matter how it's prepared, just give it a try and you'll be pleasantly surprised!
But just in case, you're still not convinced, consider these points:  1) this salad makes a great side dish to any meat or fish dish 2) because it's not dairy based, a big bowl of this salad is super safe for your lunch bbq with the fam jam or any bbq pot luck events  3) it doesn't have the pleasant side effect of eating cabbage (don't pretend you don't know what I am talking about) and 4) fennel is packed full of nutrients and antioxidants that your body will thank you for!  So if you're a fennel newbie, this salad is a real good place for you to start.  Here's the recipe for you to try:

Celery, Apple and Fennel Salad
Ingredients
3 tablespoons extra-virgin olive oil
2½ tablespoons apple cider vinegar
1½ tablespoons coarsely chopped fresh tarragon
2 teaspoons fresh lemon juice
¼ teaspoon sugar
3 celery stalks, thinly sliced diagonally, plus ¼ cup loosely packed celery leaves
2 small fennel bulbs, thinly sliced crosswise, plus 1 tablespoon chopped fennel fronds
1 firm, crisp apple (such as Pink Lady, Gala, or Granny Smith), julienned
Kosher salt and freshly ground black pepper
Instructions
Whisk first 5 ingredients in a medium bowl.
Add celery and celery leaves, thinly sliced fennel and chopped fennel fronds, and apple; toss to coat.
Season to taste with salt and pepper.
Notes
*If you want to try my tweaking, omit the salt and instead add ½ to 1 tbsp fish sauce and swap the tarragon for mint instead.