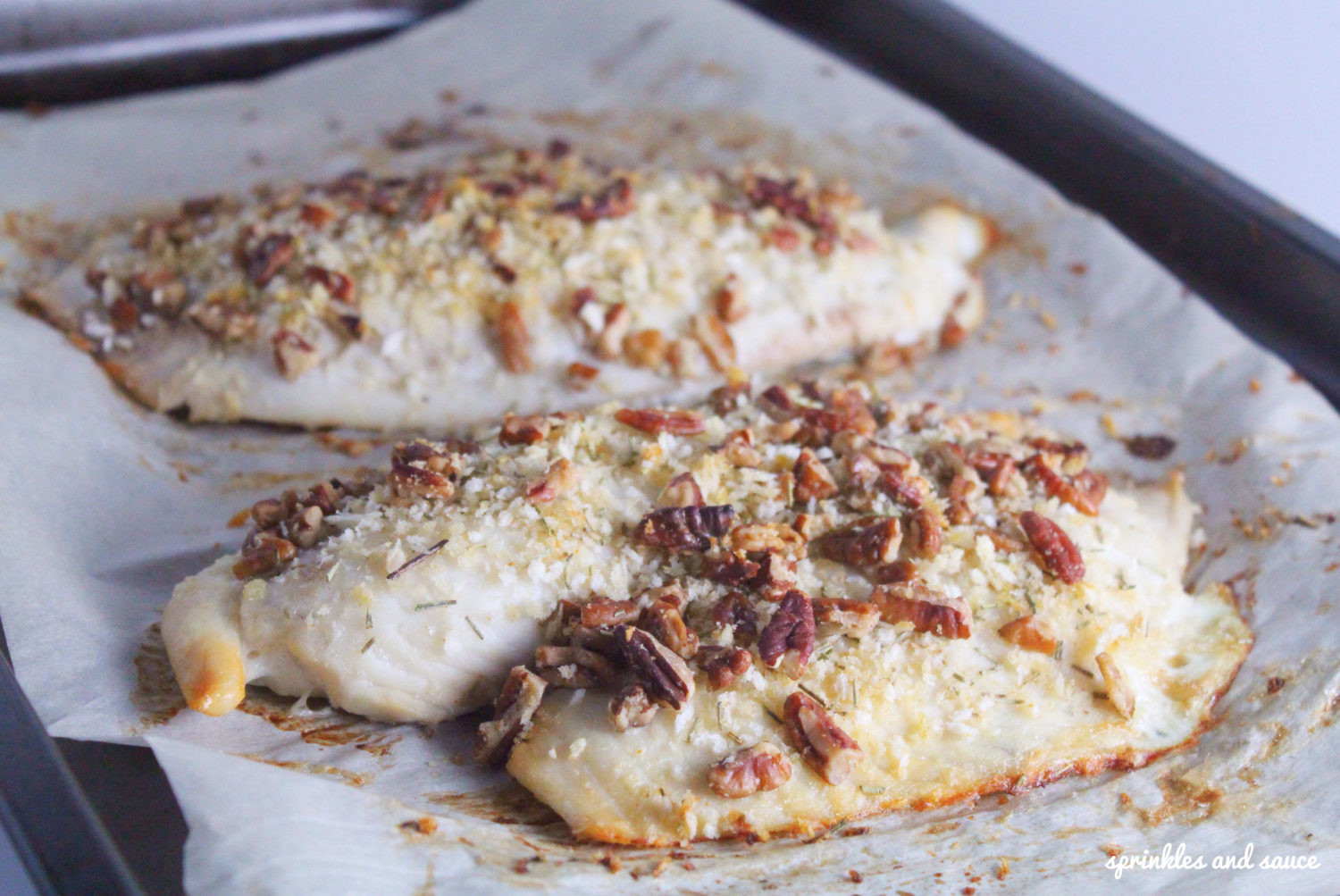 As a child, tilapia was on a regular rotation in our weekly menu.  Every week, my aunt would make sure we had two or three meals with fish and veggies and the rest of the time was the usual- chicken, pork or beef.  Growing up, we only ever ate tilapia deep fried served with a side of soy sauce and lemon! My aunt would season it and fry the entire fish – head, tail, eyeballs and all! I loved picking the eyeballs out and eating them because they were super crunchy (okay, I realize as I am typing this that not everyone might share my love for deep fried fish eyeballs).   Deep frying anything scares me and there's also the health factor so we had to find a new way to eat tilapia.  I came across this  baked tilapia with pecan rosemary topping recipe from cookincanuck.com and it intrigued me because I never thought that tilapia and rosemary could go together.  One night, I decided to give this recipe a go and I was pleasantly surprised.  This recipe is real flavourful and my husband definitely loved it! The pecans and breadcrumbs give  that nice crunchy topping while the rosemary and brown sugar add so much flavour to the fish fillet.  This recipe is definitely a keeper and sharing is caring, so here's the recipe for you to try:
Baked Tilapia with Pecan Rosemary Topping
Ingredients
⅓ cup chopped raw pecans
⅓ cup panko breadcrumbs
2 teaspoon fresh rosemary*
½ teaspoon packed brown sugar
⅛ teaspoon salt
1 pinch cayenne pepper (optional)
1 and ½ teaspoon olive oil
1 egg white
4 tilapia fillets (approx. 4 oz each)
Instructions
Preheat the oven to 350F.
In a small baking dish, stir together pecans, breadcrumbs, brown sugar, salt and cayenne pepper. Add the olive oil and toss to coat the pecan mixture.
Bake the pecan mixture for about 7-8 minutes or until light golden brown. Set aside.
Increase the heat to 400F. Coat a large baking dish (or baking sheet with parchment) with cooking spray.
In a shallow dish, whisk the egg white. Working with one tilapia at a time, dip the fish in the egg white and then in the pecan mixture lightly coating each side.
Place the tilapia fillets in the prepared baking dish.
Press the remaining pecan mixture into the top of the tilapia fillets.
Bake until the tilipia is cooked through, about 10 minutes.
Notes
*We didn't have fresh rosemary around so we used dried. We use about 1 tsp dried rosemary instead.