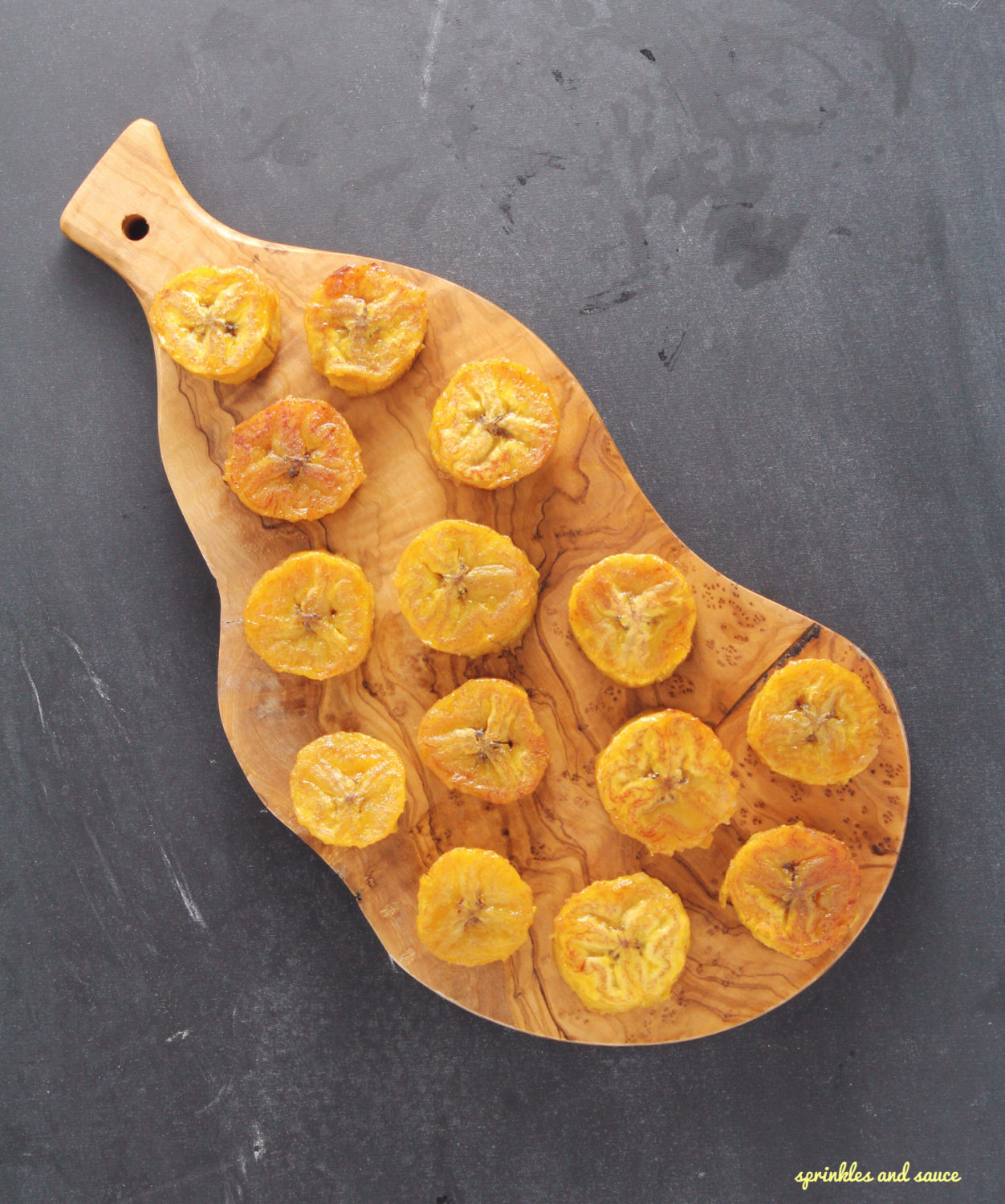 Recently, we went on a much needed vacation to the Dominican Republic.  We stayed in a nice resort in a quiet little town and it was seven days of bliss for us! Interestingly, at the resort we stayed at, they served plantains three times a day, everyday! We found out later on that plantain is a dietary staple in the Dominican Republic, so that made sense why they'd serve it at every meal.  The resort had a variety you can choose from, you can have your plantains all different ways – tostones (fried and lightly salted) as a side dish, mashed with onions for breakfast or baked with brown sugar and cinnamon for dessert.
If you are new to plantains, here are some fact about them:
1) They are from the same family as bananas, but they are more starchy and eaten more like a vegetable.
2) They are the pasta or potatoes of the Caribbean.
3) They can be served savory or sweet, depending on the ripeness.
4) An average sized plantain has about 220 calories and is packed with vit C & A, fiber and carbs.
5) They must be cooked before eaten.
Our favorite way of eating plantains is baked with brown sugar glaze.  We like eating these sweet plantain bites on their own, but you can have them easily with some vanilla or, even better, coconut ice cream! This recipe is so easy to make and they're somewhat healthier than say a slice of chocolate cake (I think anyway) so try them out and add a little Caribbean flavor to your life! Here's the recipe for you:

Baked Plantain with Brown Sugar Glaze
Author:
sprinkles and sauce
Ingredients
4 ripe plantains
¼ cup of butter, melted
2 to 3 tablespoons of brown sugar
¼ teaspoon of all spice (optional)
½ teaspoon of vanilla
Instructions
Preheat oven to 375.
Spray lined baking sheet with cooking spray.
Melt butter. Add in brown sugar, all spice and vanilla and mix until all the brown sugar is dissolved.
Brush each plantain slice, or both sides, with glaze.
Baked in oven at 375F for about 15-20 minutes.
Notes
The plantains MUST be ripe for this recipe. You can tell they're ripe when they're almost completely black and wrinkly and the flesh should easily yield to pressure when poked.
To make your plantains ripen faster, put them in a paper bag and leave them in a dark place for a few days.