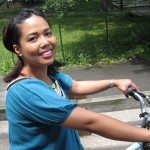 My name is Sarah- 1/2 of this blog.  I love food and everything to do about it – cooking, baking, and of course, eating.  Fortunately for me, I married a man who loves food just as much!  I fondly remember weekend dinners with all of my cousins, aunts, uncles and grandparents eating home cooked specialty Pilipino meals or eating at different restaurants, trying different types of food – yes, my love affair with food started very early on! From a very young age, I remember being in the kitchen with my grandma, mom and aunts cooking for our weekly family feasts! The funny thing though is I don't remember being taught how to cook or learning different techniques, all I remember is munching away as the women chopped – carrots, tomatoes, cucumbers, etc.  I do remember being taught how to make proper rice – something very important for a Pilipino woman to know since we ate rice three times a day, everyday!  To this day, making ""proper" rice still eludes me but I try, I keep trying!
I have always been surrounded by women who enjoy cooking and feeding the entire family and all the women in Arkadi's family also love cooking huge feasts – all these women are experts in the kitchen!   I can't and won't call myself an expert in the kitchen but I try and I keep trying! And this blog is my detailed account of my cooking and baking attempts – successes, failures and all!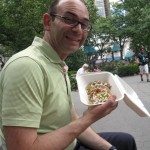 Arkadi here – the other half of this blog.  I also had an early start with my love for all things related to food! Growing up, family get togethers centered around food – always a blend of Russian and Armenian specialties.  I am not the cook in the family but I am the tester (aka quality control) and cleaner upper – I am not complaining!  My wife and I live in Toronto and love to try out different restaurants and ethnic foods.  But we also love to cook at home for ourselves, our families and our friends!  We will chronicle our kitchen adventures along with our food adventures in the many restaurants Toronto has to offer!